Five more Covid-19 cases reported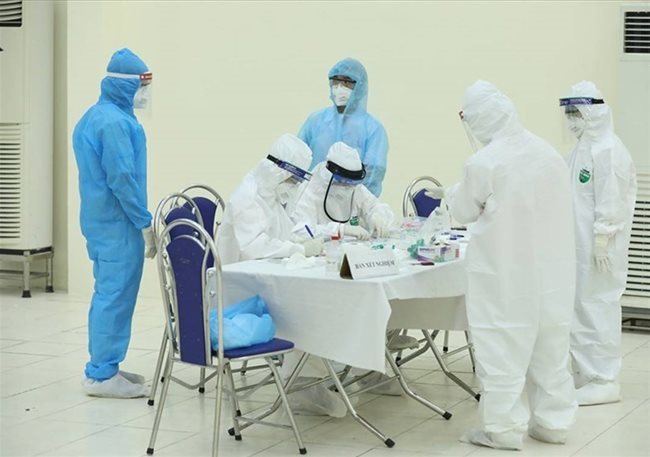 Health workers conduct Covid-19 testing. Minister of Health Nguyen Thanh Long confirmed five new locally-transmitted Covid-19 patients in Quang Ninh, Hai Duong and Hanoi this morning – PHOTO: LDO
HCMC – Minister of Health Nguyen Thanh Long confirmed five new locally-transmitted Covid-19 patients in Quang Ninh, Hai Duong and Hanoi at the Government's online meeting with 63 cities and provinces this morning, February 2.
Quang Ninh reported three cases, while Hanoi and Hai Duong confirmed one each.
Up to now, Hai Duong Province has reported 207 Covid-19 cases in the current wave, while Quang Ninh Province and Hanoi City have confirmed 33 and 20 cases, respectively. Gia Lai Province has reported six Covid-19 cases, Bac Ninh Province, three, Hoa Binh Province, two, and Binh Duong Province, two.
HCMC, Haiphong and Bac Giang have reported one case each, VnExpress news site reported.
The number of Covid-19 cases reported in Hanoi and Quang Ninh is on the rise, while the number of cases in Hai Duong is declining, said the minister.
After the new coronavirus wave emerged, the Ministry of Health has immediately mobilized and dispatched over 1,200 health workers to Hai Duong Province and managed to control the spread of Covid-19.
Long worked with Quang Ninh Province this morning, he said, adding that social distancing might begin in the province's Dong Trieu District in line with the prime minister's Directive 16. Accordingly, Covid-19 testing will be conducted on a large scale in the district, which has reported three more Covid-19 cases.
Deputy Prime Minister Vu Duc Dam and the ministry worked with Hanoi City on February 1 to determine the affected areas and quarantine people who had contact with the Covid-19 patients, according to Long. The situation in Hanoi City remained complicated.
To effectively bring the disease under control, Minister Long proposed the provinces and cities continue following Covid-19 infection prevention and control regulations in line with the prime minister's Directive 15 and ordering residents to wear face masks in public places.
Long also proposed the local authorities limit mass gatherings and tighten control over illegal entry into the country.
Apart from this, the leader of the ministry proposed the Government allow the provinces and cities to use their budgets to buy Covid-19 vaccines for their residents as the spending on vaccines is expected to be cheaper than that on quarantine and lockdown.
TAG: