HCMC, Gia Lai reports Covid-19 cases linked to Hai Duong Province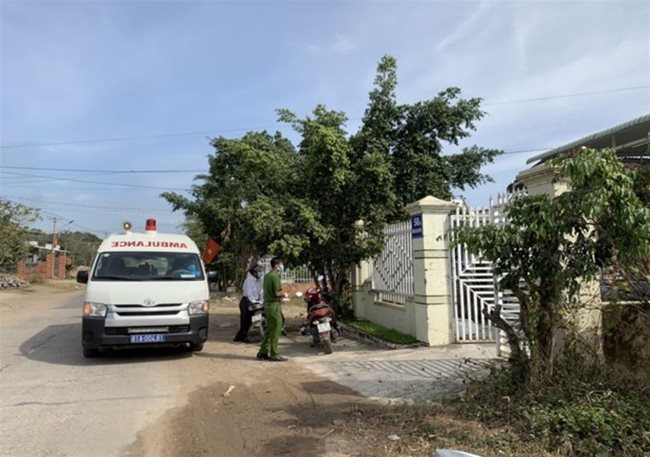 An ambulance is used to transport those who had close contact with the two new Covid-19 patients in Gia Lai Province to a centralized quarantine center. The Ministry of Health confirmed 28 new Covid-19 patients tonight, January 30, with one imported case and 27 community-transmitted cases in HCMC, Hanoi City, Gia Lai, Quang Ninh and Hai Duong provinces - PHOTO: VNA
HCMC - The Ministry of Health confirmed 28 new Covid-19 patients tonight, January 30, with one imported case and 27 community-transmitted cases in HCMC, Hanoi City, Gia Lai, Quang Ninh and Hai Duong provinces.
The latest locally-transmitted Covid-19 case reported in HCMC was identified as a 28-year-old man, who resides in Hai Duong Province. The man had close contact with a Covid-19 patient in the province's Chi Linh City.
The Central Highlands province of Gia Lai reported two Covid-19 patients who were a 36-year-old woman and her husband, aged 36, who live in Ayun Pa Town. The two had earlier traveled to Hai Duong Province to attend a wedding party and come into close contact with a Covid-19 patient in Hai Duong Province.
After the two had tested positive for Covid-19, the disease caused by the coronavirus, Ayun Pa Town was immediately put under lockdown to prevent the spread of the virus.
Two other Covid-19 cases in Hanoi City were a 40-year-old man living in Nam Tu Liem District and a 34-year-old man residing in Dong Anh District. The two had close contact with other Covid-19 patients in Hai Duong Province.
Meanwhile, four Covid-19 cases reported in Quang Ninh Province were linked to the Chi Linh coronavirus hotspot in Hai Duong Province.
The remaining 18 Covid-19 cases were confirmed in Hai Duong Province.
TAG: