Nine more locally-transmitted Covid-19 cases reported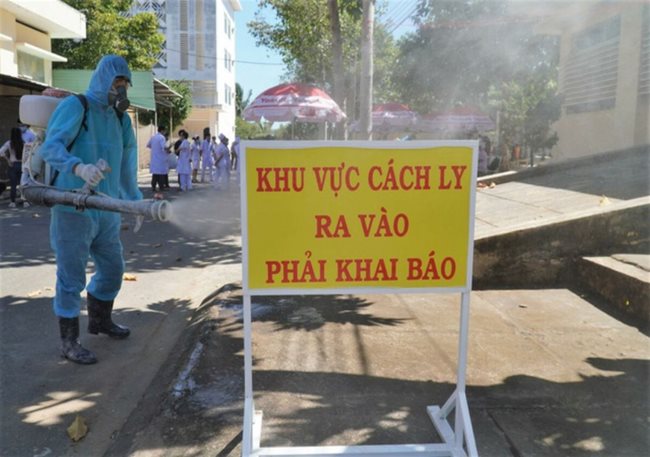 A medical worker sprays disinfectants in a quarantine area. The national steering committee for Covid-19 infection prevention and control confirmed nine new locally-transmitted Covid-19 cases in Hanoi City, Haiphong City, Hai Duong, Quang Ninh and Bac Ninh provinces this morning - PHOTO: MOH
HCMC - The national steering committee for Covid-19 infection prevention and control confirmed nine new locally-transmitted Covid-19 cases in Hanoi City, Haiphong City, Hai Duong, Quang Ninh and Bac Ninh provinces this morning, January 29.
Hanoi, Haiphong and Bac Ninh reported one Covid-19 case each, while Quang Ninh and Hai Duong provinces confirmed two and four, respectively.
The two Covid-19 patients in Haiphong and Bac Ninh, tagged as the 1,561st and 1,565th, reside in Hai Duong Province and are related to the Chi Linh hotspot, according to the national steering committee.
The two new patients in Quang Ninh Province are linked to the 1,553rd patient, an employee at Van Don International Airport, while the new patient in Hanoi City, who resides in Hai Ba Trung District, had close contact with the mother of the 1,553rd patient.
After visiting the 1,553rd patient's house in Halong City of Quang Ninh Province on January 23, the 54-year-old woman traveled to Hai Duong Province and returned to her home in Hanoi City with her husband on their private car on January 25.
Late last night, the Hanoi Department of Health also reported the first locally-transmitted Covid-19 case linked to Hai Duong Province, who is a 20-year-old student and resides in the province. He is studying in Hanoi City and living in a boarding house in Cau Giay District.
TAG: