VIETNAM NEWS JANUARY 18
Preparations underway for upcoming elections
Joint efforts have been made to prepare for the upcoming elections, heard a meeting of the National Election Council (NEC) in Hanoi on January 18.
It was reported at the second meeting of the NEC that the council has joined hands with the NA Standing Board, the Government and the Vietnam Fatherland Front Central Committee in the preparation work.
As of January 14, the issuance of documents regarding the elections of deputies to the 15th legislature, and all-level People's Councils for the 2021-2026 tenure has been completed.
Efforts have been made to ensure security and safety for the elections, according to chief of the office of the NEC Nguyen Hanh Phuc. Meanwhile, election committees have been set up swiftly in localities.
The council agreed that an online national conference implementing the election work will take place on January 21.
NA Chairwoman Nguyen Thi Kim Ngan, also chair of the NEC, asked the council's sub-committees and office to promptly completed documents and provide advice for the council in this regard./.
Final round of Miss University 2020 held in Hanoi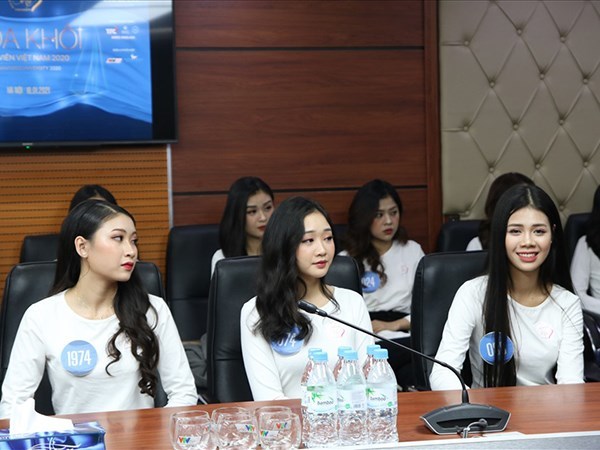 Candidates enter final round of Vietnam Miss University 2020

Forty-one outstanding girls are competing for the crown of the Vietnam Miss University 2020 during the final round held from January 13-20 in Hanoi.
Themed "The Beauty of Wisdom," the pageant aims to honour the beauty of wisdom, talent and dynamism of Vietnamese students.
The final night will be held at the Viet Xo Friendship Cultural Palace on January 19, and be broadcast live on Vietnam Cable Television (VTV Cab) channels.
The jury includes Assoc. Prof. Dr. Mai Van Hung, People's Artists Minh Hoa and Tu Long, and Runner-up of the Miss Vietnam 2018 Phuong Nga.
Along with the three main prizes of Miss University and the first and second runner-ups, the organizing board will grant a lot of extra prizes, with a total value of 500 million VND (21,600 USD)./.
Committee targets collecting over 1.5 million blood units in 2021
The National Steering Committee for Voluntary Blood Donation has set a goal to collect over 1.5 million blood units in 2021, with 99 percent of which donated by volunteers, according to Le Gia Tien, Director of the committee's Standing Office.
Speaking at a conference to review the voluntary blood donation campaign in 2020 and set tasks for 2021 in Hanoi on January 15, Tien said the rate of blood donors in the population is expected to reach 1.6 percent, respectively, in the year.
To that end, application of information technologies will be promoted in communication activities in order to raise public awareness about the benefits of voluntary blood donation and safe blood transfusion, and effectively manage blood givers, Tien noted.
Last year, the mobilisation of people to voluntarily donate blood faced many obstacles due to the COVID-19 pandemic, Tien said. He, however, stressed that with many initiatives and great efforts to overcome difficulties, the Steering Committee for Voluntary Blood Donation received approximately 1.4 million units of blood, helping millions of patients, especially amid the pandemic.
The majority of blood units were donated by volunteers, equivalent to nearly 1.5 percent of the population. Half of the givers donated their blood more than once.
During the year, the Steering Committee for Voluntary Blood Donation at all levels organised more than 13,000 communication campaigns on voluntary blood donation with more than 1.6 million participants.
Many communication campaigns and voluntary blood donation events were organized creatively and successfully such as the Lunar New Year Blood Donation Campaign, Red Spring Festival, Red Blood Drops Summer, and the Red Journey Programme.
So far, over 4,000 clubs of blood donors with over 125,000 members have been established nationwide. More than 25,800 individuals, families and collectives were honoured in recognition of their achievements in voluntary blood donation./.
Binh Dinh: nearly 4,200 ha of forests certificated by FSC
Nearly 4,200 hectares of forest owned by Quy Nhon Forestry Co., Ltd in the central province of Binh Dinh have been granted the sustainable forest management certificate in accordance with the Forest Stewardship Council (FSC) standards.
This is the first State-owned enterprise in Binh Dinh province to win the FSC certificate for plantation forest.
Chairman of Quy Nhon Forestry Co., Ltd Tran Nguyen Tu said that the FSC forest certification will help raise the economic value of products from forest of the company.
In the coming time, the company will invest in developing a processing plant to complete a complete chain of forestry development, including high quality saplings production, afforestation, sustainable forest management and wood processing.
Standing Vice Chairman of the provincial People's Committee Nguyen Tuan Thanh said that the FSC certification is a great encouragement, recognising efforts of the firm in sustainable and responsible forest management and development.
This is also a model that other units and organizations in the locality should follow, towards improving the value of forests and the quality of the environment, he stressed.
Implementing the sustainable forest management programme under the National Forestry Development Strategy in 2006 - 2020, Binh Dinh authorities have implemented a project to plant big wood trees. The locality aims to have 30,000 ha of big wood tree forest by 2035.
Binh Dinh is currently one of the four top localities in the country in terms of wood furniture production value, Thanh said, adding that the locality plans to further develop the sector while simultaneously improving the quality of forests and the environment to serve the community.
The Forest Stewardship Council is a global not-for-profit organization dedicated to promoting responsible forest management around the world. Officially founded in 1994 with a mission to stop global deforestation, the FSC certification scheme ensures that forests products are responsibly managed and harvested./.
Hanoi launches socio-economic development tasks for 2021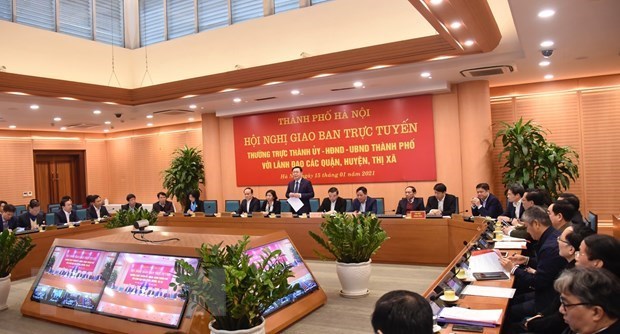 Politburo member and Secretary of the Hanoi Party Committee Vuong Dinh Hue chaired a teleconference on January 15 with officials from the capital's districts and towns.

Politburo member and Secretary of the Hanoi Party Committee Vuong Dinh Hue chaired a teleconference on January 15 with officials from the capital's districts and towns to set main tasks and solutions for implementing socio-economic development plans and State budget estimates for 2021.
Participants focused discussions on a draft action plan on implementing tasks and solutions for socio-economic development and State budget estimates for 2021, and a report on preparations to ensure a happy Lunar New Year (Tet) holiday for all people in the city.
Hue told the teleconference that on the basis of instructions from the Government and municipal authorities, the municipal People's Committee's Party Civil Affairs Committee has directed the building of an action programme with solutions to fulfil tasks and meet targets.
He asked leaders of districts, towns, departments, and sectors to provide comments on institutions and policies and propose measures to make breakthroughs in the first year of implementing the Resolution from the capital's 12th Party Congress.
Hanoi's economic growth is targeted to reach 7.5-8 percent in 2021. The city will also focus on solving pressing issues towards improving the trust of people in the municipal Party Committee and authorities.
Vice Chairman of the municipal People's Committee Ha Minh Hai said municipal authorities have set out nine key groups of tasks and solutions for 2021, concentrating on issues relating to planning, COVID-19 prevention, economic recovery, and restructuring economic sectors.
Hanoi will also boost the mobilisation and efficient use of resources, continue to restructure budget spending, improve the quality of and effectively use human resources, promote innovation, strongly apply and develop science and technology, accelerate administrative reform, maintain citizen reception and the settlement of complaints and denunciations, and strengthen inspections of and prevent corruption and wastefulness, he added./.
Red Cross Society hopes to present 1.5 million Tet gifts to the needy
The Vietnam Red Cross Society (VNRC) targets mobilising the necessary financial resources to provide at least 1.5 million gifts to poor and near-poor households, victims of Agent Orange (AO), victims of natural disasters and COVID-19 in 2020, and other vulnerable people ahead of the Lunar New Year (Tet) holiday.
It forms part of the annual "Tet for the poor and AO victims" campaign held under the "Humanitarian Power 2020" programme, which aims to call on support from all to help the impoverished, AO victims, and other disadvantaged people nationwide enjoy a warm Tet.
The VNRC said the programme will be broadcast live on the National Assembly Television Channel on January 16 night.
A SMS campaign has been launched to mobilise funding for "Tet for the poor and AO victims". Each text message with the word "TET" sent to 1409 before February 28 will contribute 20,000 VND (0.90 USD) to the fund.
The VNRC and its chapters provided more than 4.74 trillion VND to over 19.6 million people nationwide last year, or 1.5 times higher than the humanitarian assistance provided in 2019./.
Dream Space to promote creative education in Can Tho
Part of a project on developing and improving awareness of creative education in the Mekong Delta city of Can Tho, Dream Space was inaugurated at the Can Tho School of Culture and Arts by the Asia Music & Performing Arts (AMPA) Education on January 15.
It will serve as a multifunctional music and arts room with modern musical instruments.
Apart from the Can Tho School of Culture and Arts, the project will also benefit other music and arts schools and certain primary schools in the city.
It aims to promote awareness of the importance of creative education in students' comprehensive development and create conditions for them, especially those in rural areas, to access music and creative arts.
Investment stands at over 994 million VND (43,000 USD), including 888.5 million VND from AMPA Education, a non-government organisation, and it is being carried out from September 2020 to July 2023.
Tran Van Nam, Vice Rector of the Can Tho School of Culture and Arts, said the project will help the school improve its training capacity in music and dance, adding that lecturers will acquire new specialist knowledge and teaching methods, take part in composing and performance activities, and act as a bridge linking arts training with the community./.
Indonesia-Vietnam Friendship Association promotes bilateral ties
The Indonesia-Vietnam Friendship Association will work harder to promote cooperation between the two countries in various areas, from culture, arts, education and sports to investment, production and business, an online meeting in Jakarta on January 15 heard.
The gathering saw the participation of the association's president Budiasa Sastrawinata, Vietnamese Ambassador to Indonesia Pham Vinh Quang, and Indonesia's newly-accredited Ambassador to Vietnam, Denny Adbi, along with more than 30 members of the association.
Participants affirmed they will continue with their investment, business, and cooperation in Vietnam, and hoped that the two governments will further facilitate operations in the country.
The two ambassadors said the governments continue to support bilateral comprehensive cooperation and investment, production, and business activities of enterprises of both nations.
The move aims to successfully complete the action plan on the Vietnam-Indonesia strategic partnership for 2019-2023, they added.
Quang pointed to the adverse impact of the COVID-19 pandemic on production and business in the two countries.
Such challenges, however, have also presented opportunities for Vietnamese and Indonesian enterprises, such as incentives and support packages adopted by the two governments, he said./.
Environment monitoring project in mangroves launched in Ca Mau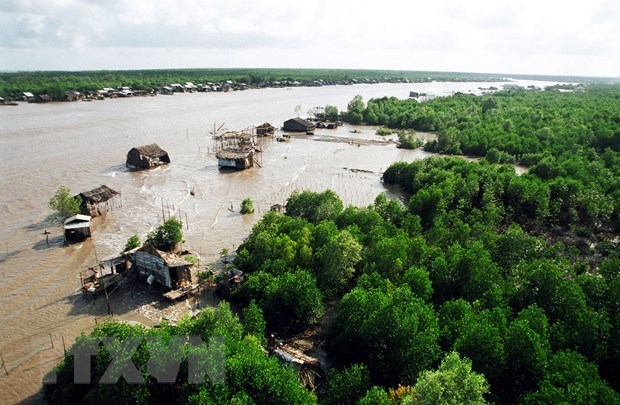 A mangrove forest in Ca Mau province - Illustrative image
An environment monitoring project for mangrove aquaculture (AQUAM) in Ca Mau was kicked off on January 15 by the Mekong Delta province's Department of Agriculture and Rural Development, Australia's University of Queensland and the Greenfield Consulting and Development Ltd (GFD).
The project, which will be implemented by UQ and GFD Ltd, aims to build an environmental monitoring system for mangrove aquaculture, provide information on management of mangrove forests and sustainable aquaculture towards improving livelihoods for and resilience of coastal communities to climate change

The project is carried out in key mangrove aquaculture areas in Ca Mau within 15 months, with a budget totalling over 500,600 AUD (384,948 USD) funded by the Australian Innovation Fund (Aus4Innovation).
According to Prof. Catherine Lovelock, Director of AQUAM, the project will apply advanced technology in water and forest environmental monitoring, and provide technical assistance in water environmental monitoring of shrimp farming and forest resource management.

Vice Director of the provincial Department of Agriculture and Rural Development Chau Cong Bang said the project is a timely and valuable response to the province's needs in developing ecological shrimp and crab farming in mangrove forests in association with protecting the ecological environment for mangrove aquaculture areas.
Dr. Hoang Viet Anh from the GFD Ltd said the company will apply the most advanced technologies such as automatic control, internet of things and artificial intelligence to build an environmental monitoring system for mangrove aquaculture.
He said he hopes the project will become a good example of the application of modern technology in natural resource management and agro-forestry-aquaculture production in Vietnam./.
Vietnam witnesses 10-15 flash floods each year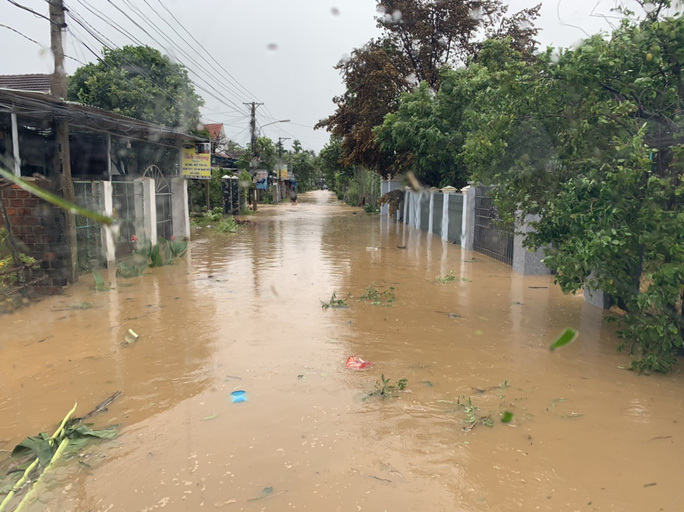 Floods, climate change and hydropower
Vietnam records from 10-15 flash floods each year, mostly in the northern mountainous, central, Central Highlands and southeastern regions, Deputy Director of the National Centre for Hydro-Meteorological Forecasting Vu Duc Long said on January 15.
He informed that the country is building a project to assess disaster risks in regions and make a flash flood and landslide warning map in the mountainous and midland regions.
Accordingly, the project will be carried out in 37 mountainous provinces and 34 main river basins and 95 sub-basins.
It will offer flash flood risk maps for 14 northern mountainous provinces at the 1:100,000 scale and 19 central and Central Highlands localities at the 1:50,000 scale, while providing data of cross-section measurements in 36 small river basins in the northern mountainous region and topographic maps at the 1: 5,000 scale for 58 residential areas at risk of flash floods in 19 central and Central Highlands localities./.
Ben Tre inaugurates sea dyke to prevent saline intrusion
The Mekong Delta province of Ben Tre on January 16 inaugurated the first phase of a sea dyke project to prevent saline intrusion running through the districts of Binh Dai, Ba Tri and Thanh Phu.
Construction on the dyke, which doubles as a coastal road, started in 2018. The 12.6km long dyke built in the first phase cost 288 billion VND (12.44 million USD).
When the second phase of the project completes, projected in 2025, the dyke will have a total length of 39.3 km.
Addressing the inaugural ceremony, Vice Chairman of the provincial People's Committee Nguyen Minh Canh said the dyke is useful for the province in coping with climate change, while meeting local residents' needs in transport and trade.
The road-dyke also helps connect economic centres of districts in the eastern part of Ben Tre, facilitating the exploitation of local resources for socio-economic development in combination with enhancing security-defence in the coastal areas, the official said./.
Cambodia supports border provinces' quarantine of migrant workers
Cambodian Prime Minister Hun Sen has decided to allocate an additional 800 million riel (196,000 USD) and 200 million riel to Oddar Meanchey and Battambang provinces, respectively, to prepare, supply and maintain quarantine accommodations for Cambodian workers returning from Thailand.
As of January 13 evening, there had been 2,235 migrant workers under quarantine in Oddar Meanchey and over 300 workers had completed their quarantine period.
Meanwhile, as of January 14, more than 3,000 migrant workers had returned from Thailand via the international checkpoints of Banteay Meanchey province and nearly 1,000 had completed their quarantine.
Ministry of Interior Secretary of State Chou Bun Eng said on January 12 that more than 130,000 migrant workers had left Thailand for Cambodia but Cambodian authorities believe they have successfully stopped almost all of them and required them to do quarantine for 14 days.
In recent days, the Cambodian Health Ministry confirmed tens of new COVID-19 cases who are migrant workers returning from Thailand, with 15 reported on January 15.
As of January 15, the country recorded 426 infections, of whom 381 receiving the all-clear, and no fatalities./.
Malaysia promotes free data flow within ASEAN
Policies and regulations on free flow of data across the countries of the Association of Southeast Asian Nations (ASEAN) must be realised urgently to further promote digitalisation and its growing participation in the region, according to Malaysia's national news agency Bernama.
This call was made before the first ASEAN Digital Ministers Meeting (ADGMIN 1), scheduled to be held via teleconference on January 21 and 22, under the chair of Malaysian Minister of Communications and Multimedia Datuk Saifuddin Abdullah, and attended by representatives from ASEAN's dialogue partners including Japan, China, the European Union, the Republic of Korea, and the International Telecommunication Union.
Themed "ASEAN: A Digitally Connected Community", the meeting aims to promote cooperation among ASEAN member countries towards building digital ecosystems as a pillar in the post-COVID-19 development plan.

Bernama quoted Senior Economist of Jakarta-based Economic Research Institute for ASEAN and East Asia , Dr. Lurong Chen, saying that the call is essential now as digital activities which include rule setting, trade facilitation and service liberalisation would certainly be beneficial.
Chen said with the challenging period of the current COVID-19 pandemic, the free flow of data implementation would certainly help to further spur the digital economy, and moving towards its integration across the region./.
All senior citizens to be covered by health insurance in 2021
Vietnam aims to provide social insurance coverage for all elderly people nationwide by 2021, said Deputy General Director of Vietnam Social Security (VSS) Tran Dinh Lieu at a meeting of the Vietnam National Committee on Ageing (VNCA) on January 15.
The event, which was presided over by the VNCA chairman – Deputy Prime Minister Vu Duc Dam, aimed to review elderly affairs in 2020 and set out objectives and tasks for 2021.
According to a report of the Ministry of Labour, Invalids and Social Affairs, Vietnam had nearly 13 million elderly people (aged 60 and above) in 2020, accounting for 12 percent of the population, with about 1.98 million aged over 80, and approximately 7.7 million elderly people living in rural areas.
The State budget spent about 18 trillion VND (779.69 million USD) implementing social assistance policies for the elderly in the community. Specifically, more than 1.8 million elderly people received monthly allowances, over 1.4 million enjoyed allowances as national contributors, and 3.1 million are enjoying pensions and social insurance benefits. In addition, 12.1 million senior citizens currently have health insurance cards.
The VNCA highly appreciated the efforts made by the Vietnam Association of the Elderly (VAE) and its local chapters in creating conditions for the elderly to participate in cultural, musical and sports activities, while urging for more active support from all-level Party committees and authorities in the work.
At the meeting, VNCA members agreed that in the time ahead, ministries, sectors and localities should focus on implementing policies related to the elderly in close association with multidimensional poverty elimination policies./.
Da Lat aims to welcome more than 4 million visitors in 2021
The resort city of Da Lat in the Central Highlands province of Lam Dong aims to welcome more than 4 million visitors, including 150,000 foreigners in 2021, according to the provincial Department of Culture, Sports and Tourism.
In 2020, the city's tourism sector was affected by the COVID-19 pandemic and it failed to meet its goal of serving 7.8 million visitors, including over 580,000 international tourists.
Only 4 million vacationers, including 120,000 foreigners, visited Da Lat last year, down 44 percent from 2019.
The city saw the arrival of around 70,000 holiday-makers during the three-day New Year 2021 holiday, signalling positive signs for the city's tourism sector in the coming year.
Lam Dong province now has more than 2,540 accommodation facilities with over 29,400 rooms, 47 travel companies and transport providers./.
TAG: