Volunteers to receive second shot of local COVID-19 vaccine on January 14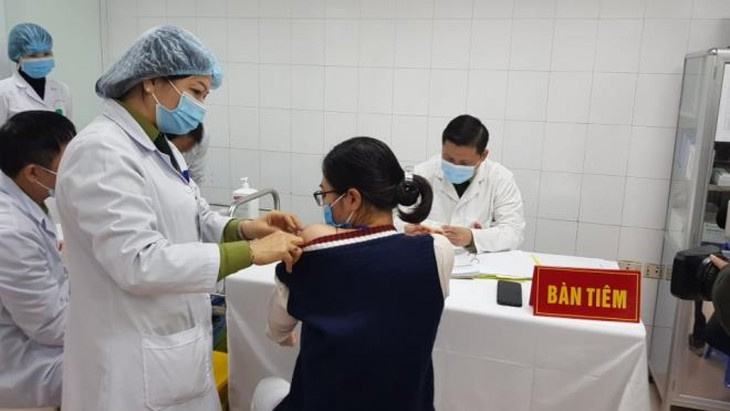 The group was also among the first three people to take part in local vaccine trials on December 17, 2020. According to Military Medical Academy representatives, the unit has so far completed 50% of the first phase of clinical trials for the vaccine.
Currently, a total of 43 volunteers have been vaccinated during the course of human trials, including 20 people with a dose of 25mcg, 20 others with a 50mcg dose, and three people with the 75 mcg dose, the highest of the trial stage.
After being given the shots, no abnormal signs were recorded among the 43 volunteers, with only a few cases showing signs of mild pain and fever, although these reactions ended after 24 hours.
Asso. Prof. Chu Van Men, director of the Center for Clinical Trials and Bioequivalence under the Vietnam Military Medical Academy, said more than 500 people have so far registered for the Nanocovax vaccine trial, adding that only 51 out of 200 people who take part in the experimental screenings qualify for the trial injection.
The research team has therefore continued to provide health examinations for the remaining volunteers as they strive to reach the target of 60 volunteers as part of the first-phase clinical trial, according to Asso. Prof. Men.
Prof. Hoang Van Luong, deputy director of the Military Medical Academy, said that after the completion of the initial trial phase, the Ministry of Health will then evaluate the results before continuing to deploy the second phase of vaccine trials on approximately 560 volunteers.
Prof. Luong also revealed that the academy has been selecting volunteers to participate in the second phase, with approximately 350 people registered so far.
Nanocovax is the first local COVID-19 vaccine to make it to human trials. It is also the first Vietnamese COVID-19 vaccine that has completed the research process and has achieved high efficiency during the course of clinical trials.
According to insiders, it is expected to become the first "made-in-Vietnam" COVID-19 vaccine when it is launched on the domestic market.
TAG: