Viettel's revenue reaches $11.5 billion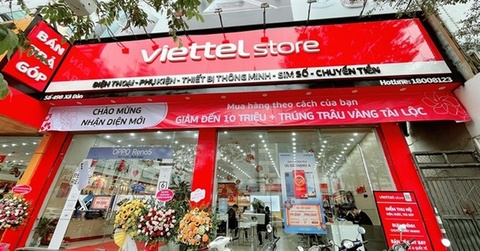 A Viettel store in H Noi. — Photo tienphong.vn
The past year saw Viettel's total revenue reach more than VNÐ264.1 trillion (US$11.48 billion), making this group Southeast Asia's most valuable telecommunications brand.
Viettel Group on Monday said that in the context of the COVID-19 pandemic, it still grew last year.
Accordingly, eleven investment markets of Viettel have made efforts to complete the production and business plan with a total revenue of more than VNÐ264 trillion last year, up 4.4 per cent compared to 2019, reaching 102.4 per cent of its plan for the year.
Its pre-tax profit reached VNÐ39.8 trillion, a year-on-year rise of 4.1 per cent, fulfilling 103.9 per cent of the year plan.
Viettel also became the number one brand in Southeast Asia last year and the ninth in Asia with a valuation of US$5.8 billion, according to a Brand Finance report.
Viettel focused on accelerating internal digital transformation activities, strongly and successfully transitioning from a telecommunications provider to a digital service provider last year.
Regarding the development orientation for the new year and the future, L Ðang Dung, acting chairman and general director of Viettel, said the path that the group determined in its fourth stage of development was pioneering and becoming a main force for a digital society.
This group has formed six areas of digital platforms, including digital infrastructure, digital solutions, digital finance, digital content, cyber security and high-tech manufacturing.
Viettel would simultaneously promote activities in all six digital platforms to contribute to the digital society set out by the Government. — VNS
TAG: