Vietnam COVID-19 Updates (Jan 13): Five new imported cases reported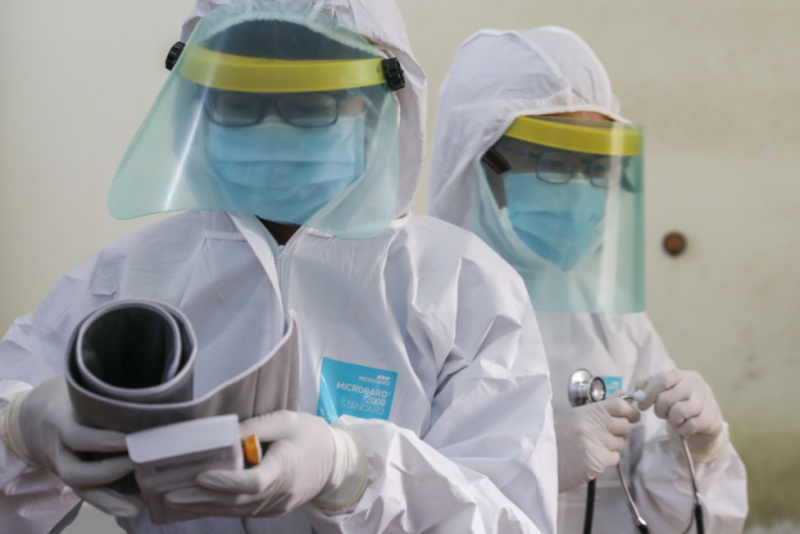 Five new imported cases reported. (Photo: VN Express)
Five new imported cases reported
Five new imported COVID-19 cases, all Vietnamese, were recorded on January 12, raising the infection tally in the country so far to 1,520, said the National Steering Committee for COVID-19 Prevention and Control.
Among the new patients, a 24-year-old woman returned from Japan on Flight QH9417 which landed at Noi Bai International Airport in Hanoi on January 10. A 24-year-old man from the US transited the Republic of Korea before flying to Cam Ranh International Airport in central Khanh Hoa province on Flight VN441 on January 1. The three others, comprising two women, 36 and 37, and a 36-year-old man, entered Vietnam via Moc Bai International Border Gate in southern Tay Ninh province on January 7. All the new cases have been quarantined upon their arrival.
Of the 1,520 cases of COVID-19, 693 are domestic infections. As many as 1,361 patients have recovered while the number of fatalities is still kept at 35. Nine of those still under treatment have tested negative for the coronavirus SAR-CoV-2 once, eight others twice, and eight thrice, according to the treatment sub-committee. There are 17,555 people having close contact with confirmed cases or coming from pandemic-hit areas in quarantine at present.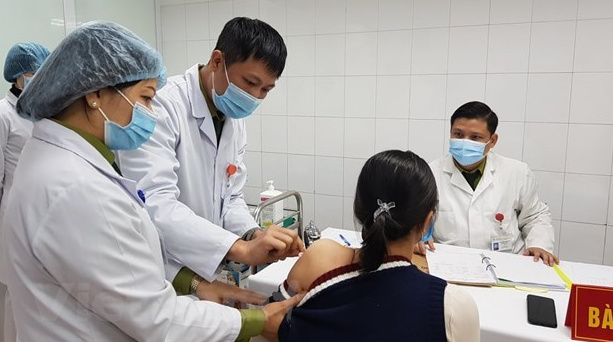 A volunteer is given a shot of the 75mcg dose of Nanocovax on January 12 (Photo: VNA)
First shots of 75mcg dose of Nanocovax COVID-19 vaccine given to volunteers
The highest dose, 75mcg, of Nanocovax, a COVID-19 vaccine developed by Vietnam, was given to three volunteers in Hanoi on January 12 as part of the first stage of human trials. The three women, aged 20 to 22, are the first of a total of 20 volunteers in the testing program.
Following their injection, the volunteers will undergo health monitoring for 72 hours at the Hanoi-based Military Medical University. The other 17 volunteers will receive injections if the vaccine's safety is confirmed. Two groups of 20 people each are testing the 25mcg and 50mcg doses, receiving their first injections on December 17 and 26, respectively. All are now in stable condition.
The volunteers testing the 25mcg doses are scheduled to take their second shot on January 15 or 16. This first clinical trial, which tests the vaccine's safety and identifies the optimal dosage, is 50 percent complete. Vietnam expects to collect all necessary data on clinical testing by the end of 2021 before it can consider mass vaccination, he said.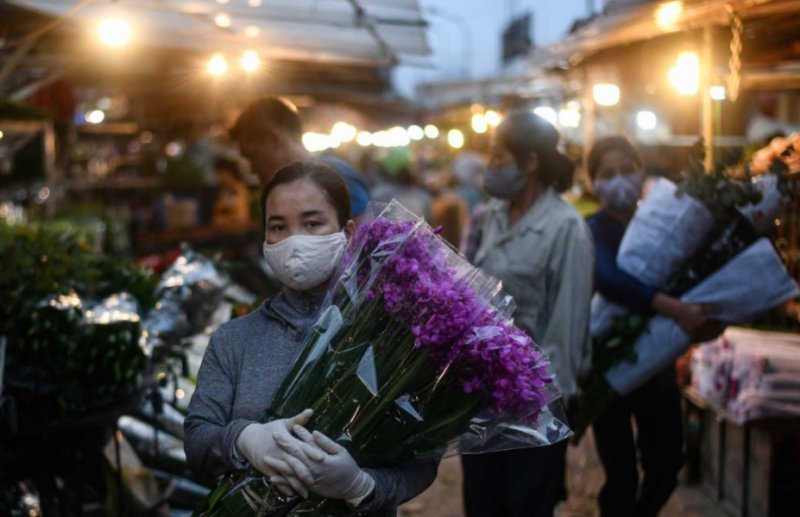 Russian paper praises Vietnam's achievements despite COVID-19. (Photo: Lowy)
Russian paper praises Vietnam's achievements despite COVID-19
The Rusvesna (Russian Spring) e-newspaper on January 11 ran an article expressing impression on Vietnam's achievements in economic development, poverty reduction, COVID-19 prevention and control, and foreign affairs under the leadership of the Communist Party of Vietnam (CPV).
The article said among nearly 30 countries that posted positive gross domestic product (GDP) growth in 2020, Vietnam emerged with a growth rate of 2.91 percent. Vietnam's trade revenue rose by 3.6 percent in the first 11 months of the year to 490 billion USD.
The author attributed these achievements to the country's successful fight against the COVID-19 pandemic under the CPV's leadership, saying that measures taken by Vietnam were not only drastic and strong but also open and transparent. As a result, around 1,500 infection cases were recorded in Vietnam in the past year. In particular, public response to the authorities' actions was extremely positive.
Having highly appreciated Vietnam's foreign policy of peace, the author believed that both Vietnam and Russia, with a similar approach, will contribute to strengthening peace and stability in the region.
TAG: