Vietnam to further promote foreign relations in 2021
Vietnam will continue to develop stable, sustainable and substantial relations with neighbouring countries, major powers, important partners, and traditional friends in 2021, Deputy Prime Minister and Foreign Minister Pham Binh Minh has said.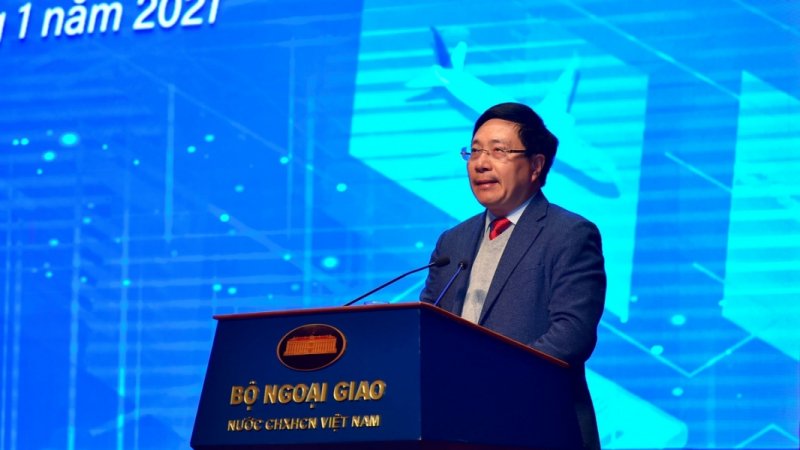 Deputy Prime Minister and Foreign Minister Pham Binh Minh addresses the conference to review Vietnam's diplomatic work in 2020 and outline tasks for 2021.

To realize the task, the diplomatic sector will continue to effectively implement the Party's foreign policy by bringing into full play its key pillars of economic diplomacy and cultural diplomacy coupled with overseas Vietnamese affairs, Minh told a conference in Hanoi on January 11 to review the Foreign Ministry's performance in 2020 and outline orientations in 2021.
Alongside promoting multilateral diplomacy, he said the sector will closely monitor and persist in the ongoing fight to firmly defend the sovereignty over national sea and islands, and legitimate interests of the country in the East Sea, while timely addressing traditional and non-traditional security challenges.
Minh reminded the sector to effectively implement overseas Vietnamese affairs, including citizen protection and communications, as well as promote cultural and people-to-people diplomacy.
The conference agreed that despite the rapid and complicated developments of the regional and global geopolitical landscape, Vietnam's diplomatic sector rationally addressed challenges, seized opportunities, and made important gains in 2020.
Diplomacy continued to be a bright spot in the overall picture of national achievements, creating a favourable environment for national construction and defense, and raising the country's position both regionally and globally, said Minh.
In 2020, Vietnam successfully assumed international responsibilities, especially the 2020 ASEAN Chair, and a non-permanent member of the UN Security Council for the term 2020-2021. It maintained and strengthened relations with other countries through flexible modes of external activities, including combined online and direct contact.
Promoting international economic integration, Vietnam ratified and signed key free trade agreements, including the EU-Vietnam Free Trade Agreement (EVFTA), the Regional Comprehensive Economic Partnership (RCEP) and the UK-Vietnam Free Trade Agreement (UKVFTA), thereby creating new impetus for economic recovery.
The diplomatic sector supported localities and businesses in connecting with partners, and expanding markets despite the impact of the COVID-19 pandemic globally. In addition, it made an important contribution to the protection of the sovereignty and sovereign rights of Vietnam, in accordance with international law.
The sector also effectively carried out cultural diplomacy and external information campaigns to promote the image of Vietnam in innovation, successful integration, and epidemic control.
TAG: