Fintech company offers 14-day loan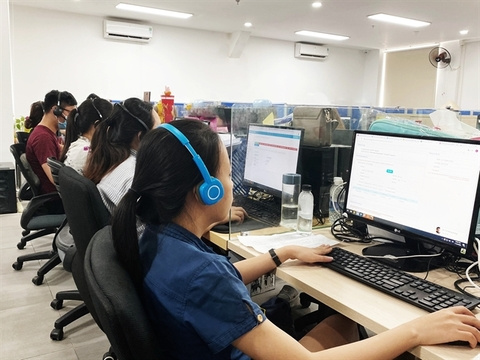 ATM Online's staffs at work. The company has launched a new product, 14-day loans. — Photo Courtesy ATM Online
Fintech company ATM Online has launched a 14-day loan option, becoming the first fintech in the country offering customers short-term loan.
When opening an ATM Online account, customers can get a loan of VND900,000 for 14 days at 1 per cent interest rate.
The loan is disbursed as soon as the customer is consulted and agrees to the terms.
ATM Online said with this new loan it aims to help customers understand and familiarise themselves with online loan products and experience its services before becoming a regular customer and borrow larger sums.
If customers repay the first loan in time, they would get incentives for the next loan from ATM Online, the company said.
But there is a 14-day grace period for those who register for the first time. Within 14 days of receiving it, customers have the right to reconsider their loan, and only need to pay back the disbursed amount if they change their mind. There will be no interest or consulting and service fees.
ATM Online is a subsidiary of Singapore-based TM Online. It also has a presence in the Philippines and Sri Lanka.
The company came to Viet Nam in 2017 and became a pioneer in providing small online loans of VND3-12 million for three to six months.
Now it has 160,000 customers and given nearly 350,000 loans. — VNS
TAG: