Five prosecuted for organizing illegal entry into Vietnam
The Saigon Times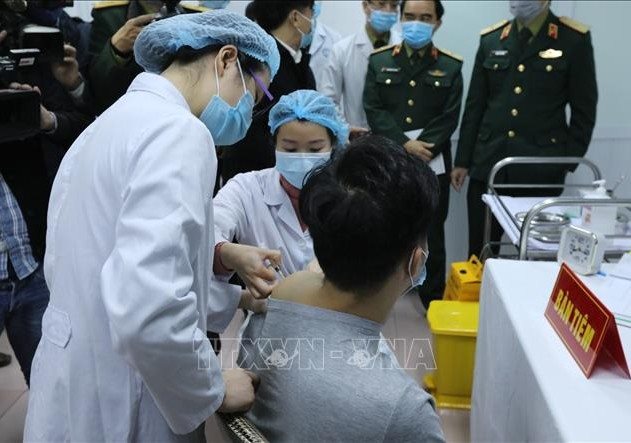 A man is injected with Nanocovax, the first Covid-19 vaccine made in Vietnam on December 17, 2020. The human trial of the country's second Covid-19 vaccine will start this month - PHOTO: VNA
HCMC - Vietnam will begin human trials of the second Covid-19 vaccine, which has been produced by the Khanh Hoa-based Institute of Vaccines and Medical Biologicals (IVAC), this month, two months earlier than the initial plan.
The vaccine has been tested on mice and rabbits and has proved safe and effective. Therefore, the Ministry of Health has allowed IVAC to start the clinical trial sooner than planned.
Duong Huu Thai, director of IVAC, said the institute began to develop the vaccine in May 2020 based on its experience in producing influenza vaccines and expected to make the Covid-19 vaccine available after 18 months.
"The clinical trial has three phases. The first phase is scheduled for completion in April. If all the three phases go smoothly, the vaccine will be available no sooner than the end of this year," he said.
IVAC will collaborate with the National Institute of Hygiene and Epidemiology and the Hanoi Medical University to conduct the clinical trial of the vaccine.
In the first phase, the vaccine will be given to 125 people to measure safety and to confirm that it stimulates the immune system. These people, who are healthy volunteers aged from 18 to 59, will be injected with different dosages.
"IVAC has many years of experience in producing influenza vaccines, with support from the World Health Organization and other international organizations. This has helped the institute accelerate the research and animal trials of the Covid-19 vaccine and begin the human trial sooner than the plan," Thai said.
Vietnam started the human trial of the first Covid-19 vaccine, Nanocovax, produced by Nanogen Pharmaceutical Biotechnology JSC on December 10, 2020. The second phase will be conducted in March 2021, followed by the third phase in August.
TAG: