2020 slinks into history as fireworks light deserted streets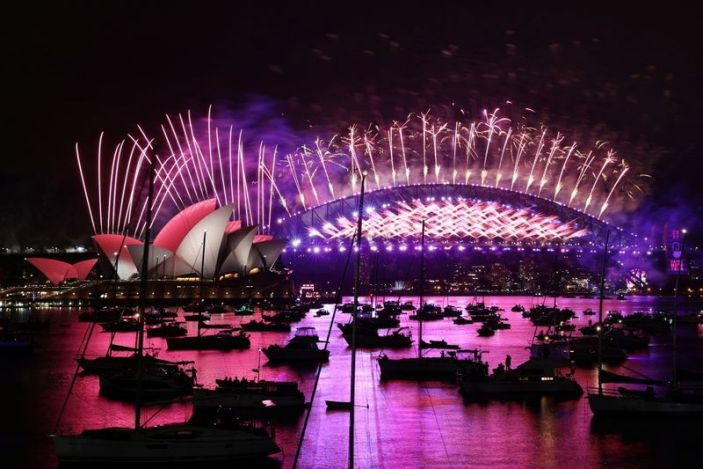 Fireworks explode over the Sydney Opera House and Sydney Harbour Bridge during downsized New Year's Eve celebrations due to an outbreak of the coronavirus disease (COVID-19) in Sydney, Australia, January 1, 2021. (Photo: REUTERS/Loren Elliott)
Fireworks soared into the sky above the Sydney Opera House, but the harbour below was a deserted ghost town, a fittingly creepy send-off for a year that will not be missed.
Good riddance, 2020. Hello, 2021.
New York's countdown ball was set to drop on Broadway. But in place of thousands of people jammed shoulder-to-shoulder in Times Square, the audience would be a few dozen pre-selected key workers – including nurses, doctors, a grocery store worker and a pizza delivery man – their families kept six feet (2 metres) apart in socially distanced pens.
"It's going to be actually, arguably, the most special, the most poignant, the most moving New Year's Eve," Mayor Bill de Blasio, who will push the button to start the crystal's ball descent, told reporters. "In 2021, we're going to show people what it looks like to recover, to come back."
Angela Merkel, in her 16th New Year's Eve address as German chancellor, said as much: "I think I am not exaggerating when I say: never in the last 15 years have we found the old year so heavy. And never have we, despite all the worries and some scepticism, looked forward to the new one with so much hope."
In the Chinese city of Wuhan, where the pandemic originated a year ago, large crowds took to the streets including a group of hundreds who gathered in front of the old Hankow Customs House building. When its old clock struck midnight many of them cheered and released balloons into the air.
There was a heavy police presence and strict crowd control, but the countdown appeared to proceed in a relaxed atmosphere.
"What a hell of a year it's been," said Gladys Berejiklian, premier of New South Wales state, which includes Sydney. "Hopefully 2021 will be easier on all of us."
But in Madrid's Puerta del Sol, where Spaniards typically count down to midnight by stuffing grapes into their mouths at each clock strike, police put up barriers to keep people out. Jose Angel Balsa, a 61-year-old retiree, said he would spend the evening "with family, just the four of us at home, holding lots of video calls and hoping for this to end as soon as possible."
Italy's bars and restaurants were closed, and a curfew imposed for 10 p.m.
One customer, Anne Chaplin, said she would "stuff myself with foie gras, champagne and all this food."
TAG: