The SE1 train derails at Hue station, causing passengers to panic.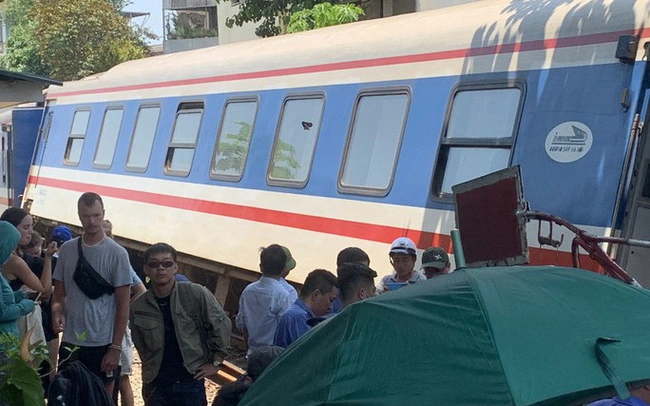 6
Around 11 a.m., train SE1 was traveling from north to south when carriage 7 started derailing and tilted about 30 degrees as leaving Hue station. There were no reported deaths. Passengers are directed to return to Hue station and wait.
Recorded at the scene, the 4th and 5th carriages of the train were entirely tilted to one side, and the wheel derailed. The incident caused panic among many passengers.
Because of the train carriages, the Dien Bien Phu route is congested. The traffic police have directed people to Phan Boi Chau Street, which is about 100 meters away. A 100-ton crane was dispatched to clear the scene.
At noon on May 4, the Binh Tri Thien Railway Management Joint Stock Company and heavy authorities were still trying to resolve the issue of two SE1 passenger carriages that had derailed from the tracks in the guardrail area at the intersection with Dien Bien Phu road, Truong An ward, Hue city, Thua Thien – Hue province.
Mr. Hoang Hai Minh, Vice Chairman of the People's Committee of Thua Thien – Hue province, was on the site to supervise the rescue and troubleshooting.
@vtv.vn
TAG: