Grab a bite of this mouthwatering fish salad on Hon Son Island in Vietnam's Mekong Delta
Alongside its picturesque scenery, Hon Son Island in the Mekong Delta's Kien Giang Province, serves up some of the region's most mouthwatering delicacies, including fresh fish salad.
Ca goi, also known as ca gioi, is a fish that measures approximately the size of a finger with a sharp, swordlike snout.
It lives near the coast and, is therefore, relatively easy to catch.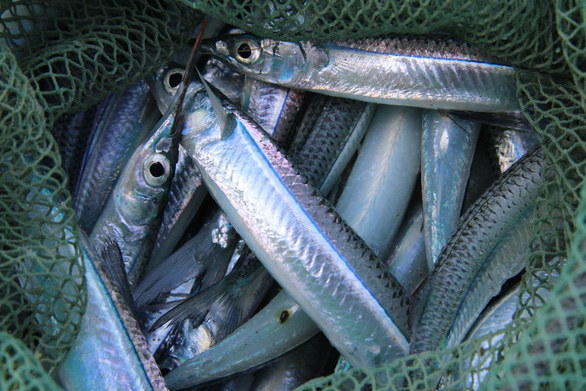 A batch of freshly caught 'ca goi'. Photo: C.Cong / Tuoi Tre
It is typically prepared as part of a salad alongside vegetables, rice paper, vermicelli, and grated coconut.
Nguyen Van Hung, a resident of Hon Son Island with nearly 20 years of fishing experience, shared that ca goi can be caught all year in the early mornings when there is a slight breeze.
Hung typically sells the ca goi he catches for VND60,000 to 70,000 (US$2.56-3) per kilogram.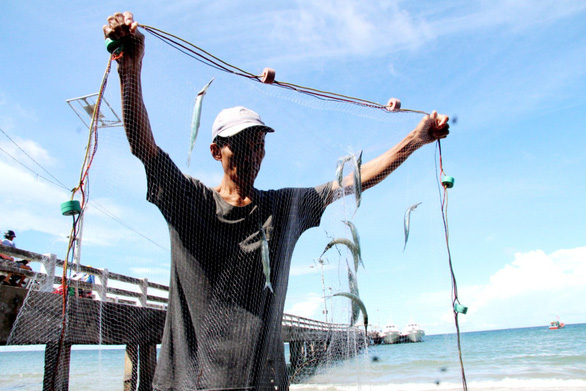 A fisherman catches bucketfuls of 'ca goi' near Hon Son Island, Kien Giang Province, Vietnam's Mekong Delta. Photo: C.Cong / Tuoi Tre
Whatever he doesn't sell is brought home to make a one-of-a-kind fish salad.
"My fish salad is a hit among visitors. They always give me positive feedback. It's a delicacy found solely on our island," Hung said.
Nguyen Thuy Tien, a visitor to Hon Son from Ca Mau Province, shared that the fish salad was one of her favorite dishes during the trip.
"This fish salad is super yummy and has no fishy smell," Tien said.
"I think paying VND150,000 to VND200,000 ($4.27-8.55) for [the fish salad] is reasonable.
"I will definitely try it again next time I'm here."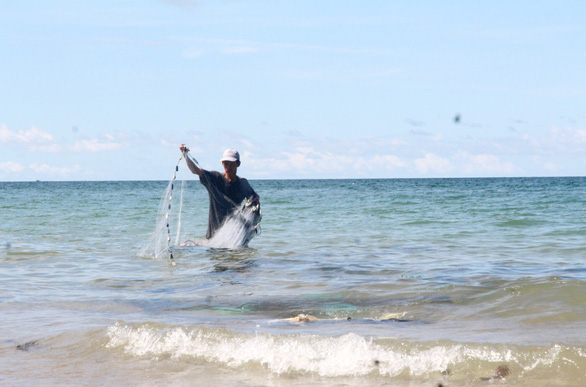 A fisherman casts his net to catch 'ca goi' near Hon Son Island, Kien Giang Province, Vietnam's Mekong Delta. Photo: C. Cong / Tuoi Tre
According to Loi Thi Ngan, Nguyen Van Hung's wife, the preparation of this fish salad is somewhat sophisticated.
Ngan often prepares the freshly caught fish by cleaning and slicing it into little pieces before placing it in a bowl with lemon juice.
The amount of lemon juice is just sufficient for the fish to remain rare without smelling fishy.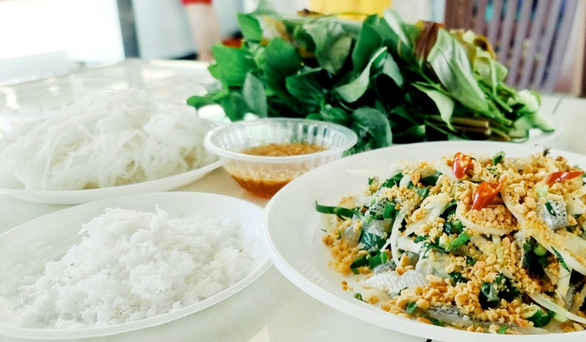 'Ca goi' salad is served with vermicelli, vegetables, and a dipping sauce. Photo: C.Cong / Tuoi Tre
Then, she adds sliced onions, roasted peanuts, fried garlic, grated coconut, and chili peppers.
For the dipping sauce, Ngan makes a sweet-and-sour-tasting fish sauce mixed with chilli and garlic that serves as a key ingredient for making the salad more delicious.
Like us on Facebook or follow us on Twitter to get the latest news about Vietnam!
Linh To - Chi Cong / Tuoi Tre News
TAG: