Traditional theatre offers summer programme for students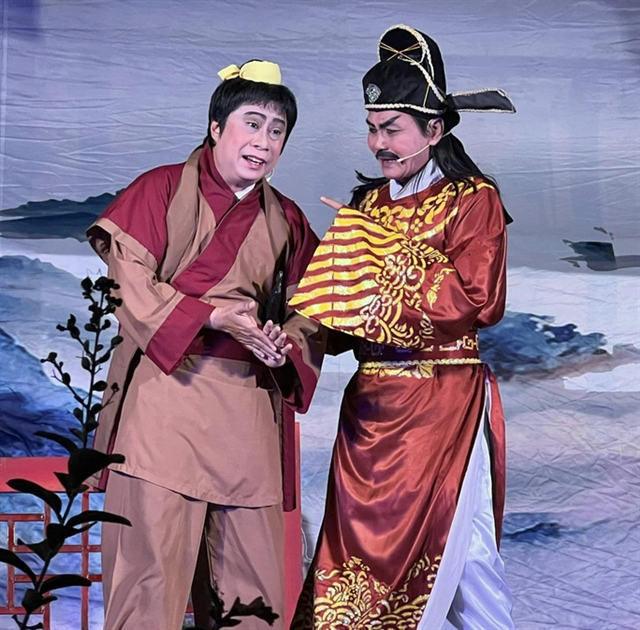 HCM CITY — The Trần Hữu Trang Cải Lương Theatre is offering a summer programme featuring cải lương (reformed opera) targeting primary and secondary students in HCM City and Thủ Đuc City. 
The programme is called Ưoc Mơ Của Em (My Dream) and includes new shows staged by veteran and young performers, including Meritorious Artist Lam Tuyền and young talents Nhật Nguyen and Khanh Ngọc. 
The artists perform folk music, cải lương, tuồng or hat boi (classical drama) -- the two traditional genres of Vietnamese theatre which began a hundred years ago. Traditional instruments used in Vietnamese theatre are also introduced.  
They will visit and perform Vietnamese folk songs and dances, and one and two-act shows in cải lương and tuồng for students in the districts of Gò Vấp, Bình Tan and Củ Chi and Thủ Đuc City. 
They will also perform two famous extracts from Tiếng Trống Me Linh, (The sounds of Me Linh Drum), a cải lương play on national heroines Hai Ba Trưng (two Trưng women) from 1977. 
The play tells the life of Trưng Trắc and Trưng Nhị, the two sisters who led the first resistance movement against the Chinese occupation in the first century, around 2,000 years ago.
The sisters led their troops on elephants to repel Chinese invasions. Their victory brought liberation for Đại Viet (an old name for Viet Nam) after 247 years of Chinese domination.
"Our summer programme, Ưoc Mơ Của Em, encourages students to love traditional art, especially cải lương, a symbolic form of Vietnamese theatre that originated and expanded in southern Viet Nam, particularly in the Cửu Long (Mekong) River Delta provinces, after watching our live performances," said Phan Quốc Kiet, director of Trần Hữu Trang Cải Lương Theatre. 
"Through our art, we hope young generations will improve their knowledge in Vietnamese history and culture." 
The programme, Ưoc Mơ Của Em, started last weekend and will offer 72 free shows. VNS
TAG: