Camping under 100-year-old longan trees: an unforgettable experience in Vietnam's Kien Giang Province
On Lai Son Island in Kien Giang Province in the Mekong Delta, in addition to traditional activities such as swimming, fishing, and savoring the delicacies, a growing number of tourists are interested in the overnight camping beneath the ancient longan trees.
Lai Son Island, also known as Hon Son or Hon Son Rai, is one of the islands that attracts a lot of tourists of Kien Hai Island District, Kien Giang Province.
Kien Hai consists of 23 big and small islands, 11 of which are inhabited. In total, land on the archipelago covers 2,460 hectares.
Lai Son Island, located about 65 kilometers off the west coast of Kien Giang's capital city of Rach Gia, is just a 1.5 hour express boat ride from the mainland.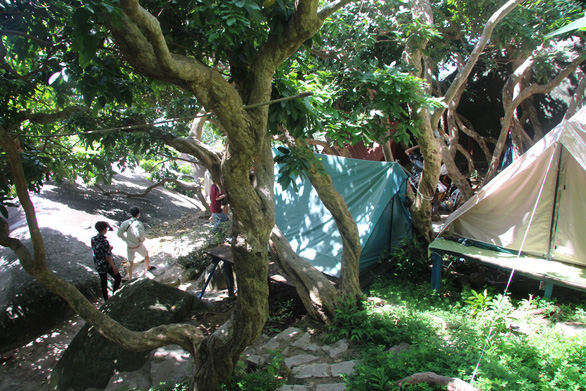 Visitors are seen camping under the ancient longan trees at Lai Son Island, Kien Hai Island District, Kien Giang Province. Photo: C.Cong / Tuoi Tre
Although not as beautiful as the adjacent Nam Du Archipelago, Lai Son Island has the advantages of being close to the coast and having national electricity, therefore in recent years it has become a favorite weekend getaway location for tourists.
Nguyen Thi Tuong Vy, a resident of Ninh Kieu District in the city of Can Tho, stated that during the summer vacation, she and her friends traveled to Hon Son and camped here in order to immerse themselves in the breathtaking natural beauty.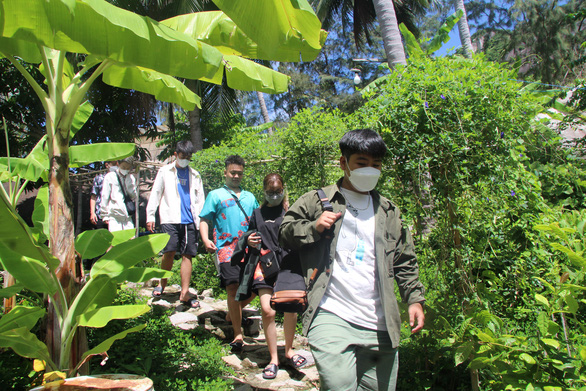 Tourists visit Lai Son Island, Kien Hai Island District, Kien Giang Province. Photo: C.Cong / Tuoi Tre
"This is my first leisurely visit to Hon Son. I also visited other tourist attractions, but sleeping in a tent here was a very unique experience," Vy shared.
"The sea breeze is invigorating, the water is crystal clear, and the trees are thriving. I'm at peace in every way."
Nguyen Yen Phi, a resident of Phung Hiep District, Hau Giang Province stated that she had a delightful and unique experience while camping in Hon Son beneath the longan trees.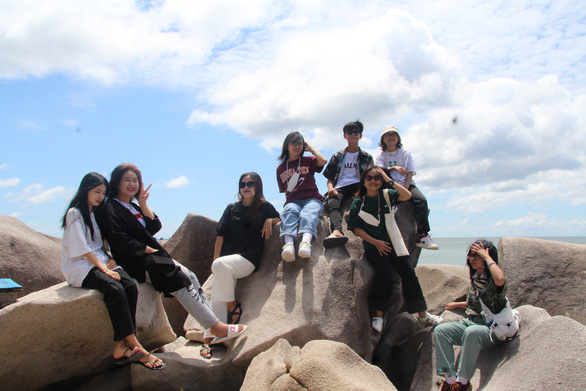 A group of tourists poses for a photo with the beachrock at Lai Son Island, Kien Hai Island District, Kien Giang Province. Photo: C.Cong / Tuoi Tre
"Hon Son is really gorgeous. I feel odd sleeping in a distinctive tent. I will surely return to have more fun," Phi said.
According to Ly Thua Loi, head of a travel company in Kien Giang Province, his company is renting approximately 4,000m2 of land to create a tent resort to serve travelers interested in experiencing nature and seeking peace within it.
Loi stated that he maintained the environment with trees and natural rocks in mind when designing this place.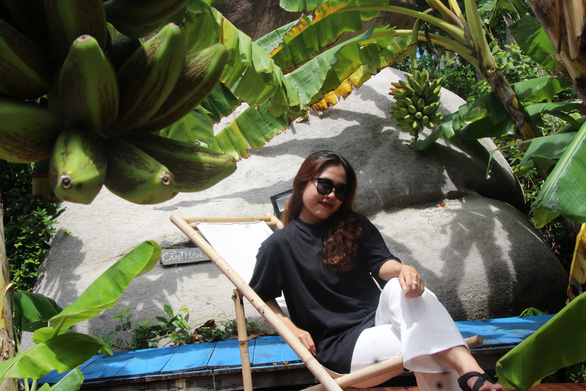 A young woman poses for a photo while sunbathing at Lai Son Island, Kien Hai Island District, Kien Giang Province. Photo: C.Cong / Tuoi Tre
Visitors can spend the night in the midst of idyllic sceneries in one of thirteen tents that can accommodate two to four guests apiece.
The price to rent a tent for two to four people each night, including breakfast, ranges from VND580,000-840,000 (US$25-36).
This summer, there is also a package that includes round-trip train tickets, tent rentals, sightseeing motorbikes, and breakfast for VND1.4 million (US$60) per two persons.
"On weekends, youngsters visit this location to participate in a variety of entertaining activities.
"Travelers spend the most of their time resting, sleeping in tents to immerse themselves in nature, listening to the birds sing, observing the sunrise, and hearing the waves crash at night," Loi said.
Like us on Facebook or follow us on Twitter to get the latest news about Vietnam!
Linh To - Chi Cong / Tuoi Tre News
TAG: