­­Netflix unveils finalists of 'My Vietnam' short film competition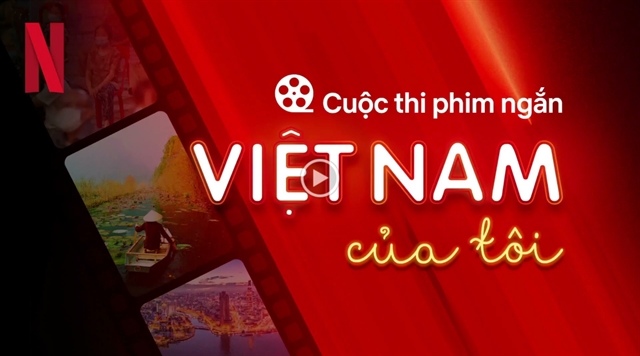 HCM CITY — Netflix has unveiled the top nine finalists for a short film competition powered by its Cinema Beauty - Vietnam Creative Economy Grant — launched in October 2021 with the support of the Ministry of Culture, Sports and Tourism.
This marks Netflix's first Creative Economy Grant in Viet Nam to support the country's creative economy and Vietnamese filmmakers from underrepresented groups, creating more opportunities for their voices to be heard.
Themed "My Vietnam", the short film competition encourages filmmakers from underrepresented communities to tell the stories of Vietnam through their own eyes.
Over 200 entries were received from aspiring filmmakers across Viet Nam since the application for the short film competition opened in December 2021, of which nine projects were carefully shortlisted by a jury including representatives from the Ministry of Culture, Sports and Tourism and experts in the country's film industry.
 "I've seen in these projects the beauty of creativity, enthusiasm and professionalism. These projects bring a subtle discovery of life and tell the stories of Vietnamese people today — the customs, habits, and cultural traditions of Vietnamese living in Viet Nam and abroad, the disadvantaged people in society, nature and our environment," said the Ministry of Culture, Sports and Tourism, Deputy Director at Department of Cinema, Lý Phương Dung'
"Each project proves the great love these aspiring filmmakers have for the nation and Vietnamese people," 
Amy Sawitta Lefevre, Netflix Head of External Affairs, APAC, said: "Through this short film competition and the Creative Beauty - Vietnam Creative Economy Grant, we are heartened to be able to support and witness the creative vision of many aspiring filmmakers from all walks of life and to experience the beautiful tapestry of Viet Nam's culture, heritage and landscapes through their eyes. I am blown away by the incredible talent of these storytellers and the stories they've told."
The top nine shortlisted projects include short films that showcase Viet Nam's unique communities, vibrant culture and charming landscapes, including stories of the H'mong ethnic group residing in the mountainous regions of Viet Nam in Khu rừng của Pao (Pao's forest), the lives of economically disadvantaged community in Wanna Come Back Home, and a journey of self-discovery for a Vietnamese community in the Czech Republic in Con tau của Theseus (Theseus' Ship).
Nguyễn Thanh Giang, creator of Theseus' Ship, said: "I love the Vietnamese community in Europe and, in particular, in the Czech Republic. While its presence is somewhat obscure, the community is brimming with vibrancy and life. This contest has given me a chance to tell the story of this community in a way that has never been seen before."
Each shortlisted project was awarded US$10,000 from the Netflix Cinema Beauty - Vietnam Creative Economy Grant to create a short film. The winning film will be announced on 23 May 2022, at 8pm on Yeah1's Facebook channel. — VNS
TAG: