Trà Vinh's lithophones set national record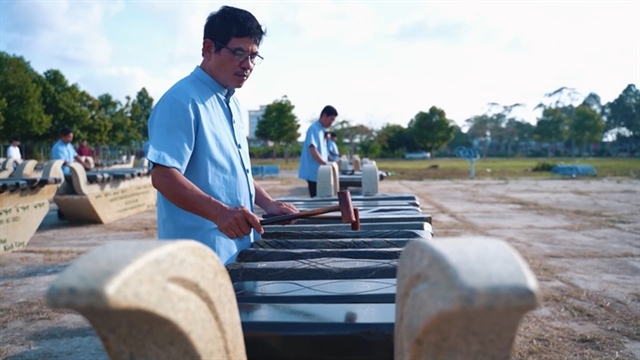 HÀ NỘI — Tra Vinh Province has set a new record for having a collection of the highest number of stone musical instruments -- a set of 30 lithophones.
This has been recognised by the Viet Nam Record Organisation (Vietkings).
The lithophone set, called "Âm Vang Khat Vọng Tra Vinh" (Echo of Tra Vinh's Aspirations), was placed at the provincial square last week to celebrate 30 years of the province's re-establishment.
Created by musician - record holder Trương Đình Chiếu, each lithophone weighs five tonnes, with 16 stone bars of different thickness and length.
Many years ago, Chiếu discovered many pieces of rocks that were struck to produce musical notes in the area of Bu Đăng District, Bình Phưoc Province.
Since then, he has researched and crafted many sets of lithophones, and presented them to various institutions nationwide with the aim to preserve and spread the intangible cultural values ​​of the country.
The total cost of those lithophones is about VNĐ6 billion (US$261,000), which were  sponsored by individual and organization patrons.
Lithophone is called "goong lu" by ethnic minorities in the Central Highlands, which means "the stones that sound like gongs". This is the oldest percussion instrument of Viet Nam and one of the oldest musical instruments of mankind.
The instrument is normally made of stone bars with different lengths and thicknesses. The long, big and thick pieces have a low-pitched sound, while the short, small and thin ones provide higher pitch sound.
Lithophone has been honoured by the UN cultural agency UNESCO as one of the official musical instruments in the Cultural Space of Gong in the Central Highlands of Viet Nam.
The "Echo of Tra Vinh's Aspirations" will be displayed at the Cultural Centre of Tra Vinh for visitors. VNS
TAG: