Singer Lương Hải Yến releases music video to inspire people in charitable work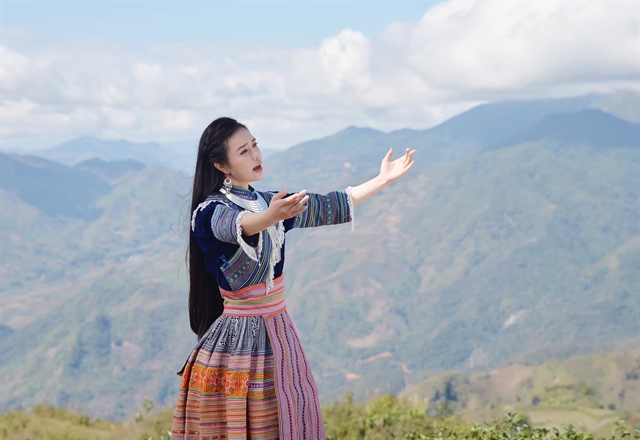 HÀ NỘI Chamber music vocalist Lương Hải Yến, winner of the Sao Mai Singing Contest 2019, has just released the music video Chắp Canh Tương Lai (Brighten the Future) to spread her charitable spirit to people.
The song is co-composed by musician Thanh Chung and Nguyễn Tiến Thịnh, secretary of Lai Chau provincial youth union.
This is the theme song of the charity programme Brighten the Future of the Lai Chau provincial youth union to help poor and orphaned children have a better life.
Thịnh met singer Yến because she had participated in many charity activities in the mountainous province of Lai Chau, such as building houses or helping ethnic people. She also adopted three children who had lost their father and lived with their mother, who was mentally challenged. Therefore, Thịnh chose Yến to perform this song.
"We want to give the song to an artist with a warm heart, bright, clear and hopeful voice. Yến is the most suitable person to express the spirit that Brighten the Future wants to convey," said Thịnh.
With the desire to further spread the meaning of the programme, Yến not only recorded the song but was also determined to produce the music video.
The video was made during the cold days of late 2021 in Sìn Suối Hồ Commune, Phong Thổ District, Lai Chau Province. At the time of filming, the temperature here was only 3-4 degrees Celsius, plus the cold wind and fog made Yến feel the extreme harshness of the highlands and sympathise with the children who lacked care of the family. During filming, the female singer even fainted from the cold.
The video contains beautiful images of Lai Chau with high mountains covered in clouds, the ethnic children in colourful costumes and charitable classes and houses built to help them have a better life.
"Watching the poor little lives, I worry and lose sleep. Hopefully, through this music product, the programme can find more benevolent hearts to help children in special circumstances, so that their future can be brighter," the singer said.
The music video can be seen at https://youtu.be/kqwAyBgd7xo. VNS
TAG: