Screen play or real life? Netizens wonder after a viral video featuring the Hai Van Pass stuns viewers
A video clip of stunning clouds rising from the Hai Van Pass in central Vietnam has gone viral on TikTok thanks to its breathtaking views that seem to have been plucked directly from the silver screen.
According to Le Thanh Cuong, the man behind the viral video, the footage was recorded on January 25 at 4:00 pm.
"I watched the clouds billow like a waterfall that day while I was hanging out at the pass," Cuong said.
"I thought it was strange, so I took out my phone, recorded it, amd uploaded the video to social media.
"I had no idea it would so popular on TikTok."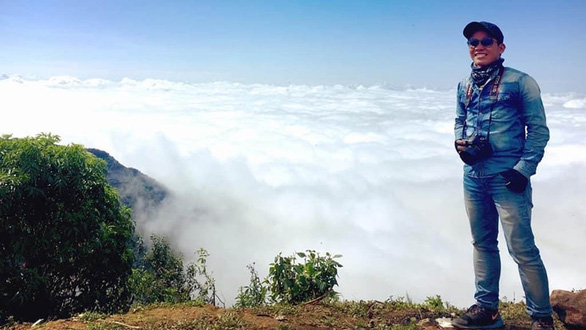 A tourist stops on a curb to take a photo of the cloudy scene on Hai Van Pass, Vietnam. Photo: Hoan Nguyen / Tuoi Tre
The video was captured at a curve a few hundred meters from the pass's summit.
"It wasn't just me. Many people were there capturing the magnificent scenery," Cuong said.
"A long time ago, I saw a similar scene with clouds floating from Hue to Da Nang, but it wasn't as wonderful as [the video I recorded]."
According to Cuong, it's common during cold weather to see clouds cascading down the pass like a waterfall, forming an island in the sky.
Cuong's video earned over 581,000 likes from netizens thanks to the spectacular footage.
"I've driven this route several times over the past four years and have never seen this," one TikTok user commented.
Meanwhile, several individuals stated that venturing out in the middle of the pass was risky and advised those who wish to do the same to keep themselves and others safe.
The Hai Van Pass, one of the most spectacular mountain passes in Vietnam, winds across parts of Thua Thien-Hue Province and Da Nang in the central region of the country, meandering over the slopes of Hai Van Mountain at 500 meters above sea level.
It is one of the world's most stunning and magnificent coastline passages.
Like us on Facebook or follow us on Twitter to get the latest news about Vietnam!
Tuoi Tre News
TAG: