Songbook celebrates HCM City and its achievements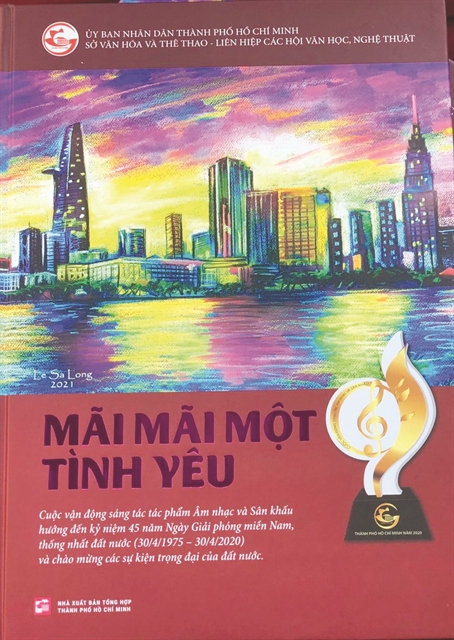 HCM CITY — The HCM City Department of Culture and Sports has released a book titled Mãi Mãi Mot Tình Yeu (Only Love), featuring new 50 songs and five choral compositions highlighting HCM City and its achievements.
The book, published by the HCM City General Publishing House, features popular Vietnamese musicians like Võ Thien Lan, Phạm Minh Tuấn and Võ Đăng Tín.
The songs include Thanh Phố Hồ Chí Minh - Nơi Những Dòng Song Hoi Ngo (HCM City - Where the Rivers Meet) by Lan, Khoảng Lặng (A Silent Moment) by Tuấn, Sang Ngời Hao Khí Sai Gòn – TP.HCM (Brightening Spirit of Sai Gòn - Hồn Chí Minh City) by Tín.
Lan, a native of Sóc Trăng Province, has more than 30 years of experience in music and composing, said: "I have a deep love for HCM City, from every tree to every street. This land is beautiful and its people are nice. Since leaving the city a long time ago, I have really missed it."
Meritorious Artist and musician Thế Hiển, who has written dozens of songs about HCM City, said: "All the songs in the book reflect the composers' love for HCM City. The artists have witnessed the city's development and achievements which inspired them to write beautiful songs about the city."
Mãi Mãi Mot Tình Yeu is a result of a song and playwriting contest of the same name, which was organised by the city People's Committee and the Department of Culture and Sports between December 2019 to July 2020.
The contest received 260 entries, reflecting the city's lifestyle, development and achievements.
The organisers gave 35 prizes to the best works in October 2020. — VNS
TAG: