Da Nang inaugurates APEC Statue Park expansion works
The APEC Statue Park expansion project, with its dome imitating 'a flying kite,' was inaugurated in Da Nang on Monday after more than one year of construction at a cost of over US$33 million. 
Situated on the Han River's bank in Hai Chau District, the expansion area is adjacent to the APEC Statue Park, which was first put to use in 2017 to welcome the APEC Economic Leaders' Week that took place in the city in November that year. 
Covering an area of 8,668 square meters, the new works include a basement and two floors above ground, which were built with an investment of VND759.15 billion ($33.6 million) from the city's budget.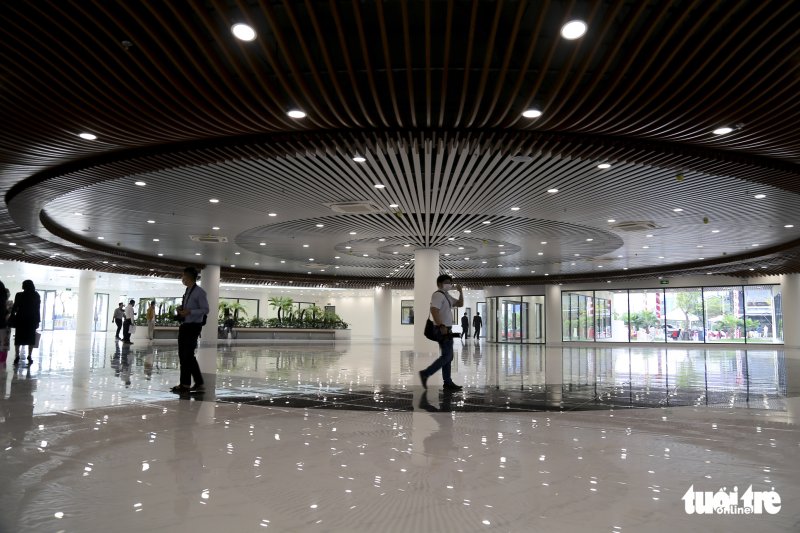 This image shows the first floor, covering 2,750 square meters, of the expansion works at the APEC Statue Park in Da Nang, Vietnam. Photo: Doan Nhan / Tuoi Tre 
Of this figure, VND623.3 billion ($27.57 million) was spent on compensation and site clearance, VND130 billion ($5.74 million) on construction and equipment, and the rest on other expenses.  
The basement is intended for public parking and technical rooms, while the first floor, covering 2,750 square meters, provides a space for resting and relaxation, a souvenir sale area, and a tourist information center.
The second floor, which features a dome designed with a 'flying kite' concept, has a community space, ramps, walkways, lakes, and trees to create an attractive landscape.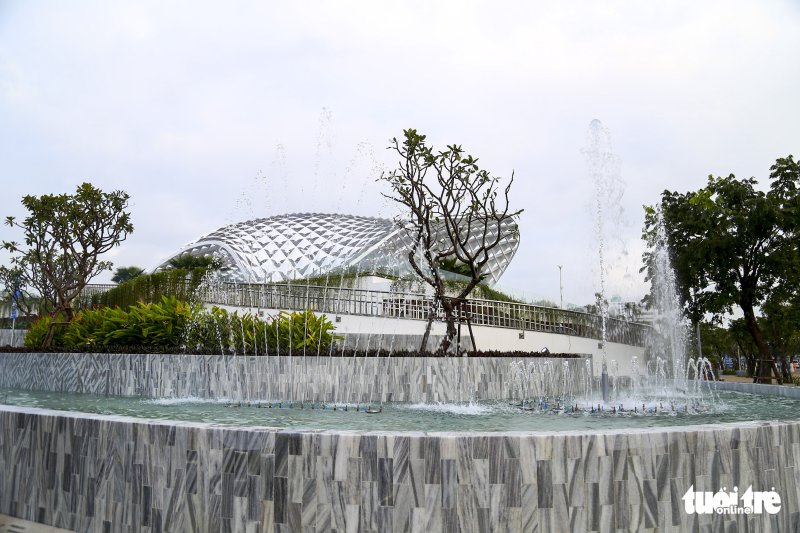 This image shows a lake with double waterfalls and automated fountains, part of the APEC Statue Park expansion project in Da Nang, Vietnam. Photo: Doan Nhan / Tuoi Tre
This unique dome, with an area of 790 square meters, was built with around 200 tons of steel.
"The project shows not only the spirit of international integration, but also the desire of local people for a green, friendly, harmonious, and peaceful city," chairman of the municipal People's Committee Le Trung Chinh said at the inauguration ceremony.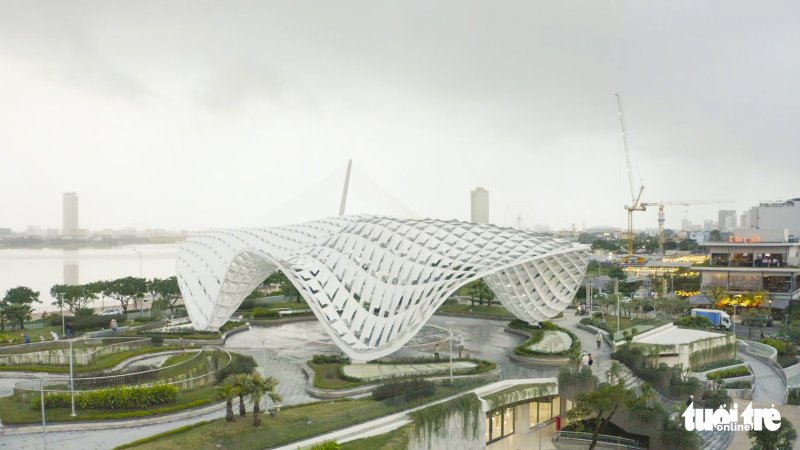 The APEC Statue Park expansion project in Da Nang is seen from a far distance. Photo: Doan Nhan / Tuoi Tre
The expanded APEC Statue Park, which is an architectural highlight on the romantic Han River, should be operated and maintained effectively to become an attractive destination for both locals and visitors, as well as an ideal venue for cultural and festival activities, the city's mayor said.
The expanded park, along with the Bach Dang pedestrian street and the artistic lighting project 'River of Light' on both sides of the Han River, which will be implemented in the coming time, will contribute to improving locals' spiritual life and serve as attractive tourism products for domestic and foreign tourists, the Vietnam News Agency cited the chairman as saying.
Like us on Facebook or follow us on Twitter to get the latest news about Vietnam!
Vinh Tho / Tuoi Tre News
TAG: