Book released on defence of Vietnamese islands against Chinese invaders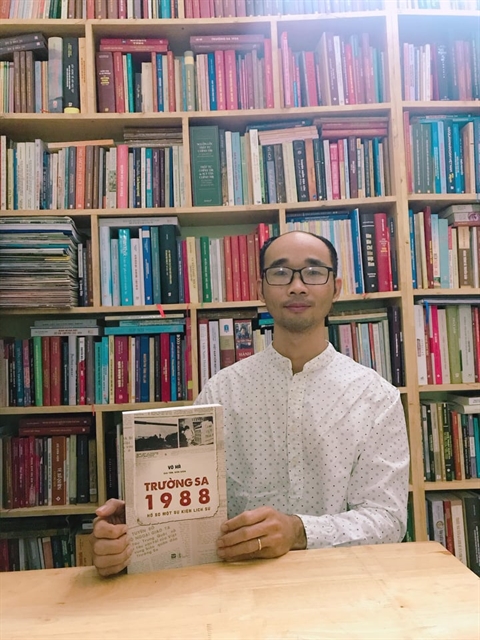 ĐÀ NẴNG – Researcher Võ Ha has released the book Trường Sa 1988 – Hồ Sơ Mot Sự Kien Lịch Sử  (Trường Sa 1988 – A Dossier on a Historical Incident) on the protection and development of Trường Sa (Spratly) Archipelago of Viet Nam, focusing on the protection of Gạc Ma (Johnson), Colin and Len Đao reefs in Viet Nam's Trường Sa Islands against Chinese invasion 33 years ago.
The 300-page book, which was printed and published by the Đa Nẵng Publishing House and Phanbook in 2021, is one of the most fully documented collection of documents,  stories, reports and articles on the protection of the Spratlys, particularly the brave fight of Vietnamese naval soldiers against Chinese invaders on Gạc Ma (Johnson) reef on March 14, 1988.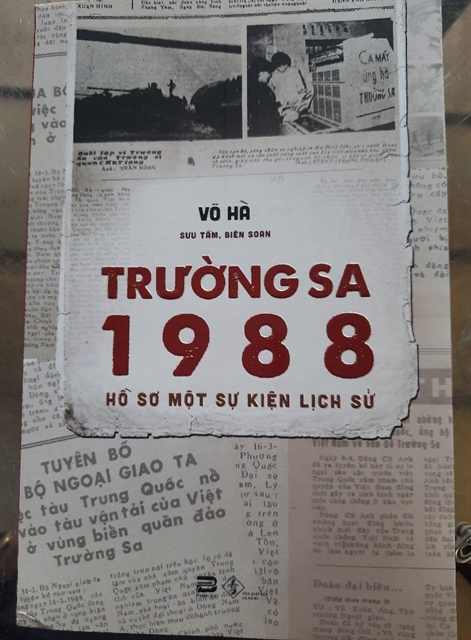 It's a collection of 159 articles published in two newspapers – Nhan Dan (the People) and Quan Đoi Nhan Dan (the People's Army) – written by 39 reporters from February to June of 1988, before and after the incident, featuring the tense situation in the waters off Trường Sa Islands of Viet Nam.
Ha, 37, who is works at the Đa Nẵng's party committee's Publicity and Education Commission, said he began working with a data store on the country's sovereignty on seas and islands in 2011, which he was initially unfamiliar with, during his study at Đa Nẵng University's history teacher's training faculty.
"Many documents and articles in the data store were collected and complied following incidents that occurred on Trường Sa 33 years ago. A series of leading articles, diplomatic notes, and reports from the two newspaper report truly what happened on the islands," Ha said.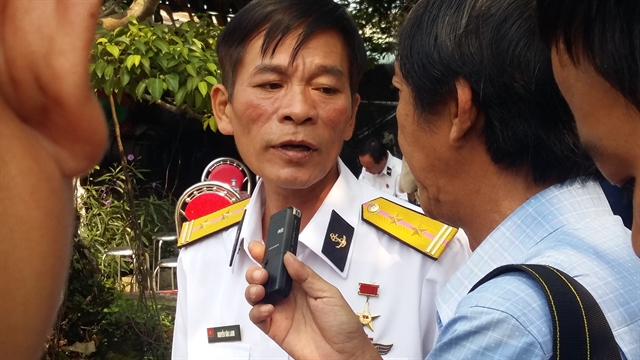 "I recognise there is a blanket in history documenting Trường Sa (Spratly) and Hoang Sa (Paracel), which was inadequately included in the school curriculum, especially beyond the normalisation of Viet Nam-China ties in 1990," he said.
Ha said young generations of Vietnamese should know deeply of the historical records and documents on the fight and protection of seas and islands by previous generations.
In his foreword to the book, Ha wrote:"China illegally occupied some parts of Trường Sa Islands between 1976-1988, and the fight of the Gạc Ma (Johnson) reef was an outbreak of the 22-year-invasion by China of Viet Nam's islands and seas."
"In 1974, China invaded west ofthe Paracels and illegally occupied the entire Hoang Sa Island under management of the Republic of Viet Nam, or the Sai Gòn administration."
The book also highlights the strong will and spirit of Vietnamese people in protection of the country's sovereignty of the Trường Sa and Hoang Sa archipelagoes, which Viet Nam has continuously exercised and managed from the 17th to 19th century and until today, he added.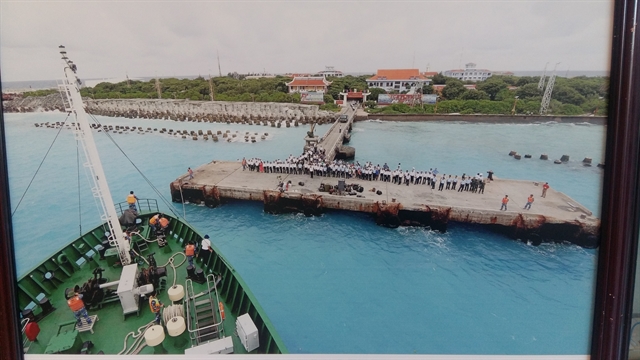 The book includes five parts: General information on China illegally taking reefs on Viet Nam's Trường Sa Islands by force in 1988; Declaring Viet Nam's sovereignty of Hoang Sa and Trường Sa archipelagos and legal historical evidence from 1988; International opinions on China's infringement and illegal actions on Trường Sa Islands in 1988. The fourth and fifth parts depict support from Vietnamese people heading to Trường Sa Islands and life on Trường Sa Islands.
A document in the book reveals that China mobilised a fleet of 40 ships with 1,000 naval soldiers for the invasion of Trường Sa Islands. About 20 ships including guided missile destroyers, frigates and disguised fishing vessels began illegally operating in water off Trường Sa from the middle of 1987.
China occupied Chữ Thập (Tizard bank or Fiery Cross Reef) on January 31, 1988, before illegally landing on Chau Vien (London Reef) on February 18, the Gaven Reef on the 26th, and Hughes Reef on the 28th.
Between December of 1987 and March of 1988, Viet Nam sent transport ships and engineers to build and protect Đa Đong (East London Reef), Đa Tay (West London Reef), Đa Lat (Ladd Reef), Tien Nữ (Pigeon Reef/Tennent Reef), Tốc Tan (Alison Reef), Nui Le (Cornwallis South Reef) and Đa Lon (Discovery Greet Reef).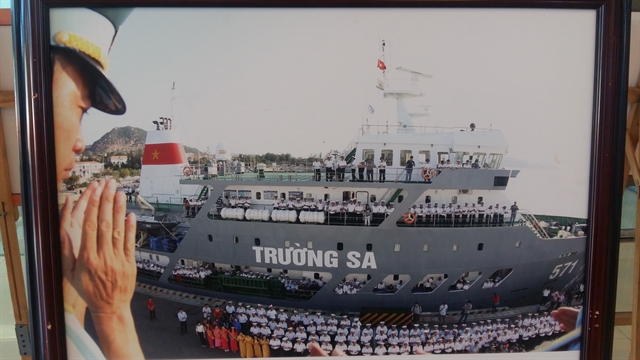 In March 1988, China sent 12 naval ships including a guided missile destroyer and seven frigates to Trường Sa Islands. Meanwhile, Viet Nam reserved only transport ships and mostly engineers to build on Gạc Ma (Johnson Reef), Colin (Collins Reef) and Len Đao (Lansdowne Reef) in the area of Sinh Tồn (Sin Cowe Island).
Three naval transport vessels of Viet Nam (HQ 604, HQ 604 and HQ505) and a team of 70 engineers with construction materials were sent to reinforce infrastructures on Gạc Ma, Colin and Len Đao reefs from March 11-14, 1988.
A group of four Vietnamese soldiers were assigned to land on the Gạc Ma reef in the night of March 13. However, a Chinese guided missile destroyer and other armed naval ships launched fire on Vietnamese transport ships and navy soldiers on guard at the reef in the early morning of March 14.
An article by Ngọc Đản, published on Nhan Dan newspaper on March 24, 1988, reported that Chinese warships (No 556, 653, 552, 505, 502) attacked Vietnamese ships in waters off Gạc Ma and Colin reefs.
Chinese ship 505 rammed the anchored HQ 604 ship of Viet Nam before sending a motorboat with an armed group of 71 sailors to attack the Vietnamese flagged Gạc Ma Reef.
The Chinese forces, who failed in the the fight against an unarmed defence of Vietnamese naval engineers, fired on Vietnamese flag holder Trần Văn Phương in an effort to grab the Vietnamese flag.
Chinese war ship 502 began firing artillery at the Vietnamese HQ 604 ship and 40 Vietnamese engineers on the Gạc Ma Reef, while other Chinese war ships (552 and 556) also launched artillery fire on Vietnamese ship HQ-505 in Colin Reef and HQ-605 in Len Đao Reef at the same time.
Two Vietnamese ships HQ-604 and HQ-605 were sunk, but the captain of HQ-505, Vũ Phi Trừ, quickly decided to land the ship on the rear of Colin Reef, marking the country's sovereignty of the reef, the article said.
Another article showed that 64 Vietnamese naval soldiers were killed in action or missing after artillery attacks by Chinese ships, while 10 others were seized by Chinese force (they were released by the Chinese in 1991).
Chinese illegally occupied the reef by force, and even hindered Vietnamese rescue ships from saving wounded and killed Vietnamese soldiers at sea, other articles reported.
The book's author Võ Ha said it's the first book that unveils the detailed defensive actions of Vietnamese soldiers against cruel Chinese attackers in the fight off Gạc Ma Reef.
March 14 has an annual memorial service honouring the 64 Vietnamese naval soldiers who were killed in the fight to protect Gạc Ma Reef, from Chinese invaders on March 14, 1988.
Nguyễn Văn Lanh, who joined the battle in 1988, said: "They [Chinese soldiers] attacked Vietnamese soldiers to snatch the flag with a manual battle, but they failed. A Chinese sailor fired at Vietnamese flag holder Trần Văn Phương, but I kicked the gun out of the Chinese man's hand before taking the flag."
"I was stabbed by a bayonet in my back, shoulder and chest, but we kept holding the national flag to protect the country's sovereignty."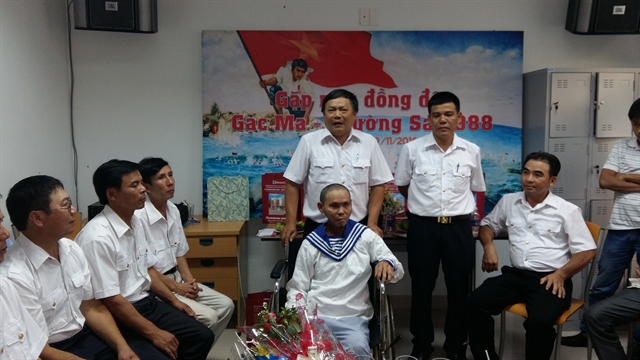 "Chinese soldires then returned to their ships and began firing artillery on unarmed Vietnamese naval engineers on the reefs and our ships to kill our team," he said.
Many martyrs lost their lives at sea, and their souls live on in the country's history. Nine martyrs were from Đa Nẵng and 14 from Quảng Bình Province.
The brave fight on Gạc Ma Reef helped the Vietnamese navy protect two other reefs – Co Lin and Len Đao – from attacks by Chinese forces.
Trần Văn Thoa, a 'prisoner' of the Gạc Ma fight, has since opened a restaurant, named Gạc Ma, in Quy Nhơn City, Bình Định, to earn a living and to rendezvous with his valiant fellow soldiers. VNS
TAG: