Folk music and symphony combined in music video
HÀ NỘI — Singer and doctor of music Tan Nhan has released a music video (MV) combining xẩm (blind busker's singing) with cello to modernise this Vietnamese classical form of music.
The Cong Cha Ngãi Mẹ Sinh Thanh MV was released in the last days of 2021 as a farewell to a difficult year covered by the shadow of the COVID-19 pandemic and a greeting to a new year with much hope.
The xẩm MV is a story praising parents' love, and the patriotism and the strength of the outstanding children who have grown up from their parents' arms to protect and build a powerful Viet Nam through the nation's thousands of years of history.
Nhan said she nurtured the idea for the production of Cong Cha Ngãi Mẹ Sinh Thanh after her Trở Về (Return) live show in 2019, but it took the singer up to two years to bring it to fruition. Its arrangement, in particular, took half a year as it has been thoroughly researched by conductor Đồng Quang Vinh with the aim to become distinctive but still ensure its core essence.
"In its music part, the audience could clearly feel the pentatonic scale that is typical of traditional music, accompanied with other interesting features such as the faint sound of muzzle chanting of a Buddhist space and Western symphonic music," said the conductor.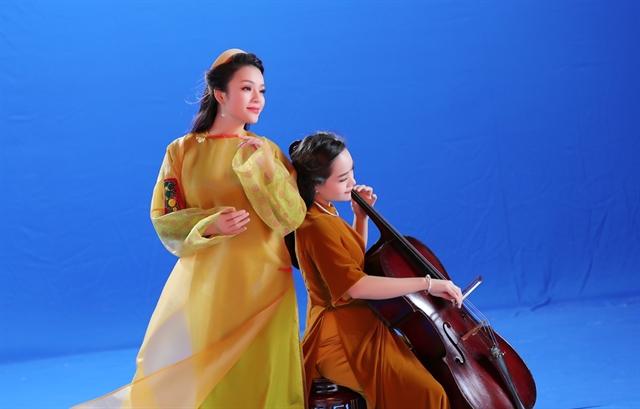 In particular, the dual performance between Nhan and cellist Đinh Hoai Xuan has brought a completely new and interesting musical experience to this xẩm song.
"This wonderful combination helps the traditional xẩm song to have both the ethnicity and elegance of symphonic music," said Doctor of Music Cồ Huy Hung, Dean of the Department of Traditional Musical Instruments, Vietnam National Academy of Music.
"Listeners could feel that xẩm has really entered into another space and musical layer without losing its distinctive folk material. Moreover, it becomes more suitable for contemporary taste," he added.
Composer Trần Mạnh Hung also believes that Cong Cha Ngãi Mẹ Sinh Thanh is a creative work of contemporary folk music that is worth listening to.
"In the MV, Nhan's voice contrasts with Xuan's cello," he said.
"One side is the singing voice while the other is the instrument. The multi-layer accompaniment sometimes takes us back a few hundred years in Europe and then towards a trendy music space with modern percussion. Overall, it creates an interesting and distinctive musical character."
The images in the MV also excite the audience with the graphic part of traditional lacquer paintings and motifs of the Lý Dynasty (1009-1225) to feature mythological stories as well as layers of Vietnamese cultures.
"During the nearly six-minute journey of the MV, I feel like I was walking through a long story in which there were ups and downs of Vietnamese traditional music," said musician Lưu Ha An.
Nhan was born in 1982 in the northern province of Ha Nam. She currently works as Vice Dean of the Vocal Department at the Viet Nam National Academy of Music. She won in the category of folk songs at the Morning Star national singing contest in 2005.
Last year, the folk singer was nominated in two categories "Programme of the Year" and "Singer of the Year" at the Dedication Music Awards, a highly anticipated annual music awarding event presented by Thể Thao&Văn Hóa (Sports And Culture) newspaper. — VNS
TAG: