Book features Vietnamese literary and arts works about Tết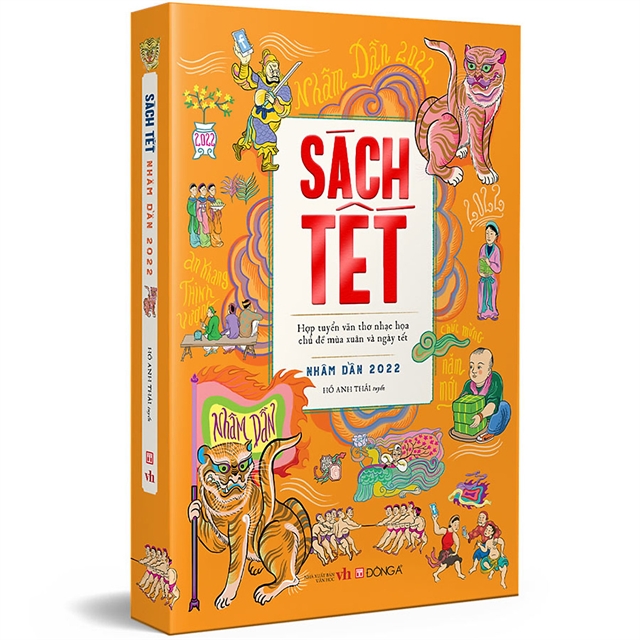 HCM CITY -- The Đong A Books Joint Stock Company, one of Viet Nam's leading book publishers and distributors, has released a new book to celebrate the Tết (Lunar New Year) festival in the Year of the Tiger.
Sach Tết Nham Dần 2022 (Book for the Year of the Tiger 2022) features a collection of stories, poems, songs, paintings and illustrations about the spring and Tết festival by 60 writers and painters.
The 304-page book was compiled by writer Hồ Anh Thai, who has worked with Đong A to publish special books for Tết since 2019.
The book is divided into six parts: Ký uc mua xuan (Memories of Spring), Văn (Essays), Thơ (Poems), Nhạc (Songs), Hoạ (Paintings), and Vĩ thanh (Conclusion).
The first part about spring in the past includes short stories such as Dư Âm Xóm Cay Gõ (Back to Spring at Cay Gõ Residential Area) by Phạm Cong Luận, Nho Mỡ (Fatback) by Đỗ Tiến Thụy, and Có Ai Còn Nho (Remembrance) by Uong Triều.
The book also features literary works by famous Vietnamese writers and poets, like Chợ Hoa Phien Áp Tết (Flower Market the Day Before Tết) by late author Ma Văn Khang, and Tết Bình Thường Của Mot Người Nghiem Tuc (A Usual Tết Festival of a Serious Man) by Phan Thị Vang Anh, as well as songs by composers Phó Đuc Phương and Song Hảo.
The painting section features works by Nguyễn Viet Cường, whose work honours frontline workers, and life in HCM City and the solidarity of its people during the pandemic, as well as paintings and illustrations by veteran and young painters like Thanh Chương and Tạ Huy Long.
According to Đong A Books, as in previous years, Sach Tết Nham Dần 2022 has had a great contribution from veteran artists and new faces. It is expected to be a great gift for people in the upcoming festival.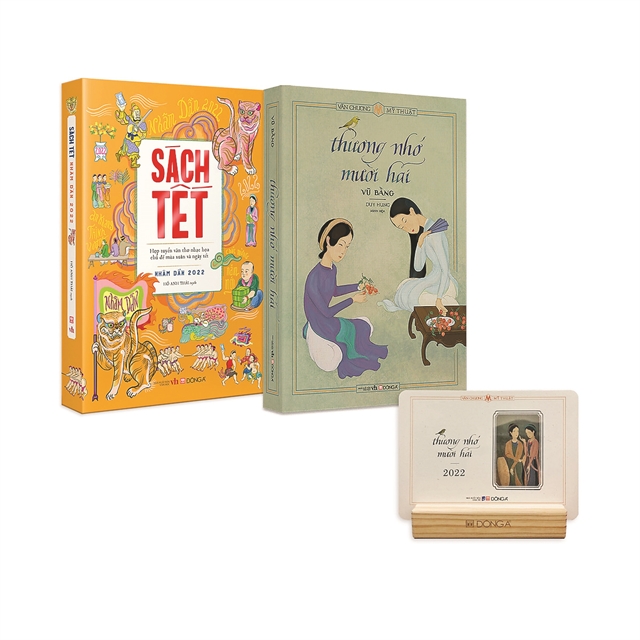 In addition, the company will present a special gift box for Tết called Mot Gói Xuan (A Package of Spring), featuring books Sach Tết Nham Dần 2022 and Thương Nho Mười Hai (Twelve Months to Remember) by Vũ Bằng, about love and nostalgia for his wife and native land in the north, experienced while stationed in various parts of the country over the course of decades.
The book consists of stories about foods, fruits, drinks and popular pastimes enjoyed during the year.
The gift set will include a table calendar with illustrations inspired from Bằng's book created by veteran artist Duy Hưng.
The Mot Gói Xuan set priced at VNĐ709,000 (US$31) can be pre-ordered at e-commerce platform tiki.vn.
Sach Tết Nham Dần 2022 is available at the company website sachdonga.vn, and e-commerce platforms tiki.vn and Shopee. It costs VNĐ359,000 ($15.7). VNS
TAG: