Vietnamese folk music specialist passes away in France, aged 78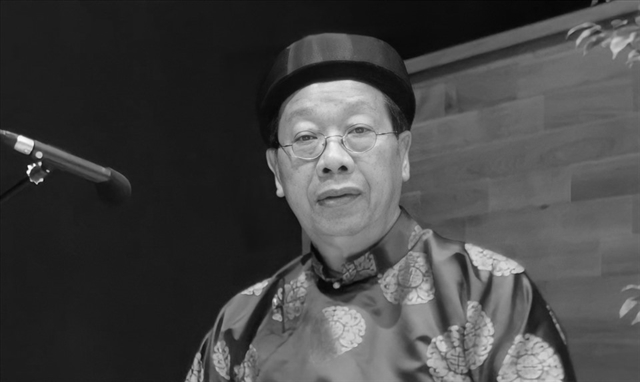 HÀ NỘI — Professor Trần Quang Hải, a specialist of Vietnamese traditional music, has passed away during his sleep after years fighting blood cancer in France, aged 78.
Earlier, despite being treated for the terminal illness, he had been seen actively working on the launch of Trần Văn Khe scholarship fund to fulfill the wish of his father, late Professor Trần Văn Khe, a legendary musicologist, writer and teacher, as well as a talented performer of Vietnamese music.
The Trần Văn Khe scholarship fund aims to honour students, researchers and artists with outstanding achievements in the study, research and promotion of traditional Vietnamese arts.
Born in 1944 in Sai Gòn (now HCM City), Hải was a fifth-generation descendant of the Huế court musicians and the eldest son of Professor Trần Văn Khe. He followed a musical path from a young age.
After graduating from the Department of Violin of the Saigon School of Music and Drama, he moved to France to continue his studies and started his research on ethnic musical instruments.
Following the advice of orchestra leader Professor Yehudi Menuhin, he switched to studying other ethnic musical instruments at the Louvre, Sorbonne (Paris, France) and Cambridge (UK) Universities. He was later granted a doctorate in Vietnamese folk music in France, the second person to receive the degree after his father.
He started working for the French National Centre for Scientific Research at the Museum of Mankind (Musee de l'Homme) in Paris in 1968. He conducted special research in the field of folk music such as throat singing, and developed a technique of playing the spoons and lip lute, attracting international acclaim. He was also a member of the International Council for Traditional Music.
Together with his wife, singer Bạch Yến, he conducted over 3,000 presentations of Vietnamese folk music in 70 countries around the world. He was honored with the title of "spoon king" after winning a spoon tapping contest at the British Music Festival in 1967.
Hải has spent more than 60 years creating melodies from spoon tapping, which he performed in over 1,500 shows and musical activities worldwide.
In Viet Nam, he was established by the Vietnam Book of Records as the person who performed the most diverse rhythms and sounds from the art of spoon tapping. He also set the record of performing the lip lute in the most countries in the world in 2012.
In 2017, he presented his research documents to the Vietnam National Academy of Music. The folk music professor published two books, 50 Năm Nghien Cuu Nhạc Dan Toc Viet (50 Years Of Studying Vietnamese Folk Music) and Hat Đồng Song Thanh (Throat Singing). VNS
TAG: