Writing helps heal the pain, says award-winning author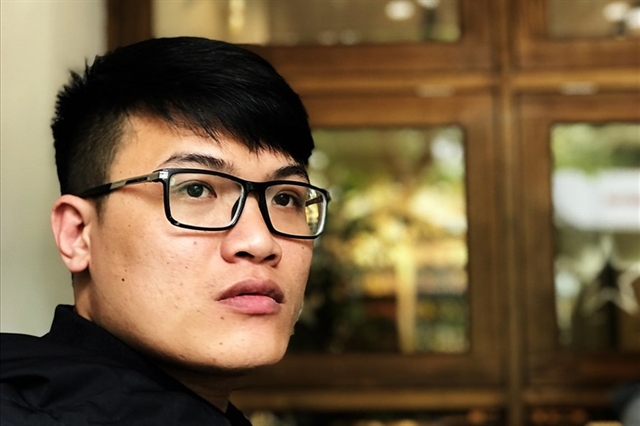 Emerging writer Phan Đuc Loc was honoured recently at a writing contest held by the Ministry of Public Security. He is a police officer working in the northern mountainous province of Đien Bien. Loc has won many awards for his different genres of literature including top prize at the Young Literature Contest 2018 and Short Story Writing Contest 2018-19.
Lao Đong (Labour) newspaper reporter Viet Văn spoke with Loc who is also a member of Viet Nam Ethnic Literature and Arts Association.
Could you tell us about your award-winning work? 
My short story entiled Pảng Cò Moong received third prize at the 4th Golden Pen contest 2018-2021. The story was set in the northeastern region in the 1980s.
It reflects old customs, as well as drug and human trafficking. I focus on a sad love story of a policeman. I want to portray the image of a public security soldier with manners of bravery, humanity and devotion to people.
It is one of my works that I have worked hard to complete. You know, during the writing I dreamed several times about what the ending should be.
You have written different genres of literature including short stories, poems, essays, children's stories and novels. How do these genres intersect?
Each literary genre has its own function and equal value. I think that a good poetic sentence is more precious than a bad novel.
I started writing poems, then essays, short stories, long stories for children and novels. It is natural for me to move from the short to the long.
All literary genres have a cohesive and complementary relationship to help writers create complete works.
Could you tell us about your first novel. Why did you choose this structure?
The structure of parallel stories is not new. Many writers use it. The most important thing is how to write and make it interesting. In the first novel, I choose to write parallel stories aiming at making the content dramatic and stirring readers' curiosity.
One line is a journey of a police officer fighting crime and the other is his memory about love. The story is both rational and sensitive.
It is really difficult to make it reasonable. I hope the reader will be patient enough to read from the beginning to the end.
What do you think about writing? Is this a dream job or hard work?
I dreamed of becoming a poet and writer when I was young. I'm passionate about literature. It is neither entertainment nor hard work. To me, literature helps to relieve and heal spiritual pain. It also keeps my memories, my thoughts and my secrets. 
Every time I begin to write I find myself doing something meaningful. I feel full of joy. 
If I did not write, my life would be boring. 
You are a public security officer, how do you find the time to write?
I'm very busy with my work in the office. I save time for writing and I don't care about other entertainment. You can't have it both ways. Every day I write for about one or two hours. It is normal for a professional writer. I think I have to write more.
What characters do you like to create in your work?
Writing gives me the chance to live in the characters' lives. After the first novel about a policeman, some of my friends suggested I continue writing about this character.  VNS 
TAG: