Plan approved to develop Ba Bể Lake
BẮC KẠN — Deputy Prime Minister Vũ Đuc Đam has approved a master plan to preserve and promote Ba Bể Lake, Bắc Kạn Province.
The plan aims to preserve the historical, cultural, scientific and aesthetic values of the lake, as well as protect the forests, biodiversity, geology, geomorphology and cultural heritage of ethnic communities in the area.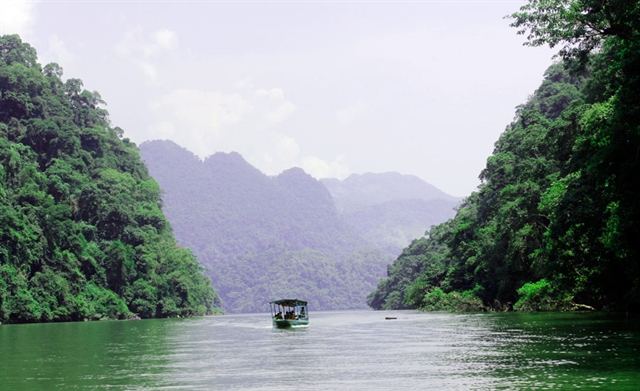 The plan will see the lake develop into an attractive tourist destination in Bắc Kạn, a locality in Viet Bắc region that covers Cao Bằng, Bắc Kạn, Lạng Sơn, Thai Nguyen, Tuyen Quang, and Ha Giang provinces. It aims to connect with other local historical-cultural relics and scenic spots, forming a chain of tourism products, promoting environmental protection and contributing to local socio-economic development.
In addition, the plan also defines the boundary of the protection of the area as a legal basis for managing the lake, identifying functional areas, organising space, architecture and landscapes, and arranging technical infrastructure for conservation and promotion.
The plan covers an area of 10,080ha in Nam Mẫu and related communes in Ba Bể District.
The planning research will include the historical, cultural, scientific and aesthetic values of the lake and related landscape areas, the flora and fauna ecosystems of the conservation area, and the tectonics and geology of the area.
As one of the 20 largest freshwater lakes in the world, it is an ideal eco-tourism destination with amazing landscape and biodiversity.
It is called Ba Bể because its bed is divided into three lakes: Pe Lầm,  Pe Lu and Pe Leng. Pe means lake in the language of the local Tay ethnic group.
Located in the heart of Ba Bể National Park, the lake has a surface area of about 500ha and is more than 8km in length. The widest area is nearly 2km and the deepest 35m.
In March 1995, the World Lake Conference held in the US classified the lake as one of the world's 20 special freshwater lakes in need of investment and protection.
In 1996, Ba Bể National Park was recognised as a national historical and cultural relic site. In 1997, the UNESCO Viet Nam Committee proposed that UNESCO recognise the park as a world natural heritage site. VNS
TAG: