Việt Nam, Denmark exchange knowledge on sustainable cities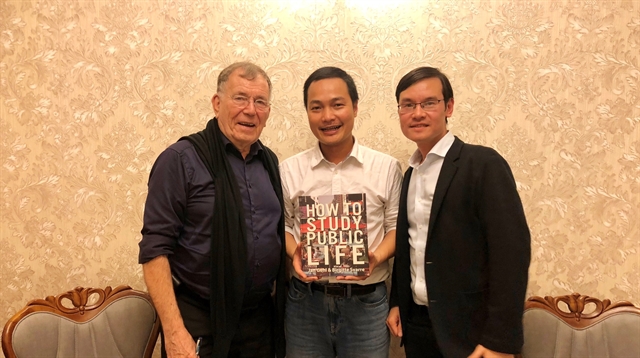 HÀ NỘI- An exhibition titled 'Nordic Sustainable Cities' showcasing successful green projects in Denmark and other Nordic countries has been open to the public in Ha Noi to celebrate the 50th anniversary of diplomatic relations between Viet Nam and Denmark.
The event was co-organised by the Embassy of Denmark and ASHUI Co., and was followed by the seminar 'Sustainable and Liveable Cities – From Nordics to Asia' on Thursday in Ha Noi.
It is aimed at promoting the continued exchange of knowledge between Danish and Vietnamese professionals, architects, city planners, experts, researchers, university teachers and students.
Due to the COVID-19 pandemic, the event was held offline in Ha Noi with a limited number of participants, and online with participants from Copenhagen, Tokyo, Singapore and Viet Nam.
"For the past few years, the Embassy of Denmark and our local partners have been cooperating closely on sustainable and liveable cities to promote exchange of knowledge and experience between experts of our two countries on how to create better cities for people,'' said Kim Højlund Christensen, ambassador of Denmark in Viet Nam, at the event opening.
"Together we would like to raise awareness on the high importance of balancing infrastructure development with improving life quality and the well-being of city residents. In light of this, we hope to place environment, social equity, and cultural and recreation possibilities on an equal footing with economic development.
"Through the exhibition and the seminar today, I hope that our Vietnamese partners and friends will find the stories behind our strivings to make Copenhagen and other Danish cities among the most green and liveable cities in the world inspirational and helpful for their ongoing endeavours to develop and transform Vietnamese cities to become more sustainable and liveable."
The exhibition will run until December 19 at AgoHub, 12 Hòa Mã Street, Hai Ba Trưng District.
The virtual exhibition is open online for public access at nordiccities.ashui.com.
During the seminar, the book "How to Study Public Life" by Professor Jan Gehl and Dr. Birgitte B. Svarre, translated into Vietnamese by Dr. To Kien, was launched.
In the book, Gehl and Svarre draw on their combined experience of over 50 years to provide a history of public-life as well as methods and tools necessary to recapture city life as an important planning dimension.
Since its publication in 2013, this book has become an essential tool-oriented asset for all who are striving to create 'cities for people.'
Participants at the seminar got the opportunity to engage in discussions with the two authors about their book and their key-note presentations on Danish Urban Design.
The exhibition and the seminar are part of a comprehensive cultural and public diplomacy programme undertaken by the Embassy of Denmark in Viet Nam to celebrate the 50th anniversary of diplomatic relations between Viet Nam and Denmark. VNS
TAG: