Live music shows are back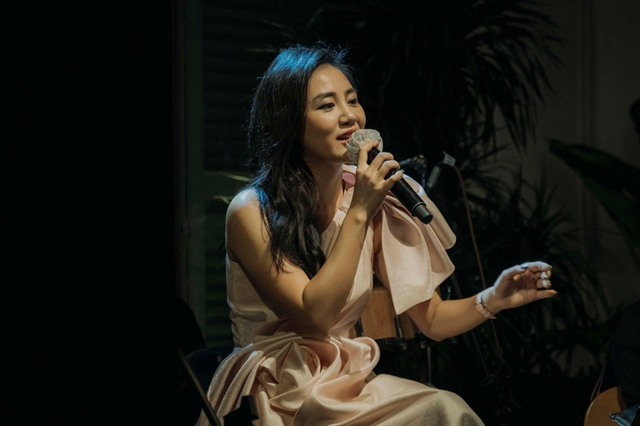 HCM CITY — As most activities have resumed under the "new normal", Vietnamese artists are striving to hold performances to satisfy music fans' desires of seeing their favourite artists live.
Pop star Văn Mai Hương introduced a special mini show in HCM City yesterday to meet audience demand for live music.
"The show expresses my gratitude to my fans who always love and support me," said the 26-year-old.
The show had her hit songs like Nếu Như Anh Đến (If You Come), Mot Ngay Hay Trăm Năm (One Day or A Hundred Years), Lau Đai Cat (Sand Castle).
Hương also performed compositions from her latest album Hương (Scent).
The album, released early this year, consists of eight ballads by young composers Vũ Ngọc Bích, Nguyễn Duy Anh, and Hua Kim Tuyền, about the maturity of a woman and her experiences after a relationship.
The songs include Đốt (Burn), Cầu Hon (Proposal), and Hương featuring young rapper Negav, the album's most liked song.
Tuyền, the album's composer, said through the album, Hương expresses her feelings, experiences, experiments and changes of a mature woman.
The 26-year-old Tuyền shot to fame after he began writing music for pop stars like Tóc Tien and Truc Nhan, and well-known rapper Đen Vau, who have earned success with his songs. 
Nguyễn Anh Tuấn of Đồng Nai Province said: "As a fan of Hương, I admire her strong and powerful voice and professional skills. Her songs evoke emotions in me. I really want to go to her shows if I have the opportunity."
Hương's show is her fourth live event since HCM City lifted the lockdown.
The singer hosted three shows in early November. Tickets sold out in a day.
"Performing 14-15 songs in a night is so exhausting, but I'm very happy. I decided to hold another show as a gift to my loyal fans," said Hương.
Born in Ha Noi, Hương rose to fame after being the runner-up of the reality show Vietnam Idol in 2010 when she was only 16.
She has released three albums, including Hãy Mỉm Cười (Let's Smile) in 2011 and Mười Tam + (Eighteen + ) in 2013, featuring songs by famous composers like Giang Son, Huy Tuấn and Đuc Trí.
She was invited to become one of three judges at the reality show Vietnam Idol Kids 2017, along with singers Bích Phương and Issac.
This year, Hương has participated in Xuan Hạ Thu Đong Rồi Lại Xuan (Spring, Summer, Autumn, Winter, and Spring), a TV reality show showcasing street performances of favourite Vietnamese singers, and the virtual music show Eye Live Contact on YouTube, which became very popular among young people across Viet Nam.
Live music is back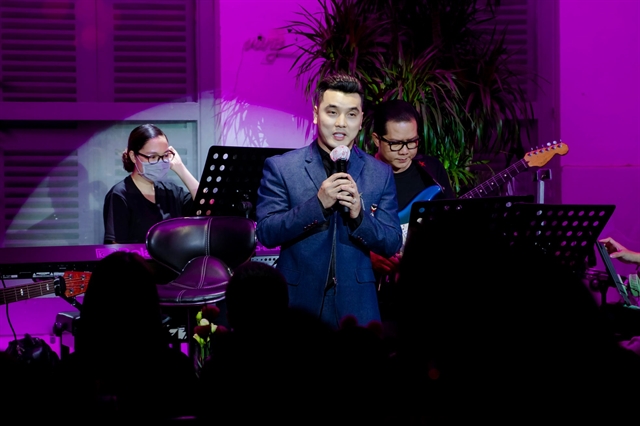 Like Hương, many Vietnamese singers, especially veteran artists Phương Thanh and Ưng Hoang Phuc, have rushed to the stage to satisfy their desire to perform and serve audiences.
Pop singer Phuc, said at his mini show called "Người Ta Nói" (People Said That) on November 18-19: "I'm very happy when all my fans can always be with me. Thank you for all your love."  
During the show, the 40-year-old singer sang his hits Toi Đi Tìm Toi (Travelling to Find Myself), Mỗi Người Mot Nơi (My Breakup Song) and Nếu Ta Còn Yeu Nhau (If We Were Still In Love).
Phuc debuted as a member of the boy band 1088 in 2000. When the band parted in 2002, he began his solo career and earned a lot of success.
In 2009, he started his own music company called Green Space Communication with label U-Media.
Along with veteran singers, young singers also had plans to return.
Hoang Dũng, who is famous for composer Tuyền's song Hoa Kỳ (American Dream), had a show called "Nang Thơ" (Muse) on November 29 and 30, featuring his own compositions Nang Thơ and Đoi Lời Tình Ca (Love Song).
Ha Noi-based Le Hiếu, who is known as the "prince of ballads", will host a show called "Tim Anh Troi Về Em" (My Heart Flows to You) on December 10. — VNS
TAG: