Writing contest featuring labourers launched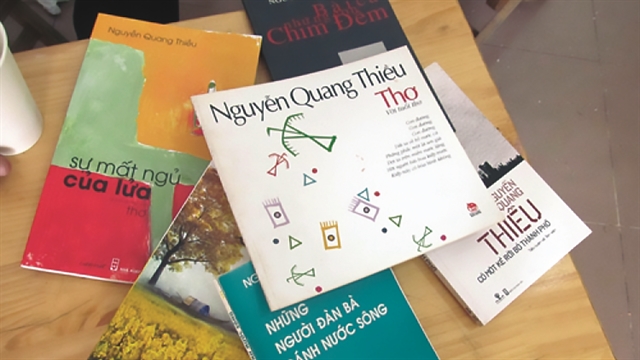 HCM CITY— Labourers and their lives will be featured in a writing contest that was launched this week by the Viet Nam Writers' Association in co-operation with the Lao Đong (The Labour) newspaper.
Vietnamese at home and abroad are encouraged to participate the event called Cuoc Thi Sang Tac Văn Học Về Người Lao Đong (Writting Contest Featuring Labourers) as part of an effort to discover and support young writers. 
The contest aims to highlight farmers and workers as well as the activities of social affairs programmes on new-style rural areas and their effects on local people. 
The organisers welcome works on economic, social and economic achievements of remote provinces. Images of the culture and lifestyle of ethnic minority groups are also encouraged.
They are also seeking works with themes about the lives of young workers, particularly women, and their challenges and dreams in a globalised world.  
Both amateur and professional writers are welcome to send their entries in the two categories of fiction and short story. 
Famous authors, poets and translators will be part of the jury. 
There will be a total of 16 prizes worth VNĐ2.5 billion (US$110,000) the biggest prize money ever for a writing contest in the country. 
Organisers will present one special prize worth VNĐ400 million ($19,000), and one first prize and two second prizes worth VNĐ600 million ($29,000) in total for the winners in the fiction category. 
In the short story category, the winner of the special prize will receive VNĐ200 million ($9,000). The first prize and two second prizes worth VNĐ250 million ($11,000) in total will be given. 
Prizes for the favourite work and youngest writer will also be presented. 
"From the contest's works, we hope to encourage Vietnamese farmers and workers who contribute to the country's development," author Nguyễn Bình Phương, deputy chairman of Viet Nam Writers' Association, said. 
"We hope our contest will give young writers, particularly those from ethnic minority groups, a chance to develop their careers and bring writers and readers together." 
The contest's participants must submit their work on paper to the contest organiser at Viet Nam Writers' Association-Creating Office at 9 Nguyễn Đình Chiểu Street, Nguyễn Du Ward, Hai Ba Trưng District, Ha Noi. 
Entries should be postmarked by August 2023. 
The best works will be published in magazines and newspapers. The prize winners will be announced in December 2023. — VNS
TAG: