Việt Nam Cultural Heritage Day celebrated nationwide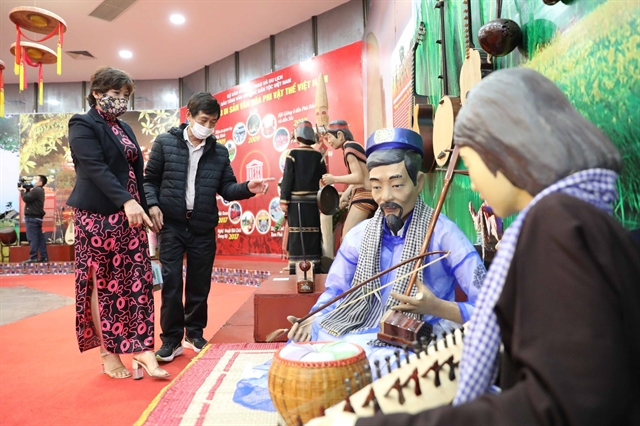 HÀ NỘI — Many activities to honour the national tangible and intangible cultural values have been organised nationwide to celebrate Viet Nam Cultural Heritage Day (November 23).
One of the highlights in the capital city of Ha Noi is the Vietnamese Cultural Heritage Space exhibition at the  Viet Nam Arts and Culture Exhibition Centre that is open until November 27.
This major cultural and tourism event will introduce and promote the cultural and natural heritage values and unique landscapes of Viet Nam, particularly those that have been recognised as world's heritage by the United Nations Educational, Scientific and Cultural Organisation (UNESCO).
The virtual version of the exhibition will also take place from November 24-31 on the websites of the centre at trienlamvhnt.vn and of the culture ministry's Department of Cultural Heritage at dsvh.gov.vn.
Vietnamese Cultural Heritage Space showcases nearly 100 images of Vietnamese typical intangible cultures, 13 of which have been recognised by UNESCO, in addition to more than 200 documents, artefacts, costumes, musical instruments and scientific documents of six intangible heritages honoured by UNESCO, including Huế royal court music, space of gong culture, ca tru singing, quan họ Bắc Ninh folk songs, then singing and art of đờn ca tai tử music and song in southern Viet Nam.
Along with and indoor section, the exhibition also has outdoor areas featuring products of traditional craft villages of the country.
At Ha Noi's Old Quarter area, a chain of cultural activities to celebrate the 16th anniversary of Viet Nam Cultural Heritage Day have been organised by the Management Board of Hoan Kiếm Lake and Ha Noi Old Quarter with the cooperation of local tour agents
The exhibition of Áng Phao Traditional Carpentry Village (Thanh Oai District) is ongoing until December 15 at the city's Cultural Exchange Centre located at 50 Đao Duy Từ Street, Hoan Kiếm District.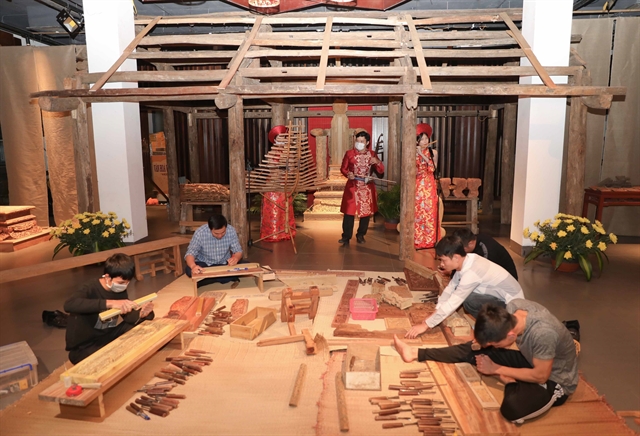 Visitors can admire typical products of Áng Phao carpentry, including carved wooden products with sophisticated antique motifs, and learn about the history of the village. Family members of artisan Nguyễn Văn Quyết will practice carpentry at the exhibition and introduce to visitors the woodworking process.
The "Vietnamese Traditional Occupations" photo exhibition features 60 selected works from the Viet Nam Heritage photo contest. It will also be held at the same time at the Hoan Kiếm Lake Cultural Information Centre on Le Thai Tổ Street, Hoan Kiếm District.
"Artisans deserve special attention because they are the living treasures of the craft villages," said Associate Professor Đặng Văn Bai, vice president of Viet Nam Cultural Heritage Association.
"On then, they could create artisanal products that are also works of art and therefore have their values preserved and promoted."
The award ceremony of the art design competition entitled Hoan Kiếm Lake: 60 Years of Love and a Vietnamese folk music performance was held on November 21.
According to the deputy head of the Management Board of Hoan Kiếm Lake and Ha Noi Old Quarter, event-goers must strictly comply with COVID-19 pandemic prevention and control measures.
They can also join the activities virtually via the Facebook page Phố Cổ Ha Noi (Ha Noi Old Quarter).
An art programme with the theme Dawn of Viet Nam takes place at the Culture-Tourism Village of Vietnamese Ethnic Groups in Ha Noi's outlying district of Sơn Tay, kicking off the Great Unity of Nations - Vietnamese Cultural Heritage Week in 2021.
The highlights of the week are performances of folk songs, traditional dances and crafts of Vietnamese ethnic groups, together with the re-enactment of a number of special festivals.
Speaking at the opening ceremony, National Assembly Chairman Vương Đình Hue affirmed that Great Unity of Nations - Vietnamese Cultural Heritage Week is an annual activity to honour the most basic cultural features of all the 54 ethnic groups.
The theme of this year's event has a profound meaning, responding to the National Cultural Conference implementing the Resolution of the 13th National Party Congress while praising typical examples from ethnic communities throughout the country and honouring efforts in preserving and promoting cultural identities of ethnic groups, he added.
Alongside, cultural heritages in different localities, along with their typical traditional handicraft products, cuisines and specialties are also introduced. VNS
TAG: