202 South Koreans with vaccine passports first int'l tourists to Phú Quốc after two-year freeze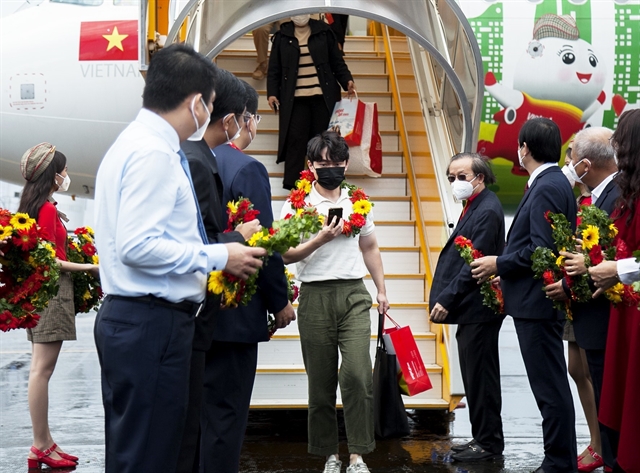 HÀ NỘI — A group of 202 South Korean tourists have arrived safely in Phu Quốc, Kien Giang Province, becoming the first to visit the resort island after two years of stringent border closures.
They are also the first international tourist group from the South Korean market to travel to Viet Nam under the "vaccine passport" programme as Viet Nam transitions into flexible adaptation with COVID-19 and gradually opens its borders. They will enjoy a 4-day 3-night stay at Vinpearl Phu Quốc complex, which features five-star sea-view villas, golf course, theme parks, safari, casino, among others.
During their stay, they will be tested two times for COVID-19, upon arriving and after leaving the island.
They received a warm welcome from the Viet Nam National Administration of Tourism, VietjetAir, as well as Kien Giang Province authorities after touching down at Phu Quốc International Airport on Saturday.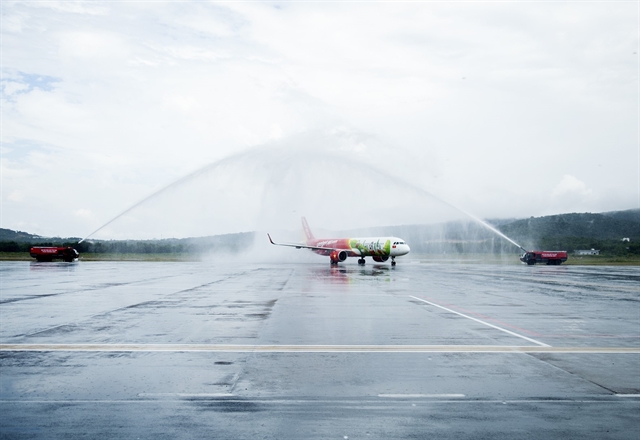 Kim Chang Ho, one of the tourists arriving on Saturday, said he loved travelling to Viet Nam and after receiving two shots of COVID-19 vaccine and being informed of Viet Nam's COVID-19 measures, he felt totally at ease and reassured about safety here.
He believed he will certainly have an enjoyable, full experience and comfortable stay in Phu Quốc.
Nguyễn Trung Khanh, Chairman of Viet Nam's tourism administration, said the event marks an important milestone in tourism restart efforts "Live Fully in Viet Nam" and a new step forward in the opening-up and socio-economic development in the 'new normal'.
The welcoming of international tourists was conducted with proper prevention and control measures but in a way that still guarantees the quality of services for visitors.
Khanh urged tourism and aviation businesses continue to work relevant markets to attract tourists to the country in the new period, adding that the press agencies and media should continue to support and accompany the tourism industry in its efforts to recover and develop.
Đinh Viet Phương, Deputy General-Director of Vietjet Aviation JSC, said the airline's resumption of international flights after two years underscored the Government's resolution to open the border and revive international tourism.
The Government's Resolution 128 on provisional regulations on safe, flexible adaptation to and effective control of COVID-19 issued in early October has helped created favourable conditions for the tourism and air aviation industries, and this first flight to Phu Quốc is a promising sign for the two industries returning full-force, Phương noted.
Phương said Vietjet will continue to bring hundreds of tourists from Japan, South Korea, and Taiwan (China), etc. to Phu Quốc and other destinations in Viet Nam, as the demands for travel in Viet Nam is "very significant."
Speaking at the welcome ceremony, Vice Chairman of Kien Giang People's Committee Nguyễn Lưu Trung said the preparations for resumption of international tourism to Kien Giang always received the maximum support from tourism authorities to help ensure the best conditions for safe, meticulous reception of tourists.
This first batch of international tourists to Phu Quốc will help promote the image, tourism and investment potential of the island far and wide, and become a 'driving force' behind the recovery of domestic tourism in particular and the economy in general, Trung remarked, adding that Phu Quốc expects to receive 400,000 tourists, both domestic and foreign, by the year's end.
Almost all residents and workers above 18 years old on the island have been fully vaccinated against COVID-19, and Phu Quốc is administering vaccines for children aged 12-17.
A part of the island's medical centre has been converted and upgraded to be a 25-bed treatment facility for moderate and severe COVID-19 patients. — VNS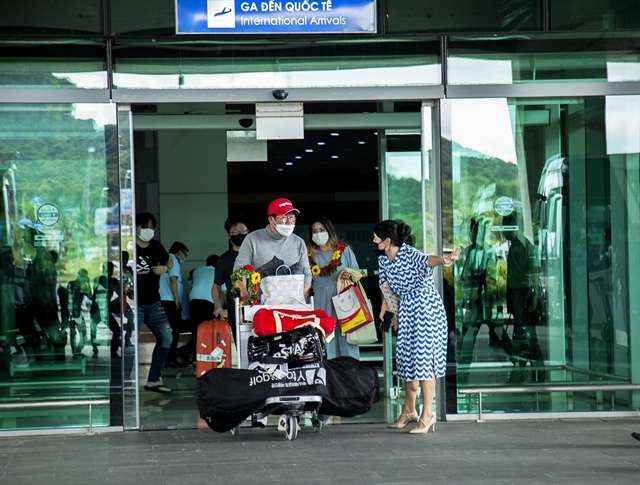 TAG: