HCM City book street celebrates Teachers' Day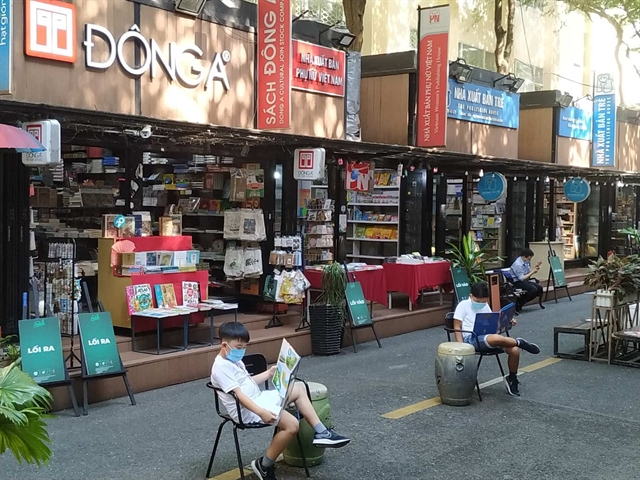 HCM CITY — A series of cultural activities to celebrate Viet Nam Teachers' Day on November 20 are being held at the HCM City Book Pedestrian Street in District 1 until November 28.
The celebration is organised by the HCM City Book Street Company and its partners, including city-based publishing houses and book companies, to promote the habit of reading in the community, especially children.
The event features an exhibition of 24 award-winning books from the National Book Awards 2021, announced in Ha Noi on November 12.
The books feature topics on politics-economics, natural sciences and technology, social sciences, humanities, culture, and literature.
They include Sung, vi trung va thep – Định menh của cac xã hoi loai người, Vietnamese version of Guns, Germs, and Steel: The Fate of Human Societies by American author Jared Diamond, and bilingual book Hồ Chí Minh – Biểu tượng của hòa bình, tình hữu nghị giữa Viet Nam va thế gioi (President Hồ Chí Minh – A Symbol of Peace, Friendship between Viet Nam and the World), compiled by the Hồ Chí Minh National Academy of Politics and the Nghe An Province's Union of Friendship Organisations.
The showcase also includes seven children's books, such as art book Chang Hoang Dã – Gấu (Wild Chang and Bear) by author Trang Nguyễn and illustrator Jeet Dzung, and Loai Plastic – Khi nhựa trỗi dậy (Rise of Plastic) by Team Loai Plastic, a project on environmental protection launched in 2009.
Around 20 children's books, which won National Book Awards from 2018 to 2020, are also on display.
In addition, the organisers are introducing a special collection of quality reference books for teachers, children and parents.
They will introduce two books, 100 Bai hat thiếu nhi (100 Songs for Children) and 20 năm sang tac am nhạc của Nguyễn Văn Chung (20-year career of composer Nguyễn Văn Chung) today, along with music performances from child singers.
An exhibition showcasing children's paintings conveying messages of love to frontline workers and doctors fighting against the COVID-19 pandemic will be held from November 21-28.
On November 28, a Japanese book day, featuring Ehon, Japanese children's picture books, and an introduction of astronomy and science to children, will be held.
During the event, all publishing houses and book companies in the book street are offering discounts of up to 50 per cent on many titles, especially books for children. — VNS
TAG: