Children's books highlight National Book Awards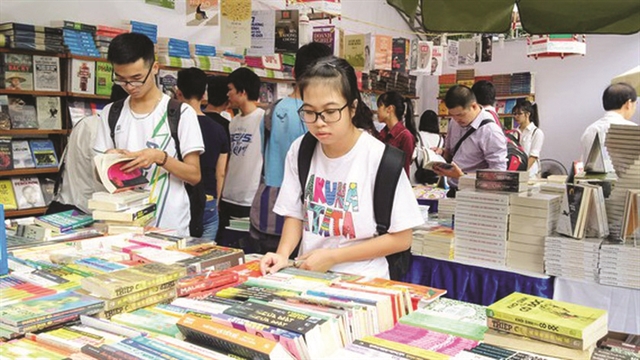 HCM CITY – Seven children's books have won prizes at the recent National Book Awards, which is good news for publishers looking for topics and books for children.
The awards for children's books included one A prize, Chang Hoang Dã – Gấu (Wild Chang and Bear); four B prizes, Dạy con tai chính (Teach children finance), Chuyen của anh em nha Mem va Kya (Tales of the Mem and Kya brothers), Loai Plastic - Khi nhựa trỗi dậy (Rise of plastic) and Lưot cung Tí Địa Lí (Surfing with Tí); and two C prizes Nau Nau thị thanh - Xanh Xanh đồng que (Brown Urban - Green Countryside) and Cuốn sach về quyền lực - Nó la cai gì, ai có nó, va tại sao? (The Book of Power - What is it, who has it, and why?).
In recent years, many publishers and companies such as Nhã Nam, Đong A, Đinh Tị and HCM City General Publishing House have begun to pay more attention to children's books with highly rated publications.
For a long time, many people believed that local books could not compare with foreign ones. However, Viet Nam has many local authors who can write quality books for children.
The National Book Awards Council honoured 24 works of literature at a ceremony held last Friday in Ha Noi.
The best books written about politics-economics, natural sciences and technology, social sciences, humanities, culture, literature, art and children's books have been awarded prizes.
Speaking at the ceremony, Nguyễn Trọng Nghĩa, head of the Publicity Department of the Party Central Committee, affirmed the importance of the awards and said he hoped that the National Book Awards, would help spread the reading culture in the community and bring knowledge close to society.
Chairman of the National Book Awards Council Hoang Vĩnh Bảo said that books for children were a highlight of the fourth National Book Awards.
Le Hoang, vice chairman of the Viet Nam Publishing Association, spoke on vietnamnet.vn that besides the books with high academic and ideological value, there are also books providing scientific knowledge, culture, art and living skills for young people.
This year's Book Awards continues to have some adjustments and innovations, especially focusing on consolidating and adding new members who are prestigious scientists and researchers, including some young scientists in the Preliminary and Final Examination Council, who come from various regions across the country, the online newspaper reported. VNS
TAG: