Actor finds success in both movie and web drama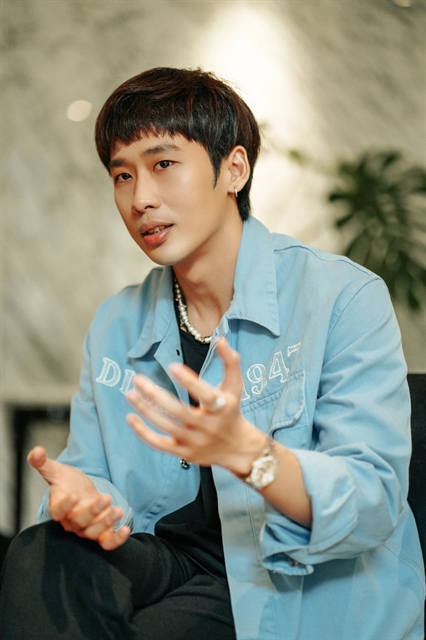 Emerging actor Tuấn Trần became popular after a leading role in Bố Gia (Old Dad). The movie is an official nomination for the best movie at the 22nd Viet Nam National Film Festival which will take place from November 18 - 20 in Huế City, central province of Thừa Thien Huế. 
Tuấn Trần spoke with online magazine Luxuo about his role. 
You were cast in both versions of Bố Gia, movie and online drama. What are the biggest differences in the two versions? 
There are many differences. When actor-producer Trấn Thanh started the movie version he told the film crew that he had to make a different version from the web drama.
My role in the movie version is a free and liberal YouTuber who is quite different from me in real life. I'm not talkative and I am not very outgoing. 
The best thing I got from the film was to work with Thanh and film director Vũ Ngọc Đãng. They helped me bring out my best emotions for the role.
How did you prepare for the role in the movie? Was it more challenging than the web drama? 
In the movie, the leading role is an experienced and tough guy. His physical appearance is thinner and he has impulsive behaviour.
I had to lose nine kilograms within two months. Losing weight but also have muscle and not be bony. I have eat the correct food and exercise everyday. Meanwhile, Thanh bought delicious food for everybody at the spot. 
The character has a complicated psychology. It means that to act the role I have to experience and know well about young men and their behaviour with their family, relatives and the people around them. 
The role in the movie version is the most difficult role that I have ever filmed. In the first days on set I was always stressed and anxious.
Do you think that the role is representative of the younger generation?
Like many young people in real life, the character in both versions loves his family but he finds it hard to verbally express love. 
When my father was still alive I could not say sweet words to him. I always forced my parents to understand me. I did not know when they were sad. But I always asked myself why they didn't understand me. 
I think that the movie helps young people to realise the role and actual value of family. 
People say you were lucky to be cast in such a popular movie as Bố Gia, what do you think?
I think that whatever you do, you need a bit of luck. At the beginning of my career, the audience did not remember my roles or know my name. When I co-worked with A-list actors I was mentioned as accompanying artist. My name was not remembered by audience. 
I asked myself why and I was sad and pressured because some opinions said my acting was not good. Frankly, it is true. At that time, I did not have any confidence. 
I changed my thinking and I began to make web drama productions by myself. Luckily, the productions trended well. But Bố Gia web drama and movie makes me popular. 
There is a luck, but it is my efforts during the progress that I have tried to work better. I think that the main things I can do is work professionally and seriously. 
What the most important things did you gain from the success of the movie?
The success of the movie has a positive impact on my life and career. I had the chance to work with many talented artists. After filming Bố Gia , I know more about people in my family and I want to spend more time with them. 
During the tour, there was one audience member I remember who after watching the movie got emotional and stood up to apologise to his mother, which he couldn't do before. His mother was moved to tears at the show. 
Those moments are really precious to the movie team.
I received congratulations from my colleagues after the movie and positive feedback from the audience. I'm glad because my efforts were recorgnised and it encouraged me a lot. VNS
TAG: