'Bun mam': A smorgasbord in a noodle soup from Vietnam's Mekong Delta
Editorial: Ray Kuschert, an Australian citizen, recalls his experience eating bun mam, a noodle dish with the broth cooked from fermented fish paste, in Vietnam after the country scored some world records for its fermented pastes. 
Its smell might bring on involuntary stomach reflux but bun mam (fermented paste) is a delicacy that is recognized as a true taste of Vietnam. Mam, in Vietnamese, is a broad term used to describe the creation of a sauce or paste using fermented seafood, mainly fish and shrimp.
It is so popular that Vietnam was recently awarded a world record by the World Record Association (WRA) for having the most kinds of mam and dishes made from mam with typical flavors anywhere in the world.
Unlike common fish sauce (nuoc mam), mam ca and mam tom are a thick paste that is made by fermenting fish or shrimp, then using the meat and juice to make a rather off-putting and smelly mixture. On its own it is not pleasant to the nose, but when mixed into a dish, it becomes a masterpiece of taste that is uniquely Vietnamese. 
There are many popular local dishes that use mam. Bun mam is one of the most common and popular noodle dishes, made from fish paste, that will offer you so much more than you expect. Less known to many foreigners and travelers to Vietnam, this amazing meal from Soc Trang Province in the Mekong Delta region is a secret worth sharing. 
Bun mam, in simple terms, is a smorgasbord in a noodle soup. The essential flavor of the dish comes from the famous fermented fish paste which is mixed into the broth to form a flavor that is unique to Vietnam. By adding your own chilli and lime, you have a perfectly balanced flavor combination in a single dish. 
The firm noodles of bun mam form a bed for the range of ingredients to fill you. As the bowl lands on your table, your first impression is of the large shrimp with its prominent orange stripes. Resting alongside, you will begin to notice the comfortably sized pieces of pork, squid, fish, eggplant and a range of green herbs and vegetables.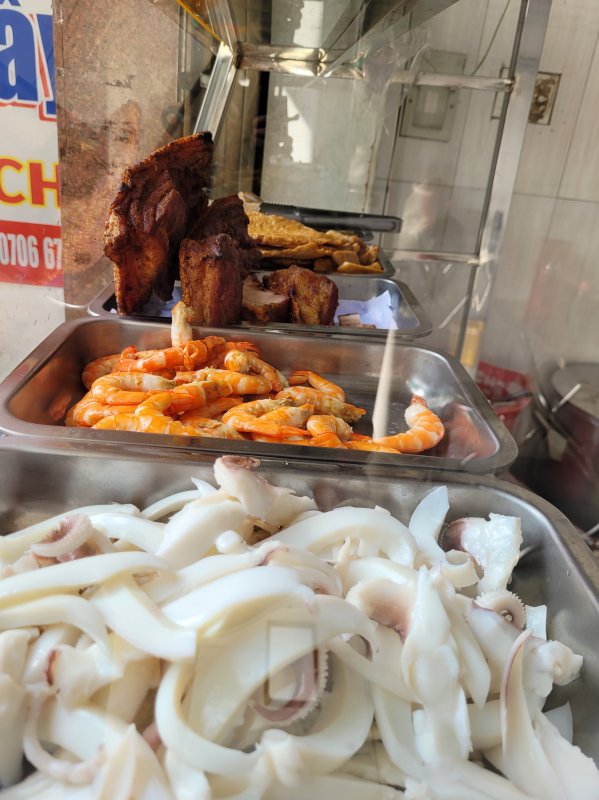 Trays of squids, shrimp, and pork are waiting to be served with 'bun mam' at a restaurant in Binh Thanh District, Ho Chi Minh City. Photo: Ray Kuschert
With the full steaming bowl in front of you, one might think it's time to dig in and start eating, but there are a few things you need to do before enjoying this noodle dish. To support the dish, you have an option of chilli and lime to add to the soup. Also, you will be given a plate of salad items, usually lightly boiled, that might include green leaves, white sprouts, and other colorful inclusions. 
Knowing how to put it together is sometimes scary. This is where foreigners oftentimes get a little confused. On your table you have a big bowl of noodle soup (bun mam), a plate of hot salad, a small bowl of chilli and lime, sauces, and other condiments. t looks like there is so much to do but it easily comes together to suit your tastes. 
First, add lime and chilli to taste. I like it a bit hot but be careful because the chilli can be really spicy. Then remove the salad from the plate and add it to the soup. Gently mix the salad into the soup and roll the noodles from the bottom to allow the vegetables, salad, and noodles to mix, and you are ready to eat. But wait! What's most important is the 30 seconds to smell the aroma of the soup before you begin eating. That smelly paste has now transformed into a culinary delight that will blow your taste buds away. 
With so much flavor in one bowl, this is not a dish to enjoy with beer or soda. To compliment this small piece of cuisine perfection, hot or cold tea is a must. With the spicy flavors of peppers, lime, fish sauce, and chilli exploding in your mouth, and the heat of the soup itself, you will be well supported with some cold tea or water. Most restaurants will have a jug of iced tea on the table that you can drink for free. 
The only thing you have left is to enjoy the moment you experience the taste. If you are a visitor to Vietnam, make sure you get some photos as the bowl arrives, because the colors look amazing, and your family back home will love the pictures.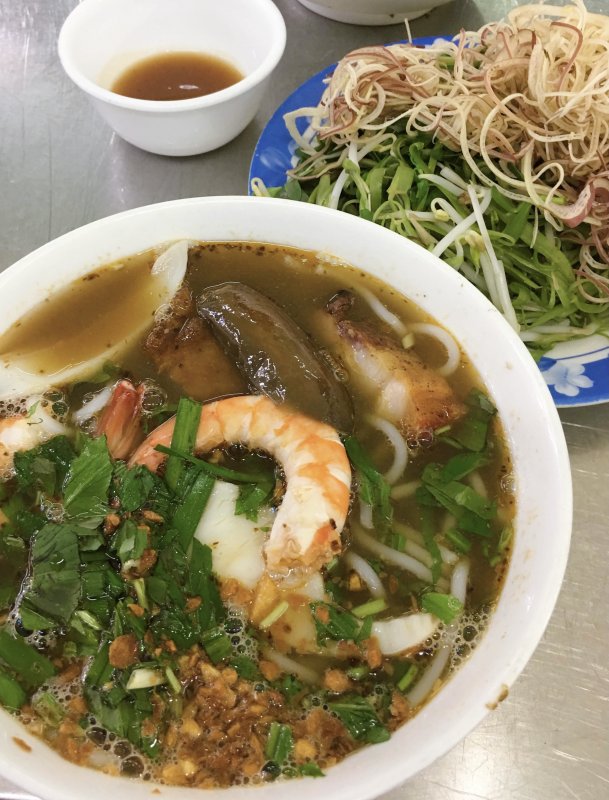 A bowl of 'bun mam' is served at a restaurant in Ho Chi Minh City. Photo: Dong Nguyen / Tuoi Tre News
Whilst bun mam is one of the most popular, and common, dishes found around the southern region of Vietnam, mam dishes of many varieties fill restaurant menus and home tables across the country. Whether added to a soup as a key flavor of a dish or as an accompanying sauce, mam is seen in every corner of the country and used in every house as a standard flavor for food that is enjoyed by everyone. 
Bun mam can be enjoyed at any time of the day, but there are other dishes that also stand tall on the list of unique and special local foods in Vietnam. Mam tom (shrimp paste) is another variety of mam that is used for amazing dishes like bun dau mam tom. This is a meal served on a bamboo tray covered with banana leaves, loaded up with salad, meats, fried tofu, and cold noodles. All you do is squeeze kumquat into your small bowl of the purple shrimp paste that is given to you with the dish and mix in chilli and sugar to taste. Then enjoy the interaction with your friends as you all pick from the plate and eat this delightful food. 
Another party favorite is lau mam (fermented fish hotpot). Like bun dau mam tom, lau mam is shared by everyone at the table. Mam paste makes up the soup base and is cooked at the table with the pot being filled with a range of ingredients including fish, meat, vegetables, and noodles. As it cooks, everyone shares the food, usually whilst drinking beer or rice wine. Nothing can be as fun as enjoying lau mam with your friends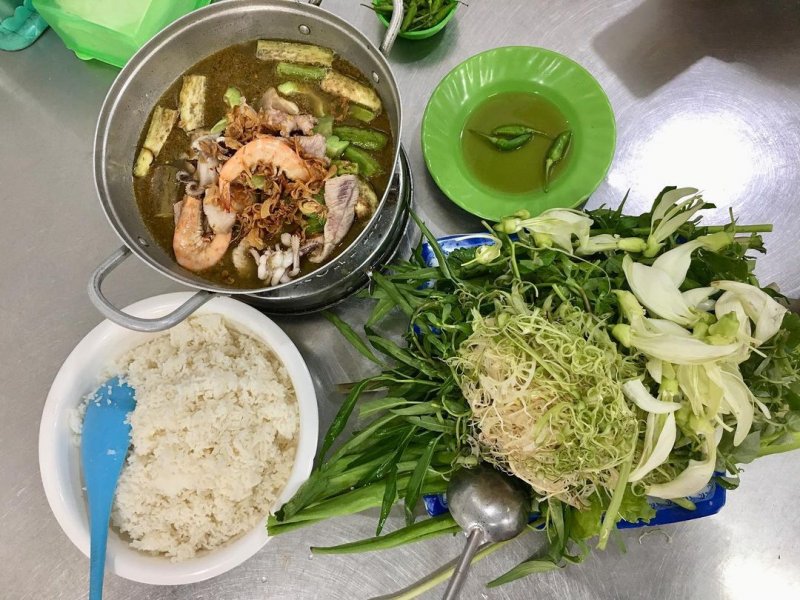 A photo shows a set of 'lau mam' served at a restaurant in the Mekong Delta city of My Tho. 'Lau mam' is often served with noodles but diners can choose rice instead. Photo: Dong Nguyen / Tuoi Tre
After living in Vietnam for many years, you easily understand why food here is traditional, local, and very different from region to region. Don't think that Vietnam is just one or two dishes that you might see at a local mall in your home city. Vietnam is so much more. When visiting this amazing country, let's go, eat something new, and experience flavors you never thought were possible. Mam dishes are yet another 'Jewel of the East' in Vietnam's treasures, and you must experience it next time you are in Ho Chi Minh City or the Mekong Delta.
Like us on Facebook or follow us on Twitter to get the latest news about Vietnam!
Tuoi Tre News
TAG: