Is it time for resuming tourism?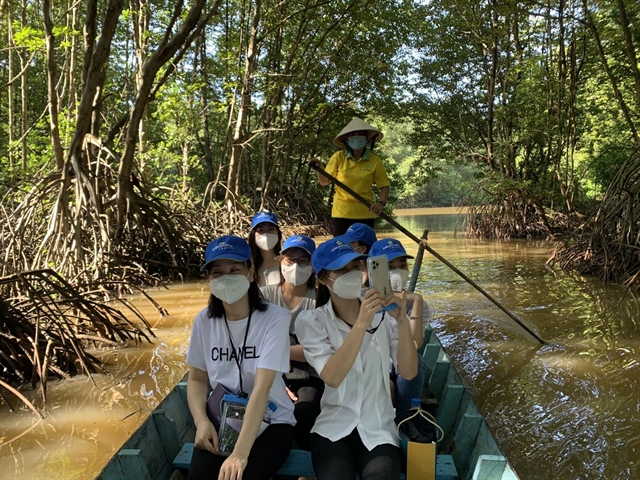 Compiled by Thien Lý
The HCM City government said recently it was considering resuming tourism activities in Cần Giờ, the only coastal district in the city.
Cần Giờ is one of some districts to have controlled the COVID-19 outbreak, and is preparing to resume economic activities.
The district has for long been famous for fresh seafood, eco-tourism sites and the Cần Giờ Mangrove Forest, a biological reserve recognised by UNESCO.
The district also has many traditional craft villages.
Despite still being the epicentre of the fourth wave of COVID, which began in April, with more than 298,000 cases and over 12,000 deaths, HCM City has made plans to resume tourism activities that were suspended several months ago due to the pandemic.
This is in line with the Government's desire to soon reopen the country's tourism destinations to both domestic and international tourists.
Recently the Government approved a Ministry of Culture, Sports and Tourism proposal to allow foreign tourists who have vaccine passports or recovered from COVID to visit Phu Quốc Island.
Phu Quốc is one of the eight districts and cities in the southern province of Kien Giang that are designated as "green zones" (COVID-free) thanks to controlling the pandemic.
Visitors have to come as part of package tours organised by travel agencies.
Besides Phu Quốc, the ministry also plans to reopen some other famous tourism destinations to international visitors like Hạ Long, Hoi An and Đa Lạt.
Taking their cue from this, several provinces and cities have also made their own plans to resume tourism activities and attract both domestic and foreign visitors.
The central coastal province of Khanh Hoa, home to Nha Trang, plans to allow international tourists with vaccine passports in compliance with pandemic prevention measures mandated by the ministry.
Khanh Hoa also plans to allow domestic tourists arrive by charter flights and requires them to comply with all safety measures like the Ministry of Health's '5K' requirements.
Meanwhile, another central coastal province, Ninh Thuận, said it has begun studying how to ensure safe resumption of tourism activities.
The central Quảng Nam Province also wants to be allowed to receive tourists soon.
Many tourism industry insiders, though warning it would not be "an easy task," agreed with these proposals to reopen destinations to tourists.
They said the high tourism seasons in Viet Nam are from the beginning of March to the beginning of May and from October to the end of December.
It means there is very little time left for travel firms and authorities to make necessary preparations for the October-December season this year, they pointed out.
They would have to do a lot of things and resolve many problems to make it feasible, they warned.
But analysts are concerned since many localities, like HCM City, are still struggling to contain the pandemic.
Both they and tourism insiders agreed that vaccine passports are one of the best solutions for reopening to foreign visitors though not enough if "we want to ensure safety for the tourists and prevent the spread of the disease."
A vaccine passport is proof that a person has tested negative for or is protected against certain infections, and can be in digital form, like a phone app, or physical such as a card.
Nguyễn Đạo Dũng, deputy director of the Travel Department under Vietnam National Administration of Tourism, said to safely allow in visitors with vaccine passports, localities must pay attention to several things like implementing measures to achieve herd immunity and improving the medical sector so that it could handle any healthcare-related problems.
The chief of a tourism company in Khanh Hoa said the vaccine passport measure should be applied together with easing movement between localities since it would be very difficult to attract foreign visitors who have to spend a lot of money on flights and complicated travel procedures if tours are limited within a locality.
Russian visitors to Cam Ranh often spent a long holiday so they did not only stay in Cam Ranh but they also wanted to visit several other places like Đa Lạt, Đa Nẵng, Hoi An, and HCM City, he said.
Others said while stringent COVID-prevention measures are needed at tourist destinations, they could turn away visitors if they are too tough.
Therefore, loose restrictions could be applied to travellers who have a negative RT-PCR test within 72 hours and a vaccine passport, they said.
For instance, they could be allowed to visit "green zones" in various localities in the country, they said.
They stressed the need for local authorities to have a clear roadmap for safe reopening of tourism destinations based on which travel firms and relevant agencies could make preparations for receiving tourists, and this includes vaccinating local residents and tourism workers, they said.
Experts said there should be flexible policies depending on where a tourist arrives from, based on their country's COVID risk profile.
Several tourism experts agreed that another very important thing to be done right now is marketing.
The effort should be to convince domestic tourists "now is a good time to travel" and foreign tourists that "Viet Nam is a safe destination," they said.  
Existing campaigns like 'Vietnamese travel in Viet Nam' and 'Safe and attractive local tourism' are expected to continue along with other programmes to help tourism businesses sell their products at reasonable prices.
Localities and travel firms should further invest in developing night tourism and eco-tourism to expand the range of products and services available, the experts said.
To ensure its marketing strategies succeed, they said the tourism industry should upgrade existing applications such as Safe Viet Nam Tourism, local medical declaration and vaccination certification systems and information about tourist attractions around the country.
The ministry said the Government should enable tourism businesses to get credit at low interest rates so that they could make necessary preparations for receiving travellers.
Domestic tourists the priority
Both experts and travel industry insiders have the same view that tourist firms and localities should give top priority to attracting domestic visitors after resuming tourism activities.
A Lux Group spokesperson said local travellers would continue to play a central role in sustaining the tourism industry since demand is always very high.
But it is imperative that tourism firms have concrete plans for various periods like six months and one to two years with priority given to first attracting domestic tourists before focusing on inbound tourists, he added.
A recent survey done by a tourism company in HCM City found 86 per cent of respondents saying they were ready to travel by any vehicle if they are allowed to go.
Only 12.1 per cent said they wanted to travel to places not far away and in their own vehicle.
A spokesman for Renaissance Riverside Hotel Saigon agreed with his Lux Group counterpart's suggestion that starting with domestic tourists would enable travel firms to prepare well for receiving foreign tourists subsequently. VNS
TAG: