Vietnamese author wins Dayton Literary Peace Prize
HÀ NỘI — The novel The Mountains Sing by Nguyễn Phan Quế Mai won the runner-up prize at the 2021 Dayton Literary Peace Prize in the US.
The book tells an enveloping, multigenerational tale of the Trần family, set against the backdrop of the American war in Viet Nam and its aftermath. 
Not only clearly depicting the pain of loss and separation brought about by war, The Mountains Sing praises family love, the value of hope and forgiveness.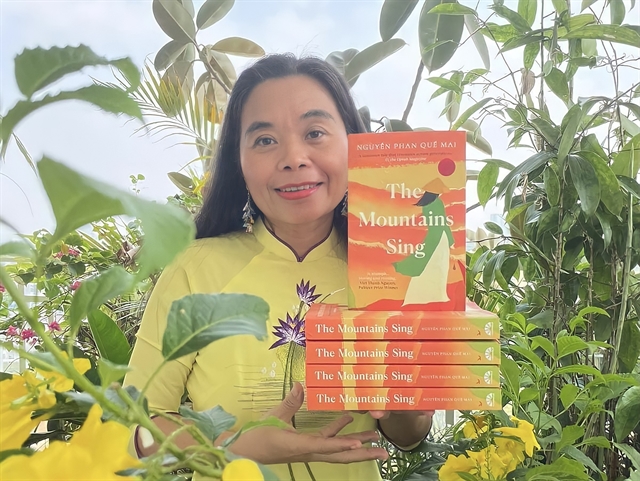 Mai said she was surprised and honoured to be recognised with the Dayton Literary Peace Prize. It provides motivation for her to continue learning and working to bring more international readers to Viet Nam through literary works.
The writer added that, when she decided to write this novel directly in English, she wanted to contribute the voice of Vietnamese people to the global literary forum.
Mai writes about war to call for peace, writes about loss and separation to talk about the value of reunion.
She adds poetry, proverbs, cuisine, and cultural traditions of the Vietnamese people into her work to introduce to world readers about a Viet Nam rich in identity.
In addition, the 48-year-old writer tries to preserve the richness of the Vietnamese language by asking publishers to print the names of Vietnamese characters and sentences in the book with full Vietnamese tones.
The awards ceremony is scheduled to take place on November 13 and 14 in Dayton, US, with an honour party.
With the runner-up prize in the category of fiction, Mai received a prize of US$5,000.
Pulitzer Prize-winning writer Nguyễn Thanh Viet commented on the book, The Mountains Sing is an epic poem about the tragic history of Viet Nam in the 20th century, both sweeping in scope and intimate in storytelling.
Through the hardships of a family, Nguyễn Phan Quế Mai brings us closer to the horrors of famine, war and class struggle. VNS
TAG: