Life's sweet for Chi Lăng custard apple farmers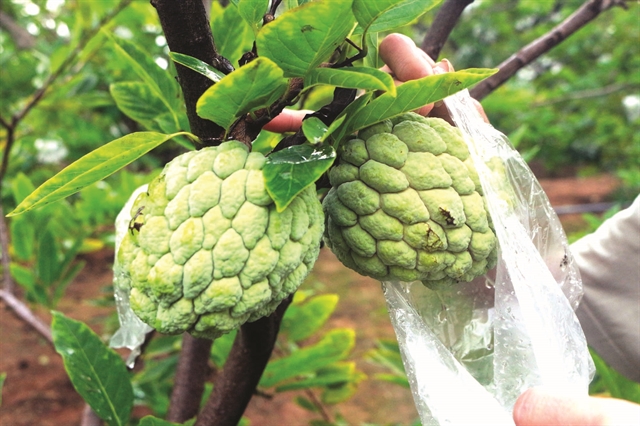 The main harvest season of custard apples in Chi Lăng District is from August to September. — VNA/VNS Photo Đuc Hiếu
Whenever autumn comes, the rocky Chi Lăng mountain area in the northern province of Lạng Sơn is covered with green custard apple trees.
The province now has about 2,000 hectares of custard apples, of which more than 613 hectares are produced in accordance with VietGAP and Global GAP standards, yielding about 19,000 tonnes of fruit.
Chi Lăng's custard apples are famous for their unusual appearance and sweetness. VNA/VNS Photo Anh Tuấn 
Custard apples from Chi Lăng District are mainly purchased wholesale and transported to neighbouring provinces. Some local households also advertise their products on e-commerce platforms such as Voso and Postmart.
Despite the pandemic, the specialty fruit of the province still sees brisk trading, with an output of about 300 tonnes per day.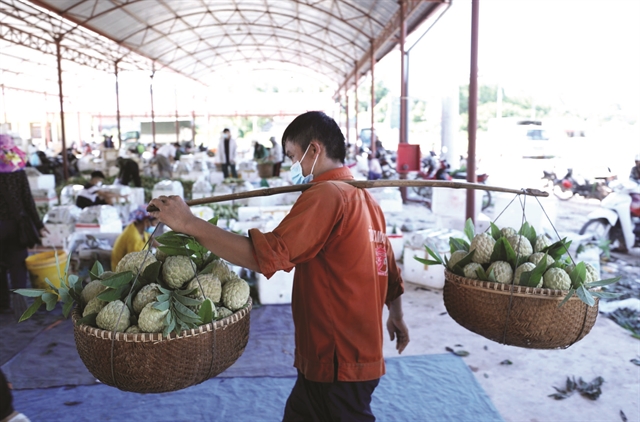 The custard apples are sold in Chi Lăng market. VNA/VNS Photo Anh Tuấn 
As each kilo is sold at VNĐ20-30,000 (US$0.9-1.3), the revenue of the farmers in the district is expected to reach a total of VNĐ720 billion (US$32 million) this year.
With such a large income, custard apples are dubbed as "gold on the mountains" by locals. The fruit has greatly helped improve the lives of farmers in the district, half of whom have become well-off.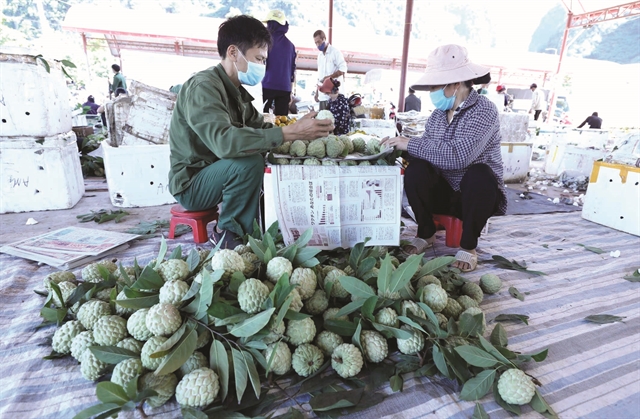 Custard apples are classified before being sold. — VNA/VNS Photo Anh Tuấn
Ma Văn Let of Quan Thanh Village in Chi Lăng District, a local farmers who escaped poverty by growing custard apples, revealed that his family earns around VNĐ400 million (US$17,500) per year thanks to the fruit.
"By developing extra off-season custard apples, my family's life is much better. Income from off-season custard apples has improved constantly, now increasing by about 40 per cent compared to five years ago," he said.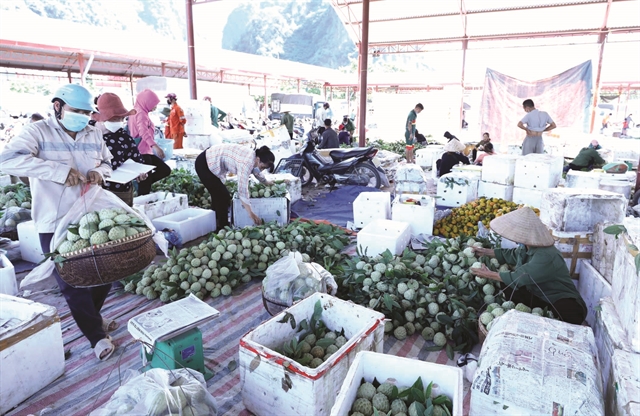 Chi Lăng custard apples are classified and packaged in foam boxes. — VNA/VNS Photo Anh Tuấn 
As the fruit has been identified as a local key agricultural product, Chi Lăng authorities aim to create a large production area for custard apples, annually expanding the cultivating area by about 300 hectares.
The district will continue to coordinate with agencies to create favourable conditions for the production and consumption of the fruit and at the same time, focus on implementing measures to prevent and control COVID-19, according to the state regulations. VNS
TAG: