Famed Phúc Trạch grapefruit sales suffer amid pandemic
Hoang Lan
Phuc Trạch grapefruit is said to be "the first famed fruit" of the central province of Ha Tĩnh's Hương Khe mountainous district as it was used as a gift for Nguyễn Dynasty Kings from 1802 onwards, according to Phan Thị Ngọt, 90, a local of Phuc Trạch Village.
The fruit is named after the village where locals first planted it more than a century ago.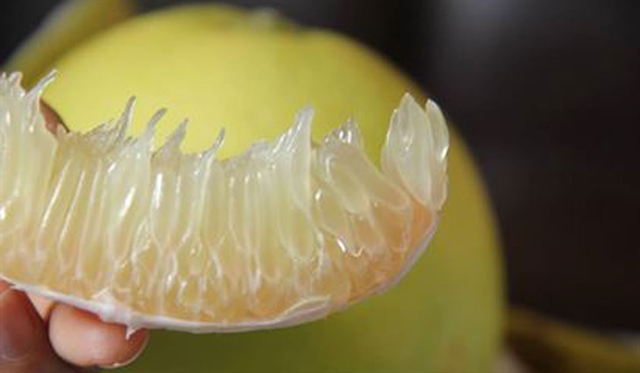 Phuc Trạch grapefruit is sweet, fragrant and succulent. — Photo truyenhinhdulich.vn 
"Eating the grapefruit in the morning helps me feel more comfortable and conscious to begin a new day," she said. " This year I will buy the fruits online for the approaching Mid-Autumn festival in the middle of the Eighth Lunar month (September 21). "
Researchers at the National Nutrition Institute said drinking a cup of grapefruit juice every day helped to reduce aging and prevent ailments connected to the cardiovascular system, indigestion and constipation.
They advise that for a strong digestive system, people should eat at least two grapefruits per day.
Phuc Trạch's fame has spread far and wide.
In 2020, the EU approved geographical indication protection for Phuc Trạch grapefruit, while in 2012 the Viet Nam Book of Records approved the fruit as a specialty among the 50 most outstanding fruits in the country.
In 1938, the fruit was awarded a gold medal at an international fair for the tastiest fruits in Indochina, held in Hong Kong.
The Far East Economic Review of Hong Kong said it was the tastiest fruit in Central Viet Nam and extremely moreish.
The Ministry of Agriculture and Rural Development has listed the fruit as a specialty and said its genome needed to be preserved. It is among seven other rare and precious fruits as the export of their seeds is strictly prohibited. — VNS 
TAG: