The Spectacular Skies of a Summer in Lockdown
Hanoi's gorgeous summer season has come to an end and, sadly, its many residents spent it in lockdown. Fortunately for those bored at home, the capital city's epic sunsets provided some daily entertainment and amazing photos.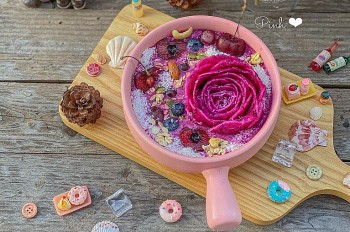 Simple Smoothie Recipes to Boost Your Mood During Lockdown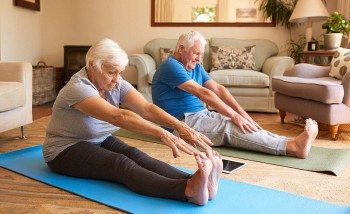 Top Indoor Exercises to Stay Active for Men and Women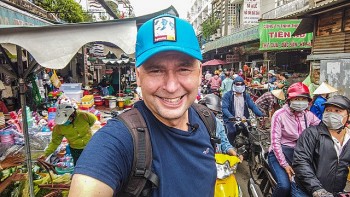 Experience Vietnam's Lockdown Through the Eyes of Expat Storyteller
On most summer evenings, Hang Duong could be found on her rooftop with a camera in hand, watching the sky erupt with several magnificent colors. For a few minutes, pink rays, purple heavens, and a blazing red sun illuminate her quiet neighborhood, in the midst of an extended lockdown. While brief, Hanoi's sunsets offer Hang Duong some peace of mind.
"Most of the time I'm grateful to be in the position where I can still take care of myself and help others, but some days it can be overwhelming when there seems to be too much negativity on the news," she said. "I had to log off and recharge. Catching sunsets on my rooftop has become the highlight of my day during this time."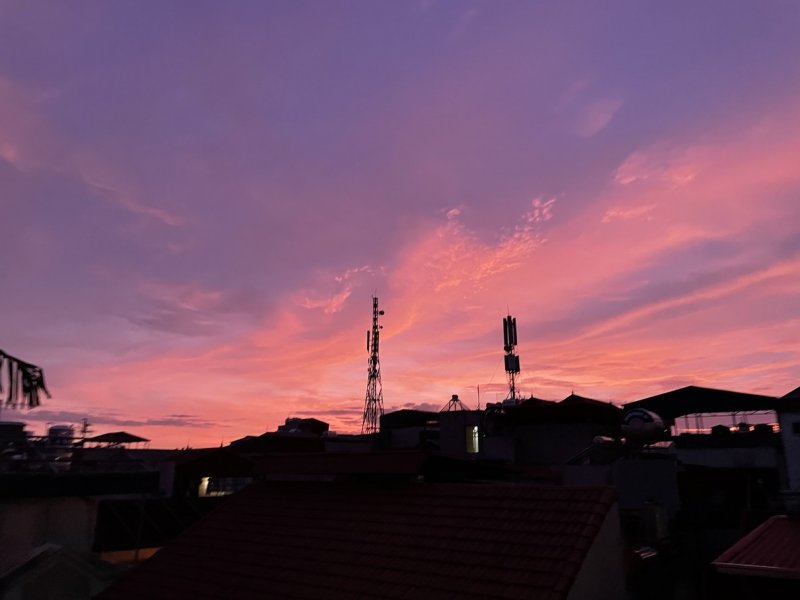 Blissful heavens over Hanoi. Photo by Hang Duong.
Many Hanoians reported that the serenity Hanoi's sunsets have a way of soothing lockdown anxieties. For example, Filipino expat Rodney Balagtas says the experience reminds him to be grateful despite the depressing circumstances.
"I've always appreciated sunsets and the golden hour to it is my favorite part of the day, for photographic, and therapeutic reasons," explains Balagtas. One benefit of his current work-at-home routine is that he is able to witness the sunset every day. Prior the lockdown, he could only see it on the weekends.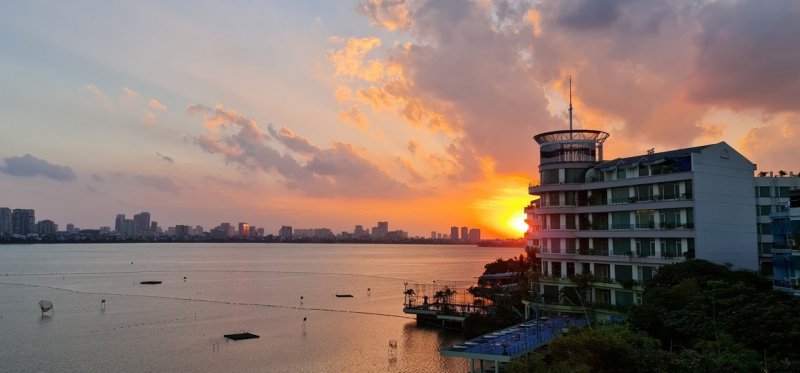 Balagtas favorite view. Photo by Rodney Balagtas
This view has been a godsend to Balagtas. "During this lockdown, having this view has definitely helped me, mind. I feel privileged to have this vista in a city where most people are probably locked down without much of a view. I am hopeful and optimistic that one day we will all be able to appreciate the gorgeous sunsets of Hanoi together, outside, and in better spirits."
However, for residents who don't have a nice view of the sunset itself, they are still treated to strangely beautiful skies. Rebecca Loveridge's Tay Ho apartment faces eastward, away from the dazzling sunset, but her big windows give her a wonderful view of lavender skies and breezy clouds.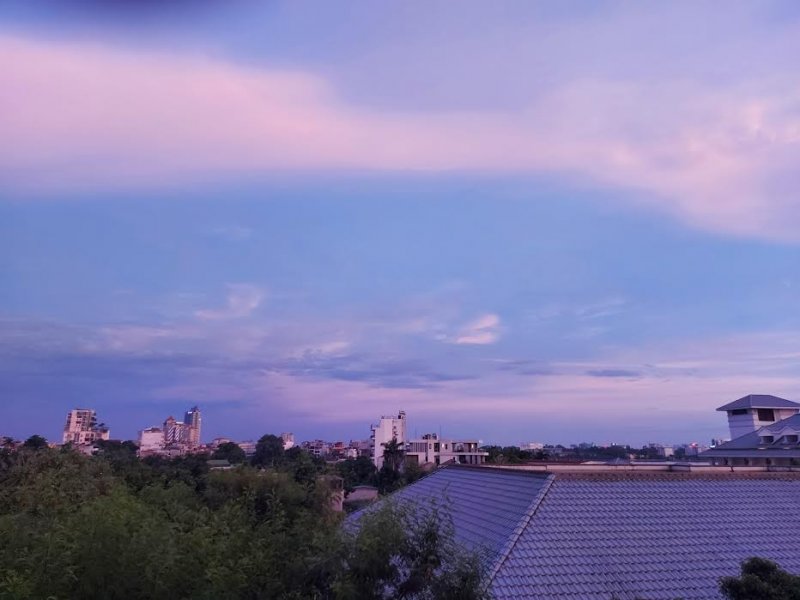 Tay Ho under purple twilight. Photo by Rebecca Loveridge
"I'm extremely lucky to have such lovely views from my apartment and big windows to stare through. I have spent far too much time sitting by the window looking at sky clouds in the daytime and stars at night during this lockdown," said Loveridge.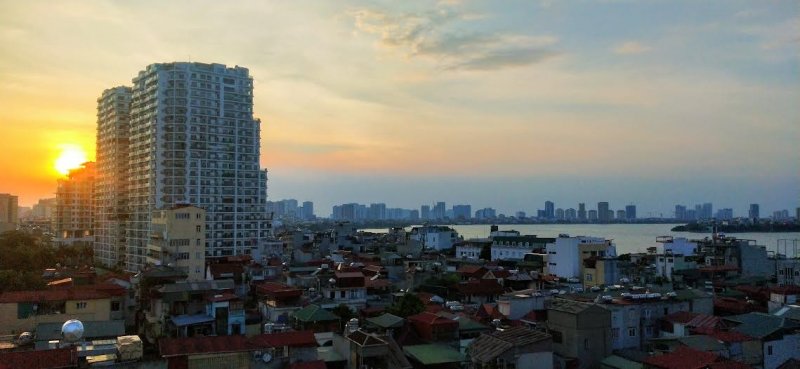 Cheery skies during dark times. Photo by Alex Pike.
These special sunsets may be a positive side effect of lockdown. The stay-at-home mandate has dramatically reduced the amount of traffic on the roads, cutting down on the pollution that often obscured Hanoi's magnificent skyline.
"Less traffic means a lot less ground level pollution," said Canadian expat and armchair meteorologist Chaz T. For years, T. has observed northern Vietnam's temperamental weather patterns. Witnessing beautiful sunsets is one of the perks of his job.
"I also reckon the beautiful sunsets are due to cooler days. It may have to do with cooler air at lower than usual altitudes. This would cause clouds at higher levels to have more depth and affect the sunset from different angles. This means different shades of the spectrum might come through."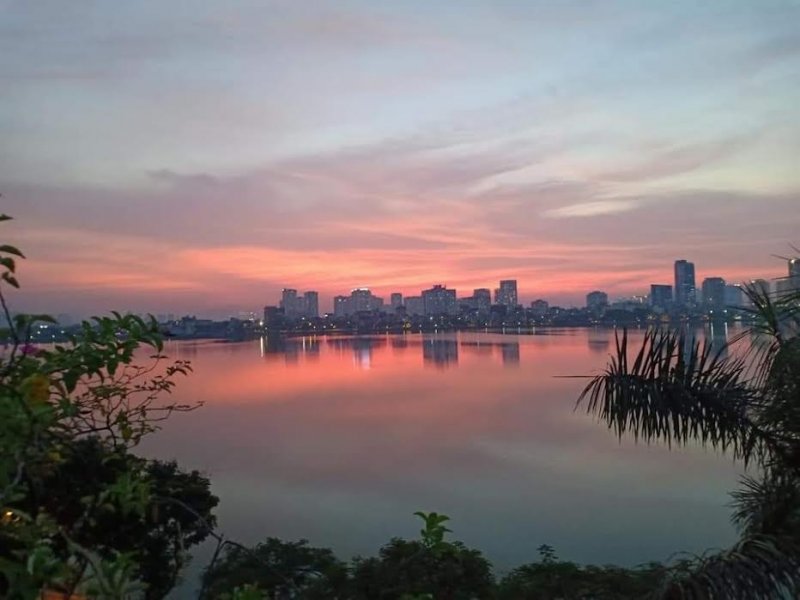 Reflecting on the beauty of a West Lake sunset. Photo by Khanh Quoc.
West Lake has always been a favorite spot to witness the sunset. Prior to the pandemic, happy crowds would gather in beer halls and pubs around the lake, enjoy with the sunset with a drink in hand. Nowadays, the stunning lake is silent, giving resident Khanh Quoc ample time to reflect on the changing world.
"This lake brings a lot of thoughts and hidden feelings, whether it's the sunset or sunrise," said Khanh Quoc. "The reflection of the sunlight on the water is magical, in the past when there were less towers and buildings it felt more open and wide. This lake is still and will be most beautiful for years to come."
Even though Hanoians continue to remain socially distant, these photos of sunsets bring the community together.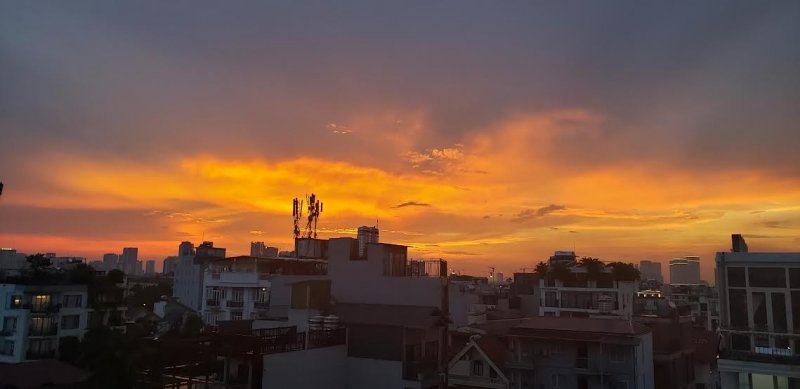 Enjoying the sunset during lockdown. Photo by Kat Shaw.
"Sunsets in Hanoi have still been my safe haven in these crazy times," said South African expat Kat Shaw. "After a day of sitting alone in my apartment in front of my laptop, daily I'll go sit up on the rooftop to watch the sunset. It always brings a sense of peace, hope and happiness. And one of my favorite parts of this ritual is seeing all the rooftops around me dotted with people who are doing the same. It reminds you that even though we're all separated, we're still all together."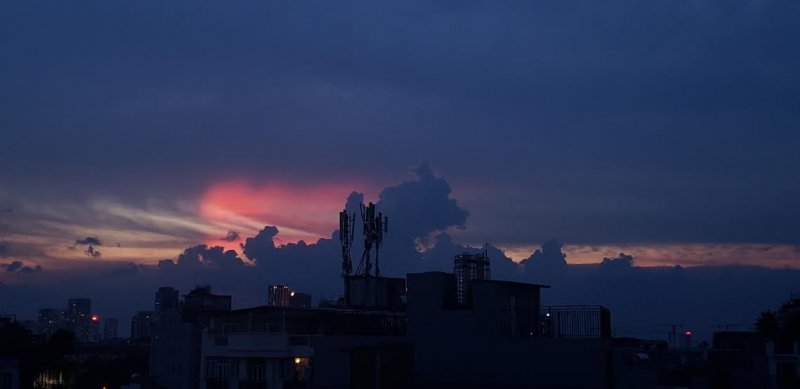 The eternal beauty of a Vietnamese sunset. Photo by Kat Shaw.
"At the end of the day, no matter how uncertain everything else in the world is, we'll always have sunsets."
To see more photo of beautiful sunsets from members of Hanoi's community, check out VNT's Facebook and Instagram.
Glen MacDonald
TAG: