A filmmaker with a passion for President Hồ Chí Minh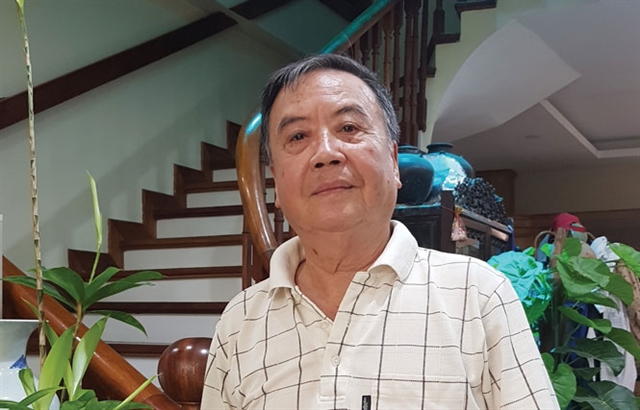 Meritorious artist Đỗ Duy Hung. Photo hanoimoi.com.vn
Documentaries play an important role in a nation's cinema, but making them is a difficult challenge for all filmmakers.  
Meritorious Artist Đỗ Duy Hung has made a huge contribution with award-winning documentaries about President Hồ Chí Minh, which are among the most precious cinematic works of the nation.  
Ha Noi Moi Cuối Tuần (New Ha Noi - Weekend Edition) reporter Bảo Tran interviews artist Hung about his career.
You have devoted your life to shooting documentaries which are highly acclaimed. Which one do you like the most?
It is the documentary Hồ Chí Minh, Chan Dung Mot Con Người (Hồ Chí Minh – Portrait of A Man). When we made it we found it difficult because almost all of the archival footage about President Hồ Chí Minh had been used in previous documentaries.
So, the documentary director Bui Đình Hạc was allowed to edit footage that had never been publicised before.
It included scenes of President Hồ in his daily life such as the images of the President not wearing a shirt while holding a bamboo pole to hang his wet shirt, or when he had a meal or played volleyball.
I still remember the scenes featuring President Hồ's visiting his homeland. From a professional perspective, it is the most truthful documentary about President Hồ Chí Minh ever made.
Contributors to the success of the documentary included many acclaimed artists such as composer Đặng Hữu Phuc and poet Nguyễn Đình Thi who wrote the documentary narration.
I'm very proud that it won several awards, including the Golden Lotus Award at the 9th National Film Festival; a gold medal at the National Television Festival and the best film by the then Ministry of Culture (now Ministry of Culture, Sports and Tourism).
What do you remember the most in your career?
I was lucky enough to work with People's Artist director Bui Đình Hạc. When I graduated from the Russian Federation State Institute of Cinematography I had the chance to make the documentaries about President Hồ Chí Minh with director Hạc.
They were Nguyễn Ái Quốc Đến Voi Le Nin (Nguyễn Ái Quốc and Vladimir Lenin) in 1979 and Đường Về Tổ Quốc (The Way to Homeland) in 1980. They were made to celebrate what would have been President Hồ Chí Minh's 90th birthday.
The crew members, including the director and editor-in-chief of Nhan Dan (People) newspaper Hồng Ha, and I had to meet Tố Hữu, head of the Central Propaganda and Training Commission, several times to propose the idea and plan to make the film.
How did the crew follow the journey of President Hồ Chí Minh?
Three of us knew Russian. So we went to Russia and sought archives by ourselves without a translator.
We found rare and valuable archives that were used in many documentaries later. Ha visited libraries and found many articles and pictures of Le Hồng Phong and Hồ Chí Minh at the Communist International Congress, as well as books that were read by Hồ Chí Minh.
Director Hạc and I went to film archives on the outskirts of Moscow, looking for images of Hồ Chí Minh. We watched dozens of thousands of film archives and tried to find a few seconds of footage of President Hồ Chí Minh.
The footage we found was so valuable. Now I think it was a miracle.
Was the footage sufficient to complete a documentary about President Hồ Chí Minh?
The crew shot so much footage of the places where President Hồ Chí Minh had set foot on such as Lenin Mausoleum in Moscow and the port of Petrograd in St. Petersburg where the vessel Karl Liebknecht carrying the Presidentdocked. We also had interviews with historic witnesses.
These scenes and archive footage helped us to complete the documentary, allowing audiences to imagine the historical context and have truthful feelings and a vivid sense about President Hồ Chí Minh.
Shooting and collecting archive materials is an important step in the documentary making process. But film editing also takes time and hard work.
I still remember it was very cold when we were completing the documentary. We worked with small screen in black and white, with blurry footage, to select the images.
People's Artist Le Mạnh Thích helped us to edit the documentary. I think that only a passion for the profession and for the ideal could help us perfect those precious pieces of footage. – VNS
TAG: