Charity fashion auction to raise funds for frontline doctors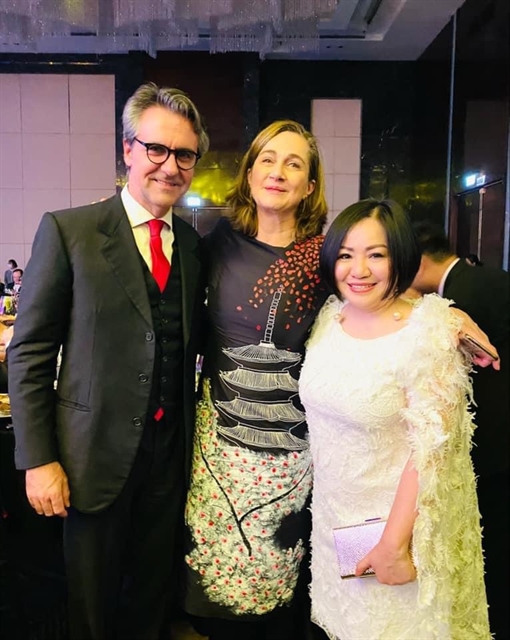 Ambassador Giorgio Aliberti, head of the European Union Delegation to Viet Nam and his wife Francesca Baronio, and VIFW chairwoman Le Thị Quỳnh Trang (R) will participate in a special fashion auction event on August 28 to raise funds for frontline doctors and COVID-19 treatment hospitals in Southern provinces.  Photo courtesy of VIFW
HCM CITY — A special fashion auction event will be held virtually tomorrow to raise funds for frontline doctors and COVID-19 treatment hospitals in southern provinces.
The event called "Từ Trai Tim Toi Trai Tim – Từ Thời Trang Thanh Hơi Thở" (From Heart to Heart - From Fashion to Breath) is organised by the Viet Nam International Fashion Week (VIFW).
Le Thị Quỳnh Trang, chairwoman of VIFW, said: "While we are lucky to be safe, many patients are fighting for their lives at COVID-19 treatment hospitals in HCM City, the country's hotspot. We want to call on those who work in fashion industry to contribute to the fight against the pandemic through the auction of fashion designs and items."
"All profits will be used to buy equipment and medical supplies for doctors and hospitals. We expect to receive support from donors at the event to send love to the south," Trang said.
The auction will present fashion designs and items that have significant meanings for the donors.
Participants include Italian Ambassador to Viet Nam Antonio Alessandro, Romanian Ambassador to Viet Nam Cristina Romila, and Ambassador Giorgio Aliberti, head of the European Union Delegation to Viet Nam and his wife Francesca Baronio.
The event will include famous Vietnamese designers like Nguyễn Cong Trí, Thủy Nguyễn, and Adrian Tuấn Anh, along with celebrities such as film producer and actress Trương Ngọc Ánh, singer Tung Dương, and Miss Universe Viet Nam 2017 H'Hen Nie.
The auction will be held at 7:30 pm via video teleconferencing application OnMeeting, and live streamed on VIFW fanpage at  https://www.facebook.com/VNIFW.
For contributions, money can be directly transferred to the "Từ Trai Tim Đến Trai Tim" Fund account 0200 9387 4898 (VNĐ), 0200 9387 5789 (USD) and 0200 9387 6068 (EUR) at Sacombank.
Donations will be collected before, during and after the event. — VNS
TAG: