Important Days In September 2021 History Significance Celebration And Best Messages
Mark down these important days in September! Let's find out more information with our list.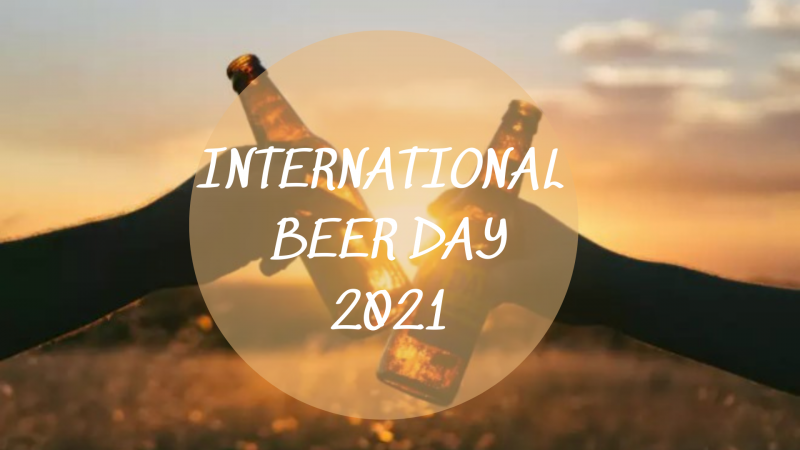 International Beer Day: History, Significance and Celebration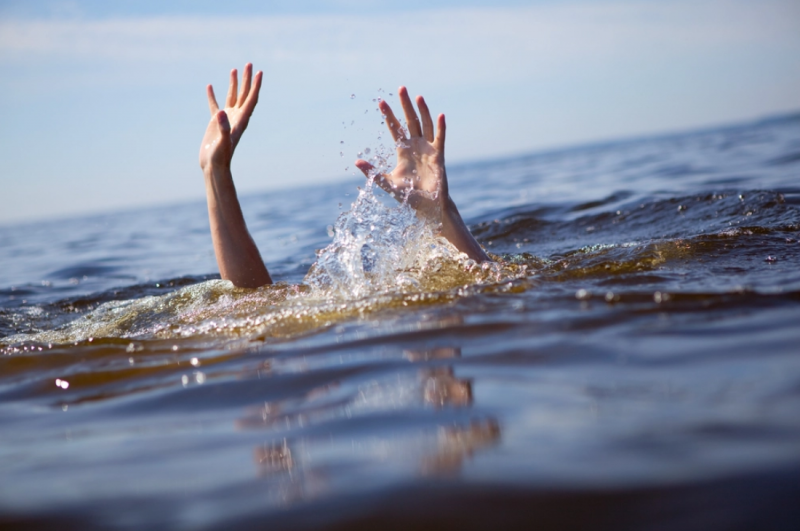 The First World Drowning Prevention Day To Be Launched In 2021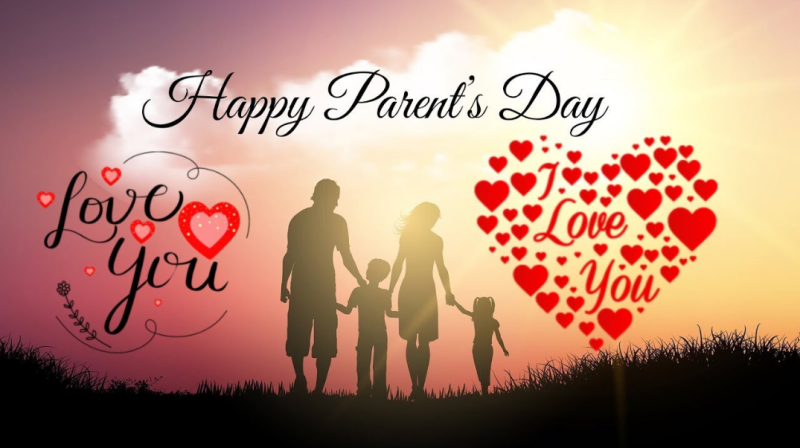 National Parents' Day: Heartfelt Wishes, Poems and Suggested Activities
Each day is important and has its own meaning in our lives. Here are information of four international ones in September 2021 that are celebrated every year as an occasion to mark a particular event or topic.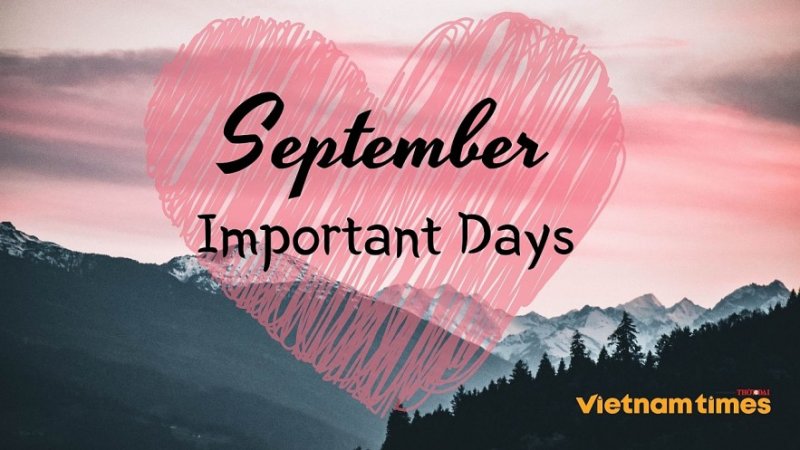 Important Days In September 2021. Photo: vietnamtimes.
International Day of Charity - September 5
International Day of Charity: History
In recognition of the role of charity in alleviating humanitarian crises and human suffering within and among nations, as well as of the efforts of charitable organizations and individuals, including the work of Mother Teresa, the General Assembly of the United Nations in its resolution designated the 5th of September.
The date was chosen in order to commemorate the death anniversary of Mother Teresa. We all know the importance of giving, but a gentle reminder once in a while doesn't hurt. In 2012, the United Nations declared the International Day of Charity, held each year on Sept. 5, to do just that.
International Day of Charity is celebrated on September 5 every year. As per UN's website "charity can alleviate the worst effects of humanitarian crises, supplement public services in health care, education, housing and child protection. It assists the advancement of culture, science, sports, and the protection of cultural and natural heritage."
And now, amid times of crisis, one needs to understand how even a small good deed can change someone life.
In recognition of the role of charity in alleviating humanitarian crises and human suffering within and among nations, as well as of the efforts of charitable organizations and individuals, including the work of Mother Teresa, the General Assembly of the United Nations in its resolution designated the 5th of September. The date was chosen in order to commemorate the death anniversary of Mother Teresa.
International Day of Charity: Significance
The International Day of Charity was established with the objective of sensitizing and mobilizing people, NGOs, and stakeholders all around the world to help others through volunteer and philanthropic activities.
Also known as World Charity Day, its purpose is to "mobilize people, NGOs, and stakeholders all around the world to help others through volunteer and philanthropic activities," according to the UN. The holiday also coincides with humanitarian Mother Teresa's death anniversary.
While the holiday provides a great opportunity to donate, it's important to give generously throughout the year to causes that are close to your heart. And remember, giving doesn't mean spending money. If it's all you've got to give, a smile is plenty!
Charity is helping others, giving to the poor and yes it starts from home. The concept of charity now has been blurred. Very few people come forward and help others.
Charity helps and supports those people who are in need. It allows us to think wide and reach into different society. No doubt, this day promote and recognize charity and motivate people to help poor and needy person. This day also focuses on the role played by several charitable organizations around the world and actions that have created more inclusive and resilient societies, jagranjosh reported.
"The hunger for love is much more difficult to remove than the hunger for bread."- Mother Teresa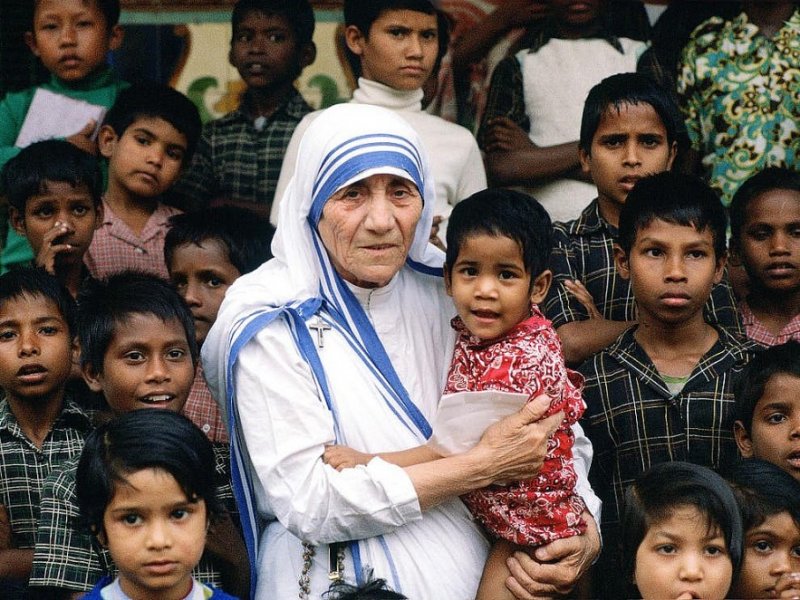 Mother Teresa accompanied by children at her mission in Calcutta, India 05/12/1980 (Getty)
International Day of Charity: Celebration
Here are some ways to celebrate this special day as suggested by Nationaltoday:
Donate funds to charity: There are few more impactful ways to support a cause that is important to you than donating funds. With your money, the charity of your choice can make great strides towards their goals, and you can feel good knowing you helped to get them there. Be sure to do your research on your charity of choice beforehand.
Volunteer: Find whatever stokes your passion and then find where your time is most valuable to them. Some charities will have you cleaning up natural areas, reading books to children, teaching special needs individuals.… the list goes on. Money isn't the only thing charities can use and donating your time is often far more rewarding for you, as well.
Attend a charity event: Especially on International Day of Charity, there are countless charity events to attend. If there's nothing that excites you in your area, reach out to an organization and see if you can host an event of your own. You'll meet like-minded individuals who care about the same causes.
International Day of Charity: Best Messages
We bring to you the newest collection of International Day of Charity messages and inspiring charity quotes, as listed by Bestmessage:
"They say that charity begins at home, so never ever forget to contribute all that you can. Happy International Day of Charity."
"On the International Day of Charity, we must always remember that a small charity can do a lot of good to so many people out there. Warm wishes on this special day."
"There is no one in this world who has ever become poor because of charity. Wishing a very Happy International Day of Charity to all."
"The world needs more generous people. The world needs more volunteers. A very Happy International Day of Charity to everyone."
"A small charity that you are going to make ever will shape up many lives out there in different ways. Happy International Day of Charity."
"Not everyone is as privileged as we are and therefore, we must help those who need us. Warm wishes on International Day of Charity."
"There is nothing in this world that brings more happiness than an act of charity. Wishing everyone a very Happy International Day of Charity."
"If we can donate something to someone for some cause then we are certainly making some contribution to this world. Warm greetings on International Day of Charity."
About Mother Teresa
According to freepressjournal, Mother Teresa, the celebrated nun whose work with the poor of Kolkata made her an instantly recognisable global figure, won a Nobel Peace Prize in 1979. Teresa, who worked for the destitute in Kolkata and became a global icon of Christian charity, was declared a saint by Pope Francis in 2016.
Mother Teresa spent all her adult life in India, first teaching, then tending to the dying poor. It was in the latter role, at the head of her now worldwide order that Teresa became one of the most famous women on the planet. Born to Kosovan Albanian parents in Skopje – then part of the Ottoman empire, now the capital of Macedonia – she was revered around the world as a beacon for the Christian values of self-sacrifice and charity. She passed away in 1997, in Kolkata, the Indian city where she spent nearly four decades tending to the poor.
International Day of Peace - September 21
International Day of Peace: History
According to Nationaltoday, in 1981, the United Nations General Assembly declared the third Tuesday of September as International Day of Peace. This day coincided with the opening day of the annual sessions of the General Assembly. The purpose of the day was and still remains, to strengthen the ideals of peace around the world.
Two decades after establishing this day of observance, in 2001, the assembly moved the date to be observed annually on September 21. So, beginning in 2002, September 21 marks not only a time to discuss how to promote and maintain peace among all peoples but also a 24-hour period of global ceasefire and non-violence for groups in active combat.
Peace is possible. Throughout history, most societies have lived in peace most of the time. Today, we are much less likely to die in war than our parents or grandparents. Since the establishment of the United Nations and the creation of the Charter of the United Nations, governments are obligated not to use force against others unless they are acting in self-defense or have been authorized by the UN Security Council to proceed.
Life is better in a world where peace exists and, today, we look to those who have been peacemakers and peacekeepers to learn what we can each do individually to make the world a more peaceful place.
International Day of Peace: Significance
Each year the International Day of Peace is observed around the world on 21 September. The UN General Assembly has declared this as a day devoted to strengthening the ideals of peace, through observing 24 hours of non-violence and cease-fire.
The Covid-19 pandemic has brought the world together emerging as the common enemy that has threatened health, security, and every aspect of life. It has reminded us that the world is one place where what happens in one part of the planet can impact people everywhere.
International Day of Peace: Celebration
In 2021, as we heal from the COVID-19 pandemic, we are inspired to think creatively and collectively about how to help everyone recover better, how to build resilience, and how to transform our world into one that is more equal, more just, equitable, inclusive, sustainable, and healthier.
The pandemic is known for hitting the underprivileged and marginalized groups the hardest. By April 2021, over 687 million COVID-19 vaccine doses have been administered globally, but over 100 countries have not received a single dose. People caught in conflict are especially vulnerable in terms of lack of access to healthcare.
According to the UN, in line with the Secretary-General's appeal for a global ceasefire last March, in February 2021 the Security Council unanimously passed a resolution calling for Member States to support a "sustained humanitarian pause" to local conflicts. The global ceasefire must continue to be honoured, to ensure people caught in conflict have access to lifesaving vaccinations and treatments.
The pandemic has been accompanied by a surge in stigma, discrimination, and hatred, which only cost more lives instead of saving them: the virus attacks all without caring about where we are from or what we believe in. Confronting this common enemy of humankind, we must be reminded that we are not each other's enemy. To be able to recover from the devastation of the pandemic, we must make peace with one another.
And we must make peace with nature. Despite the travel restrictions and economic shutdowns, climate change is not on pause. What we need is a green and sustainable global economy that produces jobs, reduces emissions, and builds resilience to climate impacts.
The 2021 theme for the International Day of Peace is "Recovering better for an equitable and sustainable world". We invite you to join the efforts of the United Nations family as we focus on recovering better for a more equitable and peaceful world. Celebrate peace by standing up against acts of hate online and offline, and by spreading compassion, kindness, and hope in the face of the pandemic, and as we recover.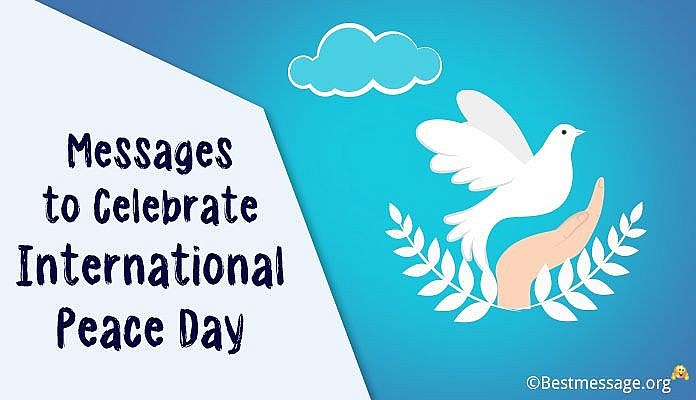 Photo: bestmessage.
International Day of Peace: Best Messages
-A smile marks the starting of peace….. Keep smiling and keep spreading peace around!!!
-Peace cannot be kept forcefully….. All you need is understanding to keep up the peace.
-If you want to bring peace with your enemy then you must work with him because then your enemy becomes your partner.
-There is no point talking about peace and we must come in the action mode to bring some peace in this world.
-You can be happy but not satisfied if you don't have peace in your life….. It is more important than happiness!
-On the occasion of World Peace Day, I wish that there is just peace and happiness in this world so that we have a better and happier place to live in…… Wishing you a Happy International Peace Day.
-International Peace Day reminds us that no matter how busy we are but we must always do our little bit to bring peace in our lives and lives of those around us….. Best wishes on International Peace Day to you!!!
-You can have a better life if you have peace in your life….. So on the occasion of International Peace Day, I am sending my best wishes to you and hoping that there is peace in the world we live.
-When the power of love overcomes the love of power the world will know peace—Jimi Hendrix
-The only way to bring peace to the earth is to learn to make our own life peaceful—Gautama Buddha
-Peace does not mean an absence of conflicts; differences will always be there. Peace means solving these differences through peaceful means; through dialogue, education, knowledge; and through humane ways—Dalai Lama
-Darkness cannot drive out darkness; only light can do that. Hate cannot drive out hate; only love can do that—Martin Luther King, Jr.
World Tourism Day - September 27
World Tourism Day: History
Get your bulky cameras ready, unfold your maps and make sure your fanny pack still fits snugly. World Tourism Day every September 27, raises awareness of the need for accessible tourism all over the planet.
World Tourism Day is the result of the work done by the UN's specialized agency — the World Tourism Organization (WTO). If you've ever strolled through a charming, perfectly-preserved European village or town, you've probably seen the WTO at work. Boosting local economies and ensuring sustainable tourism are but a few of the benefits of the WTO.
More importantly, on World Tourism Day, the WTO makes sure that travel is accessible for everyone, including those with disabilities and folks with low-income. Whether you're walking with a cane or rolling in a chair; the world is open for business to you and your friends.
World Tourism Day: Significance
UNWTO has therefore designated World Tourism Day 2021 as a day to focus on Tourism for Inclusive Growth. This is an opportunity to look beyond tourism statistics and acknowledge that, behind every number, there is a person. UNWTO invites its Member States, as well as non-members, sister UN agencies, businesses and individuals to celebrate tourism's unique ability to ensure that nobody is left behind as the world begins to open up again and look to the future.
World Tourism Day, celebrated each year on 27 September, is the global observance day fostering awareness of tourism's social, cultural, political and economic value and the contribution that the sector can make towards reaching the Sustainable Development Goals.
All over the world, even in its most remote corners, tourism has become a dependable source of jobs. In the U.S. alone, the travel, tourism and hospitality industry supported 7.6 million jobs in 2015. This means one out of every 18 Americans is employed in tourism. When done responsibly, tourism can create jobs in areas where unemployment has risen due to unavoidable factors like automation.
In 2015, international tourism generated $1.5 trillion in export earnings. This can be a tremendous benefit for smaller, under-developed communities. Developing a sustainable tourism ecosystem is paramount for ensuring these earnings are distributed among the community. Thanks to the work of the WTO, these areas are seeing smart tourism strategies put in place.
Sure, the site of yet another lost tourist in your hometown may induce a small groan, but the reality is that traveling and seeing new places is good for our minds and good for our society. So, start planning your next trip!
World Tourism Day: Celebration
The COVID-19 pandemic has had a massive social and economic impact. Both developed and developing economies have been hit. And marginalized groups and the most vulnerable have been hit hardest of all. The restart of tourism will help kickstart recovery and growth. It is essential that the benefits this will bring are enjoyed widely and fairly.
According to UNWTO, 'Tourism for Inclusive Growth' is the theme for World Tourism Day 2021. This year's official celebration will be hosted by Cote d'Ivoire, celebrating tourism's ability to drive inclusive development and the role it plays in promoting respect while generating opportunities for many millions across the globe.
WHAT
Submit the high-resolution photos and videos that best portray the entire value chain, from souvenir makers to hostel managers to tour guide, and the power of tourism to generate growth in your country and the positive transformation it has driven for people.
WHAT KIND OF FOOTAGE
People are at the centre of everything we do. They build the tourism sector and make it a powerful platform for growth and understanding, so let's give them the floor!
Workers of the tourism sector
Local communities
Travelers engaging in local activities and events
-Photographs: at least 300 dpi.
-Videos: no longer than 1 minute; at least 1080p.
World Tourism Day: Best Messages
Here are some best messages suggested by wewishes:
-Tourists have the check on the places where they have to go and where they had gone, but travelers only make their dream follow with the wings. Wish you Happy world Tourism Day!
-Traveling makes the relations better; this world tourism day take your loved ones outside and explore the beauty of our country!
-Book reading and traveling are both companions for each other, traveler love reading books and reader lover traveling. Make your journey beautiful in the owe of reading books.
-Traveling gives you a lifetime experience which leaves you amazed and gets your minds open with getting so much of knowledge.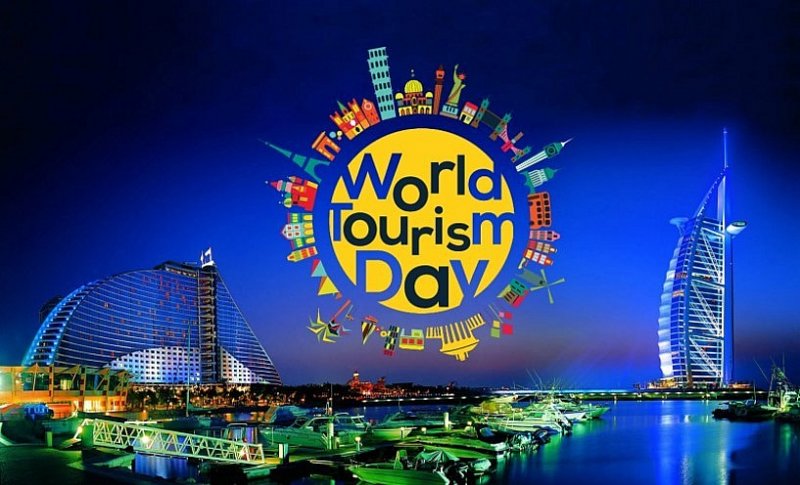 World Tourism Day. Photo: askideas
-We wish that you blessed with so many holidays so that you can spend some quality time with your family and loved ones, this world tourism day!
-Traveling makes you a better person by blowing out the negativity and intake the positivity around, celebrate world tourism day with positivity.
-Rejuvenate yourself by traveling around the world on the occasion of world tourism day and know more about the culture and religions of our country.
-Tourists have a checklist of the places they have been and where they have not been but travelers have no idea where they are going….. Wishing you a Happy World Tourism Day.
-With the ease of traveling from one place to another don't make your legs stop in one place now, this world tourism day makes yourself aware of the areas in your surroundings.
-Save the world's heritage places and explore about them as they are built in ancient times but have the unique story to read. We wish Happy world Tourism Day!
World Heart Day - September 29
World Heart Day: History
According to Britanica, World Heart Day, annual observance and celebration held on September 29 that is intended to increase public awareness of cardiovascular diseases, including their prevention and their global impact. In 1999 the World Heart Federation (WHF), in conjunction with the World Health Organization (WHO), announced the establishment of World Heart Day. The idea for this annual event was conceived by Antoni Bayes de Luna, president of WHF from 1997–99. World Heart Day was originally (until 2011) observed on the last Sunday in September, with the first celebration taking place on September 24, 2000.
World Heart Day: Significance
Cardiovascular diseases are the most common cause of death globally. In the early 2000s roughly 17 million people worldwide died from cardiovascular diseases annually. The majority of these deaths were the result of coronary heart disease or stroke. Although cardiovascular diseases are often considered to be afflictions of people living in developed countries, where sedentary lifestyle is common, more than 80 percent of deaths from these diseases occur in low- and middle-income developing countries. The primary causes of cardiovascular diseases—poor diet, lack of exercise, and smoking—are considered modifiable factors. Thus, even in developing countries, which often lack efficient health care programs, the majority of these diseases can be prevented. Cardiovascular diseases also have a major impact on economic systems within countries, because of the high health care costs associated with treatment and lost productivity associated with disability and absenteeism from work.
More than 90 countries take part in this international observance every year. As a result, World Heart Day has proven to be an effective means for disseminating information about CVD. The high level of involvement from governments and organizations is most important for developing countries, which are heavily affected by these diseases.
World Heart Day: Celebration
Every year, the World Heart Federation sponsors the international event and declares a theme for the day. Distribution of information and discussions on cardiovascular diseases take place on platforms such as forums, television talk shows, podcasts, posters, and more. Walks, fund-raisers, free health checkups, concerts, sporting events, and other activities are hosted to encourage people to be more active and aware of their health.
Prior to the holiday, scientific meetings and gatherings on cardiovascular research are hosted by medical societies.
Since the first World Heart Day, WHF, which is a nongovernmental organization, has continued to sponsor the annual event, assembling and distributing information and declaring a theme for the day. Educational programs designed to engage the public are a major part of World Heart Day. Information about cardiovascular diseases and ways to prevent them is communicated through public talks, podcasts, posters, and leaflets. Also held in conjunction with World Heart Day are runs, walks, concerts, fund-raising and sporting events, free health checks, and other activities that have a positive impact on public health and overall health awareness. In addition, scientific meetings and gatherings of international cardiovascular research organizations and medical societies are held on or in the days leading up to World Heart Day.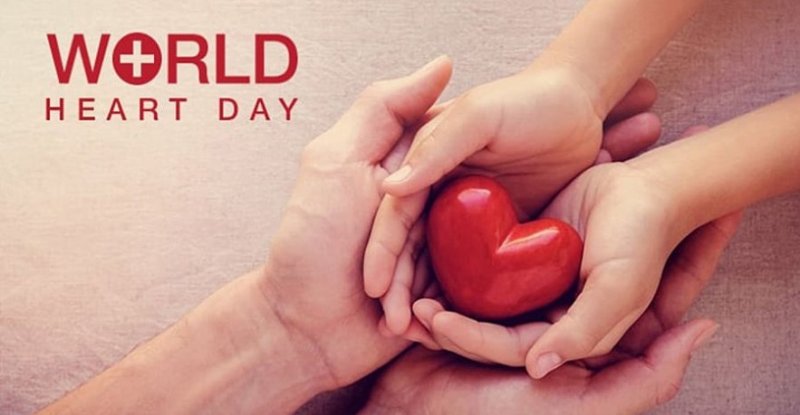 World Heart Day. Photo: sybridmd.
World Heart Day: Best Messages
Here are some best messages suggested by thebrandboy:
-On World Heart Day, make a promise that you will say no to all those things that can cause damage to your heart.
-Today is World Heart Day, the day on which you should say no to smoking.
-A healthy and active life can always be beneficial to your heart. Happy World Heart Day.
-Never ignore any problems related to your heart, it can prove to be costly in the future.
-Let us make more people aware of cardiovascular diseases on World Heart Day.
-A healthy heart is a key to happiness in life. Happy World Heart Day.
-Keeping a healthy heart is essential if you don't want to be apart from your loved ones. Happy World Heart Day.
-Always listen to your heart. Happy World Heart Day.
-A good heart is something that people get attracted to. Happy World Heart Day.
-Never lose your heart in any situation, it is the best way to deal with all kinds of problems. Happy World Heart Day.
-Nothing can be more important in your life than maintaining a healthy heart. Happy World Heart Day.
-Start taking care of your heart before it falls apart. Happy World Heart Day.
-A healthy heart is the main source of your strength. Happy World Heart Day.
-On World Heart Day, start doing everything you can to maintain a healthy heart.
-Make it a point to run every day to shed your excess weight. Happy World Heart Day.
-On World Heart Day, all of us must unite to defeat all kinds of cardiovascular diseases.
BY THE NUMBERS
115,000 – the number of times our heart beats in a day.
2,000 – the number of gallons of blood pumped by the heart every day.
1893 – the year in which the first open-heart surgery occurred.
3,500 – the age in years of an Egyptian mummy in which the earliest-known case of heart disease was identified.
1,200 – the fastest heartbeat per minute — that of the pygmy shrew.
1 pound – the weight of the human heart.
60,000 – the number of miles our blood vessel system can extend to.
1,500 pounds – the weight of a blue whale's heart.
1.5 gallons – the amount of blood pumped by our heart each minute.
" "
Ruby Lee
TAG: