Different Taste For Sticky Rice Between Hanoi and Ho Chi Minh City
Sticky rice is a popular breakfast dish in Vietnam. The dish has a variety of different versions in Hanoi and Ho Chi Minh City.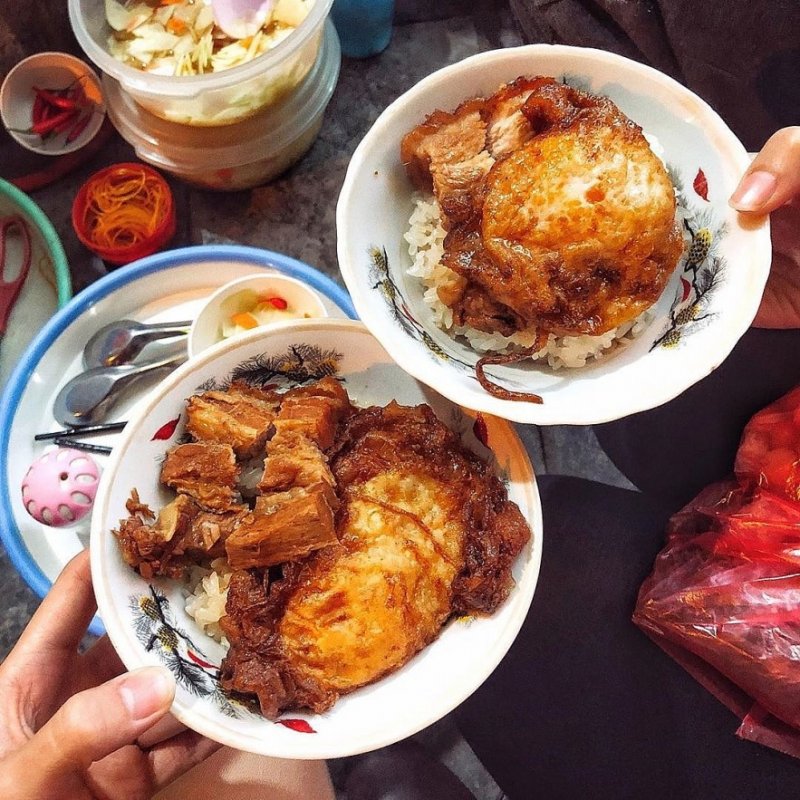 People in Hanoi and Ho Chi Minh City have different versions of sticky rice. Photo Zing News
Hanoi sticky rice versions
Driving around Hanoi streets in the early mornings, it is common to see street-side stalls selling sticky rice. Low-slung plastic chairs, a cup of iced tea and a pack of sticky rice are enough for a breakfast of Hanoians.
There are a variety of sticky rice choices for a breakfast in the capital city, ranging from white sticky rice, sticky rice made from gac fruit or baby jackfruit flavored sticky rice, peanut sticky rice, green bean sticky rice, corn sticky rice.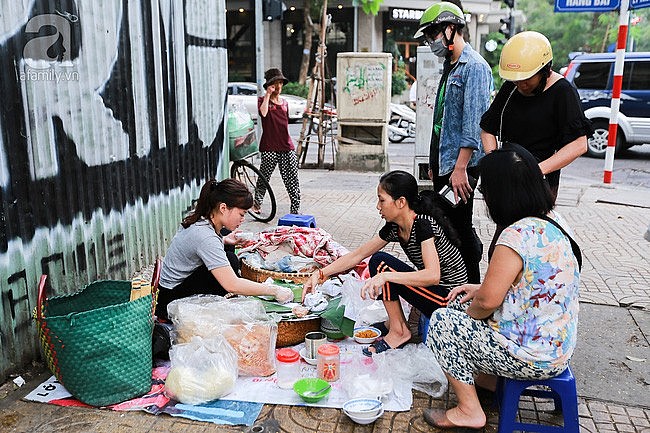 A street-side sticky rice stall on Hang Bai Street in Hanoi. Photo Travel Mag
Traditional sticky rice
The main dish is served with salted shredded pork, sesame salt, Vietnamese sausages or pate. Some stalls sell xoi xeo (sticky rice with smashed green beans).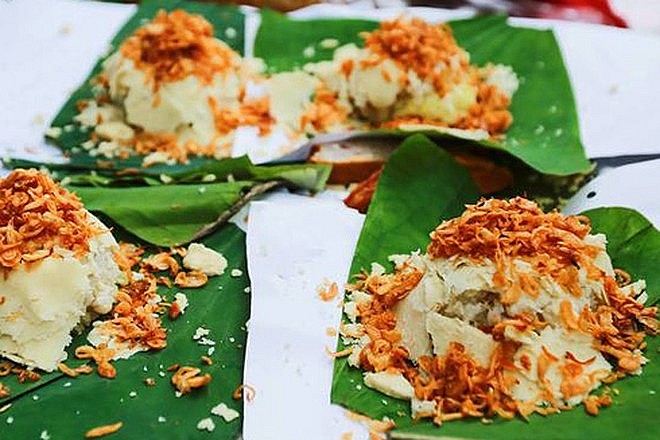 Photo An Ninh Thu Do
The type of rice chosen to make the dish is Cai Hoa Vang rice, a famous type of rice in the northern delta region. Rice is soaked with turmeric powder from the day before and then cooked in the next morning. In order to make the sticky rice not to be crushed, the cook must control the heat and keep it not too high to avoid quick steaming.
When sticky rice is almost cooked, the cook mixes chicken fat with the rice and then continue to steam until fully cooked. These tips make the rice soft, shiny and not sticky or crushed.
Green beans served with sticky rice must be selected from small and firm beans. After soaking in water for a few hours, green beans are cooked with a little salt and fat. The ground green bean mixture is then rounded.
Sticky rice in Hanoi is usually wrapped in banana leaves which are covered with a layer of newspaper. After placing a handful of sticky rice on the leaf, the seller quickly slices ​green beans on top, then poured a spoonful of golden chicken fat and sprinkle dried onions.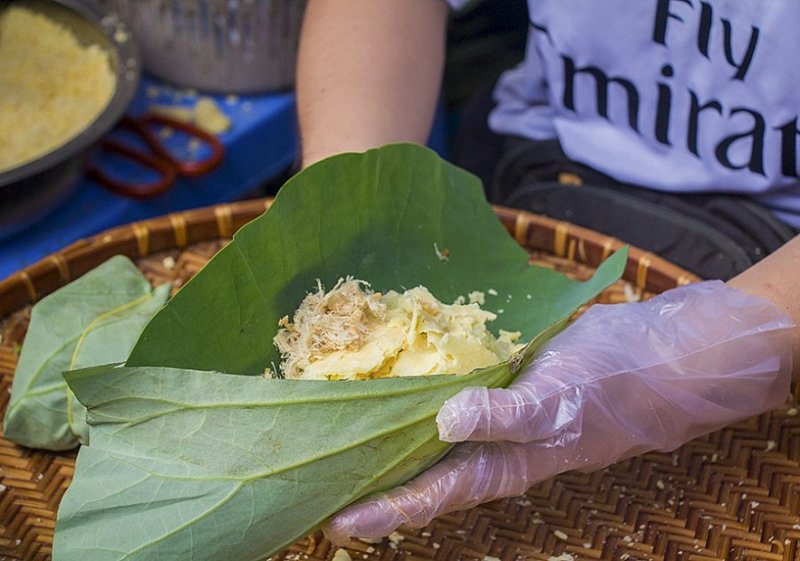 Photo Tiin
Each pack of sticky rice with smashed green beans is from VND10,000 to 20,000.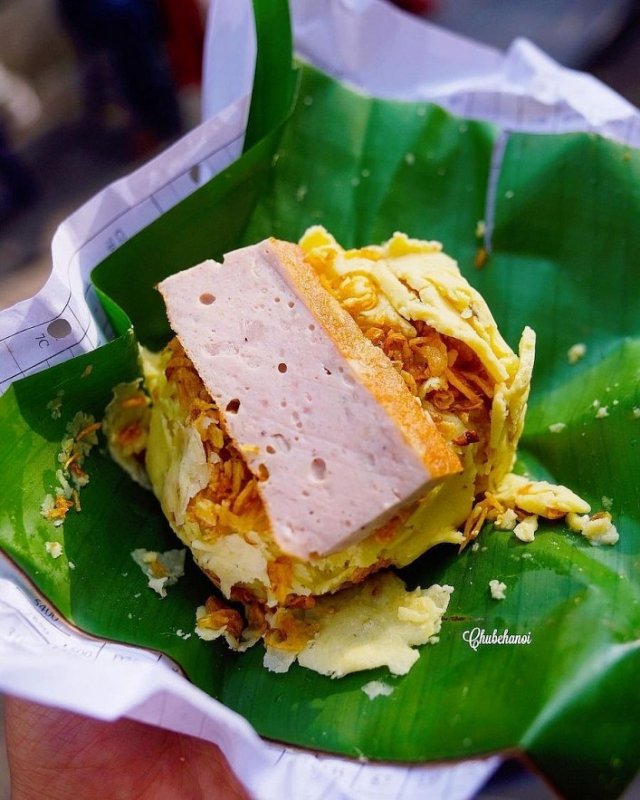 Sticky rice with smashed green beans is eaten with Vietnamese sausages. Photo Instagram
Another option for breakfast is sticky rice with meat and braised eggs. The pork belly in large and tender slices is often eaten with the rice. It looks brown melts in the mouth. You can order more Vietnamese sausages, braised eggs or omelets served with sour cucumbers. Each serving of this kind of sticky rice costs about VND30,000-40,000.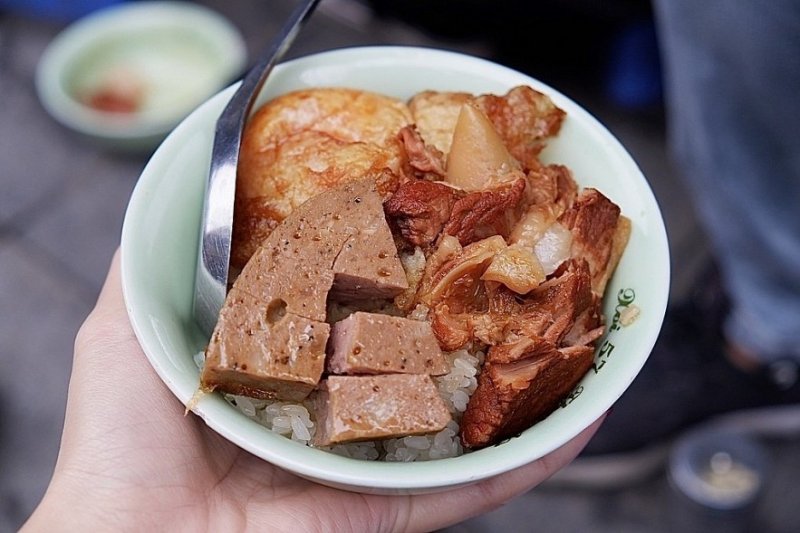 White sticky rice eaten with braised pork, fried eggs and Vietnamese sausages. Photo VnExpress
New toppings added
Besides traditional types of sticky rice, Hanoians can now enjoy sticky rice with new kinds of toppings such as shredded chicken, spicy chicken, spicy ribs, Chinese sausages. These dishes can be eaten not only in the morning but also a great choice for lunch and dinner.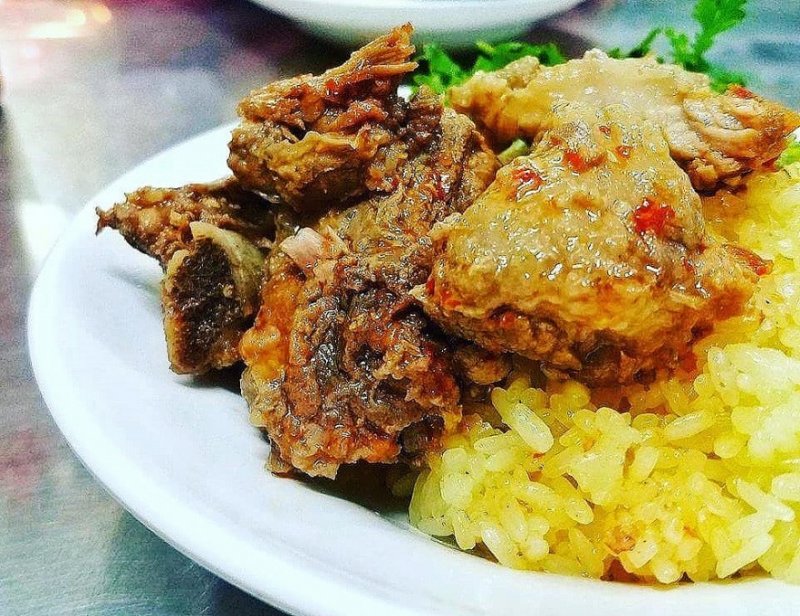 Sticky rice with spicy ribs sold on Truong Chinh Street. Photo Instagram
Sai Gon Style
In Ho Chi Minh City, sticky rice is not only a breakfast to start a new day, but also sold at noon, in the afternoon, evening or late at night.
Sticky rice in Ho Chi Minh City has many different versions, but it is mainly divided into two types - salty sticky rice and sweet sticky rice.
Sweet sticky rice includes sticky rice with beans, durian, corn, baby jackfruit. A typical dish always has a layer of soft, hot sticky rice with a little grated coconut and granulated sugar, roasted peanuts on top. Each package is sold from VND5,000 to 10,000.
Corn sticky rice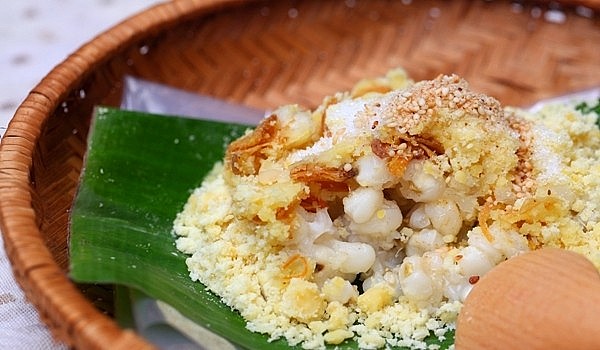 Photo Dan Viet
Corn sticky rice is one of the typical sweet sticky rice dishes, which is cooked from sticky glutinous corn and stewed with coconut water.
Corn sticky rice is a bit mushy and eaten with grated coconut, sugar, peanuts or sesame salt. They make the dish to retain the sweetness but not too fatty.
Cade sticky rice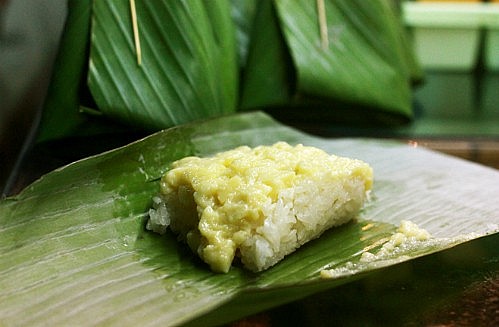 Photo VnExpress
It sounds a strange name. Cade is a mixture of coconut milk, chicken eggs, flour and sugar and poured over sticky rice.
The dish is often out on fresh banana leaves and sold in China towns.
Salty sticky rice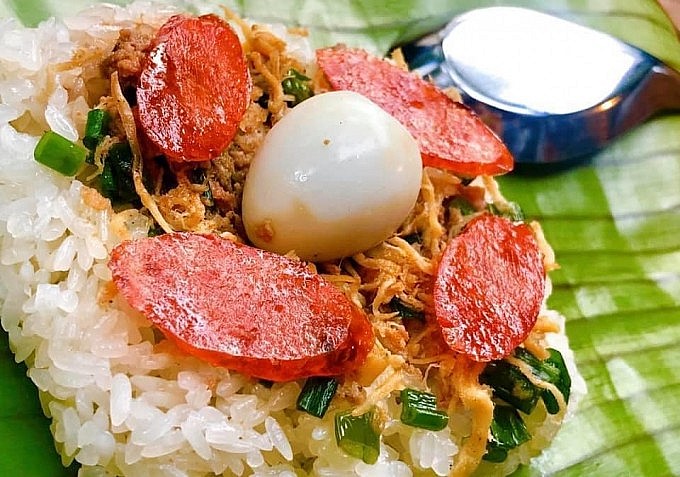 Photo Travel Mag
Salty sticky rice in Saigon is cooked with a variety of dishes such as pork char siu, dried shrimp, sausages, quail eggs. Rich sauce is an indispensable part salty sticky rice.
One of the favorite versions of salty sticky rice is chicken sticky rice. A bowl of sticky rice with marinated chicken thighs, onion, oil, pickles and rich sauce is really mouth-watering.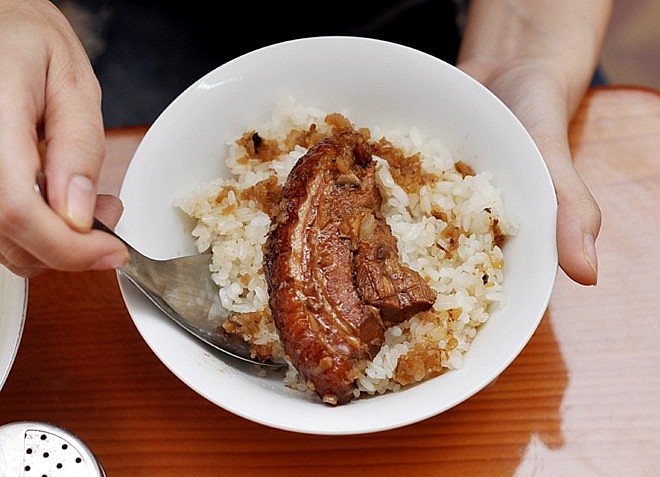 Sticky rice with khau nhuc. Photo Dan Viet
Diners can select more side dishes such as crispy fried chicken skin, young eggs, shredded chicken, shumai, boiled liver gizzards. In areas where Chinese community lives, there are other savory sticky rice dishes such as sticky rice with khau nhuc (braised pork belly seasoned with several kinds of herbs), char siu, dried shrimp, sausages, shiitake mushrooms, radishes, fried onions and peanuts.
" "
Rosemary Nguyen
TAG: