Webinar promotes VN-India cultural exchange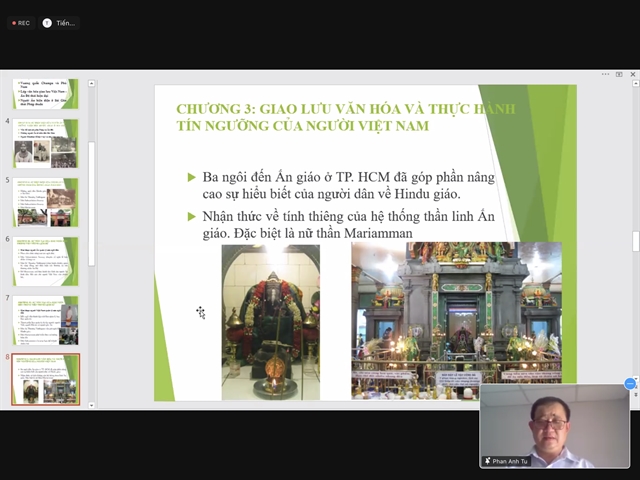 Phan Anh Tu, director of the Centre for Theoretical and Applied Culturology of USSH, talks about cultural exchanges between India and Viet Nam at the "Cultural Meeting between India and Viet Nam" webinar. Screenshot photo
HCM CITY  — The Consulate of India in HCM City on Wednesday hosted a webinar with the theme "Cultural Meeting between India and Viet Nam" to commemorate India's 75th Independence Day.
Speaking at the webinar, Pranay Verma, Ambassador of India to Viet Nam, said the webinar was held to help bring the people of the two countries closer, promote cultural understanding, and remind younger generations of the two countries' relations.
At the event, researchers and lecturers in India and Viet Nam pointed out the close cultural relations of both countries.
Amarjiva Lochan, deputy dean of the International Relations Faculty of the University of Delhi shared his views about the relationship between the two countries in religion, architecture and arts.
"Viet Nam, with its ancient and impressive Hindu and Buddhist heritage, has age-old ties with India," said Lochan.
He said more student exchanges between India and Viet Nam and tourism development should be promoted.
Vietnamese researchers talked about cultural exchanges between India and Viet Nam in the past and modern times through the history of Hindu temples.
Phan Anh Tu, director of the Centre for Theoretical and Applied Culturology under the HCM City University of Social Sciences and Humanities (USSH), said the cultural exchange of India and Viet Nam had first occurred during the Funan Kingdom (1st-6th century CE) and Champa Kingdom (2nd century AD until 1832) and in big cities.
In the early 20th century, the Indian community in HCM City built three Hindu temples, including Sri Thenday Yutthapani in District 11 and Subramaniam Swamy and Mariamman in District 1.
Vietnamese experts also highlighted the great contribution of Indian archaeologists in important discoveries in recent excavations and restoration of Hindu relics at Mỹ Sơn Sanctuary in Quảng Nam Province.
Meanwhile, Le Thị Hằng Nga, deputy editor in chief of the Journal for Indian and Asian Studies under the Viet Nam Institute of Indian and Southwest Asian Studies, said: "People-to-people connection is an important aspect of cultural exchanges of India and Viet Nam."
Nga mentioned that many organisations and associations had been established in recent years, such as the Swami Vivekananda Cultural Centre in Ha Noi.
In addition, Viet Nam - India Friendship Associations in Ha Noi, HCM City and Đa Nẵng have worked for years to strengthen people-to-people connections in the two countries.
The "Cultural Meeting between India and Viet Nam" webinar is part of India@75, an initiative of the Government of India to celebrate and commemorate 75 years of progressive India and the history of its people, culture and achievements.
Under India@75, webinars featuring India's socio-cultural, political and economic identity have been conducted by the Consulate General to enhance interaction and engagement, and promote mutual understanding between the people of India and Viet Nam. — VNS
TAG: