Statue of child symbolises solidarity and strength during COVID-19 fight
500 taxis, buses converted to ambulances in HCM City
'3 on-site' model runs into problems as virus spreads inside isolated facilities
HCM City speeds up vaccinations to reach 7 million people by end of August
8,385 new domestic cases reported on Tuesday
Homegrown antiviral drug being developed to treat COVID-19 patients
By Thuy Hằng
HÀ NỘI The photos of young children in protective suits in a COVID-19 quarantine centre in Đien Bien evoked many emotions among social media users.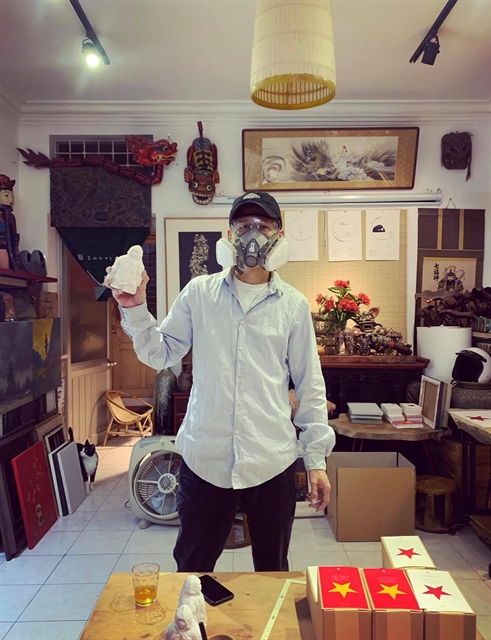 Huy needs to wear a mask while carving small details on statues.
"To create a mold for the statue, I have to form a clay statue, which was 3D scanned to collect data on its shape and its appearance. The data was used for the plastic, then plaster, before turning into a metal mold for casting," Huy said.
However, it is not the end of the process. The artist has to put some final touches on every statue.
"The final touches are as important as any previous steps because this step also decides the statue's aesthetics," said the artist, who spent 10 hours everyday to craft the statues in his workshop.
Huy even needs to wear a mask while carving small details on statues such as the suits' pleats or the beehive-liked plastic slippers, and the faux fur of the stuffed teddy bear.
Art for charity
While crafting the statue, Huy intends to use it for a meaningful purpose – all proceeds from the artwork will be donated to fight the COVID-19 pandemic.
Huy poses with a sample of the statue 'The Đien Bien Kid and His Teddy Bear'. Photos courtesy of the artist
Only a few hours after Huy announced the completion of 128 models of The Đien Bien Kid – the result of his two-month creative process – all statues were sold out.
"I was a bit shocked and very happy when all the statues were sold out within only three hours after I posted on my Facebook page," Huy said.
To receive a statue, every buyer is encouraged to donate more than VNĐ680,000 to charity, the Sống Foundation and another operated by the e-newspaper Soha.
A total of VNĐ97 million (US$4,200) has been donated to those charity funds so far.
Well-known music producer and composer Quốc Trung said he is lucky to be one of the first people to own a version of The Đien Bien Kid.
"I was attracted by Huy's idea of casting such meaningful artwork. When I saw his Facebook post about his ongoing work in May, I expressed my wish to buy if it is available for sale," Trung said.  
The composer purchased two statues, one for himself, and one as a gift for a friend.
For architect Huỳnh Thị Mỹ Hạnh, who is working on an ICU hospital for COVID-19 patients in Ha Noi, the small statue gives her more motivation.
"Even such small children are so enduring in this fight with the pandemic, so I think, there is no reason for all of us, the adults, to hesitate in this fight," she said.
The number of people who wish to have a version of the Đien Bien Kid has increased. So far, artist Huy has received more than 100 new orders from across the country, from Ha Noi, Ninh Bình, Thai Nguyen, to Đa Nẵng, and HCM City.
However, as Ha Noi and several other cities and provinces are in lockdown, the artist and his team need to obey the restrictions.
"At the moment, we have only one craftsman working and living at the workshop, so the progress is definitely slow. We also can't buy necessary supplies for our work when the whole city is in lockdown," he said.
He hopes when the restrictions are eased, he and his team will be able to continue the meaningful work.
Huy has also contacted three real-life models – the children in the viral photos – to send each of them a statue of the Đien Bien Kid.
Anyone who wants a statue can visit the artist's Facebook page at https://www.facebook.com/lamphong.studio. VNS
TAG: