Free-range chicken with kaffir lime leaves, a specialty of An Giang
Duy An
I hope the Covid-19 pandemic ends soon so that I can return to An Giang to enjoy ga đốt la chuc (chicken grilled with kaffir lime or citrus hystrix leaves), a dish that I ate when I made a tour to the province's Ô Thum Lake in 2019.
La chuc is a kind of leaf from trees that grow in the wild. They are also planted all over the province's Tri Ton and Tịnh Bien districts. Local people in these areas are the best at using this special spice to grill  chicken that puts An Giang's cuisine on the map.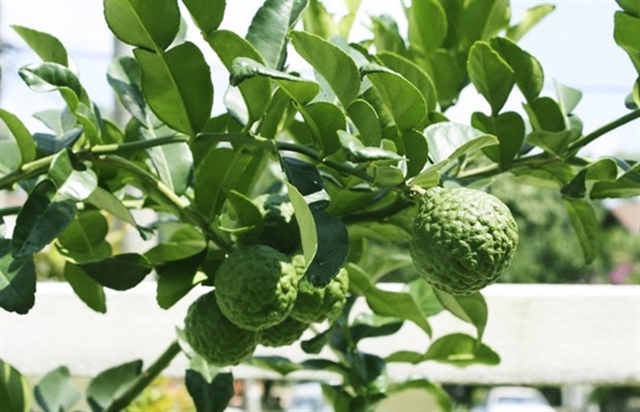 La chuc (a kind of leaf from trees that grow wild in the province) is a special spice that puts this dish on the map. Photo dulichvietnam.com
When the chicken is ready its skin is in an annatto colour and crispy with a special aroma that attracts hungry mouths.
Thuc said the dish is most enjoyable when dipped in lime juice mixed with chilli sauce and pepper and eaten with fresh herbs such as coriander, saw leaf, balm mint, basil and cut cabbage threads. 
Chef Phạm Tuấn Hải, who was also one of the judges of the Viet Nam Master Chef programme, said he has travelled to many places in the country to learn more about traditional dishes.
He said that this chicken is very different from other roasted chicken in the north. This An Giang dish is quite genuine with a special, delicious flavour of kaffir lime leaves, which is fragrant without any bitterness.
The dish is more enjoyable when dipping in mixed lime juice, chilli and pepper and be eaten with fresh herbs. Photo 2dep.vn
He added that when visiting An Giang he has never missed enjoying this dish.
"I like dipping the dish in the sauce which includes kaffir lime leaves and roasted garlic," he said, noting that he learned how to cook the dish from locals. He said it is in his restaurant chain's menu so that guests from the north can enjoy it.
"The Covid-19 pandemic has been spreading to many regions in the country so it can be cooked at home to increase human resistance," Hải advised. VNS
TAG: