Saigon Hi-tech Park factories shut down due to Covid-19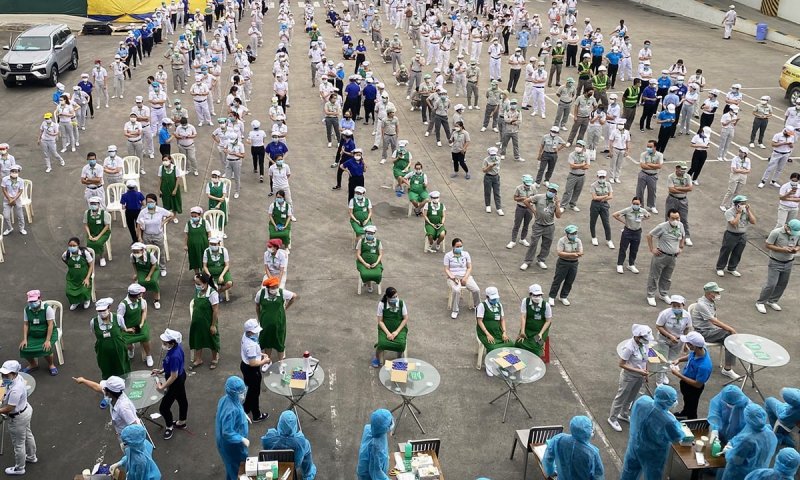 The Saigon Hi-tech Park has recorded over 750 Covid-19 cases so far
Visit Vietnam Insider's homepage for more stories
Many factories in Saigon Hi-tech Park, including the Samsung Electronics CE Complex, have shut down after more than 750 Covid-19 cases were confirmed there.
Starting Tuesday, the Samsung Electronics CE Complex has granted over 7,000 workers time off for the company to set up accommodation within the factory.
Precision manufacturer Nidec Vietnam has been shut for nearly a week after some employees tested positive for the novel coronavirus. The company now has over 4,000 workers living within the premises unable to leave for their homes during the shutdown, and 150 are accommodated in hotels near the park.
Other Nidec companies like Nidec Servo and Nidec Copal with a total of nearly 4,000 employees are now operating one shift a day with the number of workers down by 35 percent.
Some factories with over 8,000 workers like electronics manufacturers Intel and Jabil that cannot accommodate all employees have rented nearby hotels and are using busing workers in every day.
The Saigon Hi-tech Park has recorded over 750 Covid-19 cases so far. Nearly 600 of these have been detected in the factory of stepper motor manufacturer Nidec Sankyo, which has been shut down since July 3.
Starting Thursday, factories in Thu Duc City, where Saigon Hi-tech Park is located, can only operate if their workers stay within the premises or bused in and out.
Le Bich Loan, deputy head of the management board of the park, said that companies that have shown the board their plans to keep workers safe during the outbreak will be able to operate during the city's 15-day social distancing campaign.
Twenty companies have made such plans to keep operations going, maintaining social distancing protocols.
The park, established 19 years ago, has 85 companies with over 45,000 workers. Last year, they produced nearly $21 billion worth of products, up 23 percent from 2019.
This article was originally published in VNExpress
Share this:
Facebook
LinkedIn
Reddit
Twitter
Email
Related
TAG: