Rapid COVID-19 tests at hospitals help detect many cases in HCMC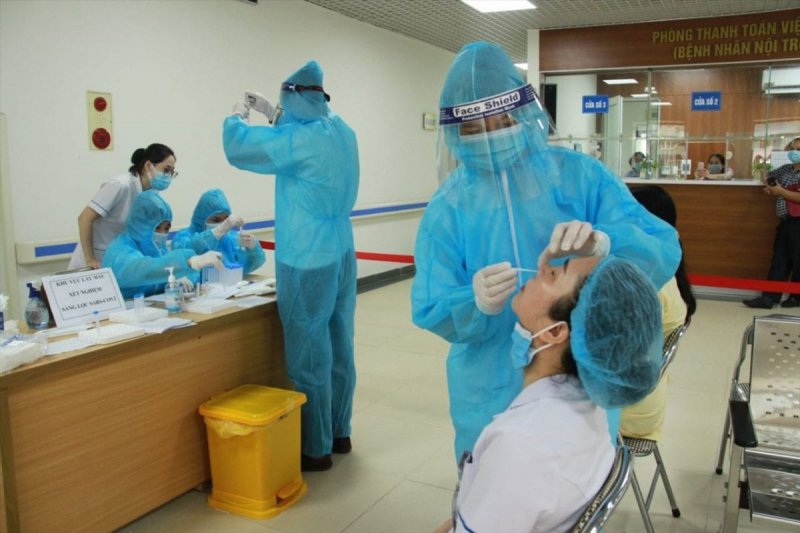 Ho Chi Minh City is currently the hardest-hit locality with 8,002 cases
Visit Vietnam Insider's homepage for more stories
A considerable number of COVID-19 cases have recently been detected in Ho Chi Minh City via rapid antigen testing service at local hospitals.
Many hospitals in the southern metropolis have been offering rapid COVID-19 screening service after residents are required to test negative for the novel coronavirus in order to work at certain companies and factories or travel to other localities.
A rapid antigen test, costing VND238,000 (US$10.3), can provide results in 30-45 minutes.
Meanwhile, the real-time reverse transcription polymerase chain reaction (RT-PCR) test, costing VND734,000 ($31), often returns results within four to six hours.
This test, which provides a more accurate result, can only be conducted at healthcare providers authorized by the Ministry of Health.
A representative of 175 Military Hospital in Go Vap District told Tuoi Tre (Youth) newspaper on Tuesday that the number of people signing up for rapid COVID-19 tests has sharply increased to 2,500-3,000 per day.
The institution has established a testing site separated from other parts of the facility to prevent the spread of the virus.
More than 50 people have been found positive via rapid testing at the hospital so far, of whom 22 were detected on Monday and Tuesday.
"They have been promptly quarantined and undergone real-time RT-PCR tests for confirmatory results," the representative elaborated.
Meanwhile, Dr. Tran Van Khanh, director of Le Van Thinh Hospital in Thu Duc City, stated that approximately 800 people underwent rapid antigen tests at the venue on Monday.
Only one person tested positive, Khanh continued, adding that the individual was in stable health and asymptomatic.
Those who register for such tests at the hospital are required to socially distance, sanitize their hands, and wear anti-droplet face masks, the doctor said.
At Thu Duc City Hospital, more than 2,000 people came to the facility on Monday and Tuesday for the rapid COVID-19 test, according to Dr. Nguyen Minh Quan, the hospital director.
Vietnam has documented 22,741 COVID-19 cases as of Wednesday afternoon, with 8,077 recoveries and 102 deaths, according to the Ministry of Health.
The country has recorded over 19,000 local infections in 56 provinces and cities since the fourth outbreak started on April 27.
Ho Chi Minh City is currently the hardest-hit locality with 8,002 cases.
This article was originally published in Tuoitrenews
Share this:
Facebook
LinkedIn
Reddit
Twitter
Email
Related
TAG: